This episode features garage rock, stoner and psychedelic bands from Ukraine. The Russian invasion of Ukraine began in February 24th and it looks to have stalled without taking any major cities in Ukraine. But even so, the Russian invasion has led to a horrific amount of death and destruction as well as profound upheaval in the lives of Ukrainians. As of today some 4 million Ukrainians have left the country and millions more have been displaced.
Most of the bands in this episode are based in Kyiv, but the music map below shows that the playlist also draws on artists from Lviv, Odesa, Kharkiv and Luhansk. As I usually do, I contacted the bands on the playlist and I was surprised how many replied. Given the circumstances I could understand how other things might now have taken a higher priority. The stories they tell show clearly how the war has had a direct impact on their lives. In my email I mentioned that I normally ask about influences and future plans but given what's happening in Ukraine I was more concerned about how they were doing, and I asked them how the war has affected them and their communities. I went to say that if they just wanted to talk about the music, that was fine, too. I asked my standard questions of what had the biggest influence on the music, what record had changed their lives, and asked what's next for them. Everyone who responded answered all of my questions. You can see their responses below.
The drops in this episode are mainly quotes from historian Timothy Snyder, author of such books as On Tyranny and The Road to Unfreedom. The book that had the biggest impact on me was Bloodlands: Europe Between Hitler and Stalin. Ukraine had the misfortune of being in the sights of two of history's most murderous dictators and the population suffered greatly during World War II. The current Russian invasion reveals that Ukraine has never fully escaped this vulnerability. Vladimir Putin has gone so far as to say that Ukraine is a Soviet-era construct and questioned their right to exist. In defending itself against the Russian onslaught, however, Ukraine has clearly demonstrated a strong identity, not to mention a fierce national pride. No doubt Putin has plans of conquest beyond Ukraine and for that reason, Ukraine is defending not only itself, but the West and the liberal international order.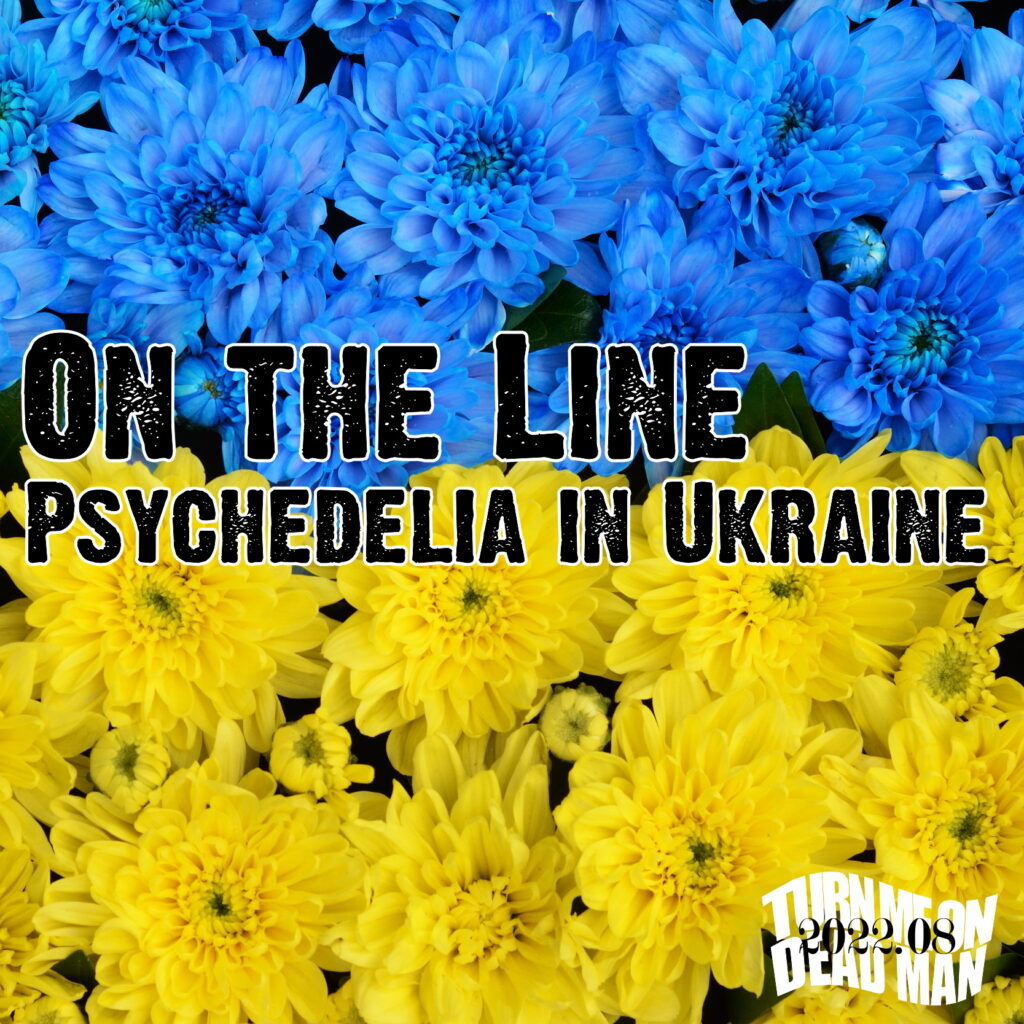 00:26 Headachee – Forever
03:49 Somali Yacht Club – Silver
08:43 Vasily Richter – Тебя придумала моя голова
10:51 Reflector – Take II
14:38 Reflector – Take III
22:42 Straytones – Oh Sweet Seeds
28:30 Лунар – О тебе, О мне, О нас
31:02 Ocean Bloom – Na oblake
34:24 PTMP – We U No U
35:37 Don Buzz – Mashrooms
44:14 Jesus Christ Gay Club – It Feels Like Summer
46:46 Электроптицы – Навстречу ветру
51:31 my mother hates me – Всё равно
55:25 Super Pink Moon – Disconnection Mantra
58:43 Ethereal Riffian – Dreamgazer
62:19 Twin Quasar – Over The Sun
67:32 Your Inner God – Plateau
73:35 Stoned Jesus – I'm The Mountain
86:12 Gooos – Night
---
Headachee – Forever [from Dumb Attempts To Find A Sense, released October 10, 2021]
TMODM: How has the Russian invasion affected you are your community?
headachee: our guitarist Kristina moved to Holland, but boys still in Ukraine. very horrible thing.. life changed before and after, but fortunately all of our surroundings are alive.
TMODM: What had the strongest influence on dumb attempts to find a sense?
headachee: we don't know correctly, but maybe style of our life, cause that was a period when we just hang out, play music together and chill. we think summer affected to our ep a lot too, cause it was one of the best summer in our lives. it's the moment when u understand that u are growing and things are changing
TMODM: What record changed your life?
headachee: we listen to a lot of music.. really A LOT and everyone from our band listen to different styles like shoegaze, blues, pop music and rock.. so we think every band we listen to has changed our lives!
TMODM: What's next for you?
headachee: we are planning to release an album. no one knows when and where, but he has been in the plans for a long time. so we hope it will be soon
Somali Yacht Club – Silver [from The Space, releases April 22, 2022]
Vasily Richter – Тебя придумала моя голова [released October 27, 2021]
TMODM: How has the Russian invasion affected you are your community?
VR: The war in Ukraine affected me twice already, one time in 2014 when I was forced to flee Donetsk and second time when the full scale war was unleashed on us.
It's really hard to exist as an artist in this tough times, but even in a situation like this we manage to play charity gigs all over the country.
TMODM: What had the strongest influence on your music?
VR: I would say it was mainly Beatles and LA and Australian psych/garage rock scene such as bands like Thee Oh Sees and King Gizz.
TMODM: What record changed your life?
VR: The record that changed my whole life for sure was Beatles Sgt. Pepper's when I listened to it for the first time while tripping on acid.
TMODM: What's next for you?
VR: In the near future I'm planning on releasing a single and then a month later an LP.
Reflector – Take II and Take III [from Rehearsal Jams, released February 12, 2022]
There was a very tense situation before Russia's full-scale invasion of Ukraine, no one until the last moment could believe that this could happen. At the moment, each of us is in different cities in Ukraine and we also trying to help in some way. So far it is hard to say whether we will be able to play further and when it will be. We hope that this horror in the form of shelling, killings, destruction of our cities, and terror from Russia will stop as soon as possible.
We are very inspired by representatives of the krautrock scene such as Neu, Can, Ash Ra Tempel. These artists and their influence are what brought us together to play. Also, of course, there are such great bands as King Gizzard, Fuzz, and Oh Sees in our playlists, which was a very big inspiration for our last recorded jams.
Straytones – Oh Sweet Seeds [from Magic Green River Swimmin' & Stunning Tarzanka Experience, released August 27, 2021]
The invasion affected everybody. For example, our bass player's house in Irpin (the suburb of Kyiv) was affected by a nearby shellings, windows were blown off. He, his wife and kid + 6 animals were trying to evacuate while the fights were in the next town to them – Bucha. Luckily enough they managed to get out right before russian forces invaded Irpin too.
Now, since these forces were pushed back and they decided to move out from the northern direction – our bass player just recently got back home (while his wife and kid are a refugees in Europe) and pictures of his once peacefull and prosperous neighbourhood are now devastated or damaged.
Windows and doors will be restored, but the lives of his neighbours who weren't lucky enough… this is something you can't fix.
It's hard to say when everything will get back to normal. Hard to say when (or "if") we will get back to rehearsals and to concerts. War isn't over yet. Hope these bastards won't have any success on the East and South of Ukraine. Our army managed to stop them on 6 out of 9 directions – which is already a huge success with such a dangerous enemy, but the main battle, I guess, will be in a next few weeks.
Due to the war, we lost our jobs. It's not that – when all will be over we will get back to our routine. We will have to find out how to make a living in a new reality.
Right now, there's only one task – to stay alive.
Regarding our music and our records… I encourage you to find out this info in the internet. After the release we had some interviews, and also there were some reviews – I believe it's not hard to google it – there are all the answers.
Лунар – О тебе, О мне, О нас [released March 30, 2022]
So, basically rn I'm a bit over with the getting money on living, cuz my house was destroyed by Russians ,so I was forced to mover to another city
War affected my life in a terrific way, we all had to move out from our places and we don't really know what to do in future, however we are still waiting for the better
Despite everything, we are still in touch and willing to continue with the music.
The strongest influence on the new track was basically Midwest emo and Indie music
Such as "Арсений Креститель" "Yung lean and bladee" and our friends Re-read
Ocean Bloom – Na oblake [from Summerhood, released March 13, 2022]
Being more than month in this situation I start to get used to it and it's scary me.
Before the war I saw a video on YouTube, some kind of "real deaths on camera" I couldn't watch it until the end I got sick of it. But today my news feed full of harder horrors.
I just want to say, you become another person and just living your life because you can't do differently. New decorations around, a new brain settings. Here are every second person is a Superman made of fucking steel.
Ookay music questions
TMODM: What had the strongest influence on Summerhood?
OB: It's obvious. Incoming summer is a reason of everything for me. These songs may looks good under sunshine at the beach, during road trips, at the warm nights…
TMODM: What record changed your life?
OB: Every new recording changes my life. And during recording I see clearly things I want to have. And sometimes I have a feeling like "it would be a pity to die now" (even before a war))))
TMODM: What's next for you?
OB: My plan (in Music) for now it's to make an Ukrainian album, to support people, cause at the Ukrainian radios stations I heard only strange things
PTMP – We U No U [released February 28, 2022]
First of all, this war made a giant harm on our Ukrainian peaceful life. The more days pass without the help of modern military equipment from the West, the more people die.
Death began to creep up on each of us from various sides. It is difficult to cut off the society of Ukrainian musicians from the horrors of the War. All Ukrainians have some kind of relative or friend who has died. I don't know how much you know about Mariupol. In short, people die without food, water, electricity, gas, from bombs, bullets and cold, from destroyed houses, from nerves, and the death toll is huge. Speaking of nerves, my friend committed suicide. He was a musician too. My opinion is that the citizens of any country that spends its taxes on violence instead of education are to blame for all this. Russia has become such a household example now. The government nurtured lack of culture and stole money. Now most Russians sincerely hate us and want Ukrainians dead, and that's true.
Relatives of my friends, and some of mine too, wish death to Ukraine. (Of course, not all Russians are terrible, I have good friends, relatives, of course, they are also feeling bad now, but I think everyone understands that the conversation is not about them)
Cultural life in my city of Kyiv is almost dead. No concerts, raves or parties. I heard that they will be allowed soon, but my friends are in no hurry to organize something, it's scary to get bombed. Speaking about me, I was forced to leave my house and my favorite instruments and run to western Ukraine, away from the explosions. It's hard to create when even here, air raid 3 times a day. It is difficult to write poetry or draw in a cold shelter when there are either bombs or news of new deaths around. But some of us are still creating. For example, many of my Ukrainian friends and labels began to make soothing ambient or peaceful mixes with collaborations. The label @wwwvvvwvvwwv published this one recently, with my track WeUNoU
All I took with me for writing music was a kalimba, a couple of flutes, a laptop, and headphones (I use my smartphone as a microphone). On the evening of February 27, I sat on a bench near my house and began to play the kalimba, I thought that every Ukrainian will have a moment when he wants to look at the nature around, the sun or smell the wind and calm down. This is an island of security around which tanks constantly drive, but which are suddenly tired and silent. But suddenly the thunder of a new reality bursts into this idyll. Air Raid, dogs get nervous about it just like we do.
We U No U – about that tiny fragile world of calm and peace that suddenly collapsed.
In the future, I plan to release an album on the label ssshitsss @wwwvvvwvvwwv which I finished half an hour before the first bomb in my city. (at approximately 4:00 AM). The album will be called Armageddon mixtape. The theme of the album is a cycle – life, hedonism, psychosis, turning to the spiritual, destruction, birth. Right now we are at the stage of destruction, destruction of our lives by Russia, and we really need help.
I know that someday we will hear that the war is over and we will be able to return home, work, give concerts, dance at raves, and just stupidly walk in the fresh air. And I hope everyone is smart enough to direct resources to really effective aspects of life, not violence.
I have a short story about my first day of war. I prepared it for Armageddon Mixtape description:
Armageddon mixtape was finished a half an hour before the first bomb hit my hometown. I was preparing to move to Frankfurt about 2 weeks before the war, but Russian government decided differently. My goal for that night was to finish my mixtape and go to sleep. After the last mixdown, I smoked the "mixdown Cigarette" and then suddenly I heard a huge new sound from far away. It was like an earthquake, but more earth-punchy. While I was trying to avoid scary thoughts my veins were filling with adrenaline and my mind struggled to deny inevitable. My phone was ringing all the time. It was 5:30 in the morning and all I heard outside was bombs, knocking bag wheels , fast moving cars and alert signal that is stalking me until now. The next few hours were filled with bustling grocery shopping and standing in line. All the time my phone was bursting from messages like "Leave Ukraine now."
For the next six hours, I was unsuccessfully trying to get a bus through the wild crowd of people that were also trying to survive. When you hear the siren for the first few times, you feel like, "Oh! You are going to be killed by a fighter jet, missiles and bullets, and they will definitely hit you, and everything will explode." While I were standing and holding my guitar and bags, I finally gave in and fatigue from 34 hours of being awake has taken its toll and I went home. My sister suggested that I should go to the West to join to relatives. So I made another attempt and it was successful. The next 19 hours of anxiety and fear ended with a small country house and barking dogs.
Don Buzz – Mashrooms [from Mashrooms, released September 6, 2021]
Jesus Christ Gay Club – It Feels Like Summer [from Surf (Remastered), released March 25, 2022]
Vasily Richter is also a member of Jesus Christ Gay Club. See his responses above.
Электроптицы – Навстречу ветру [from В пределах города, released November 5, 2021]
TMODM: How has the Russian invasion affected you are your community?
Electrobirds: What is happening in Ukraine now is terrible. The Russian invasion affected everyone, including musicians. At the moment, all members of our band are in different cities, for example, our guitarist is in Kherson – temporarily occupied by Russian troops (09 of april), and he can't leave the city. Many of our familiar musicians were forced to leave their hometowns, which are being shelled by Russia. However, many musicians who used to write songs in Russian began to write in Ukrainian as well. We believe that this is good, because in this way there is a contribution to Ukrainian culture. We have more and more Ukrainian teams – and that's good!
TMODM: What had the strongest influence on В пределах города?
Electrobirds: Mostly influenced by the city, a big bustling city."Big city life". How easy it is to get lost in it, amid the endless bustle, and how easy it is to lose yourself. This release is about thinking about who we are, what is good and what is bad, about soul-searching.
TMODM: What record changed your life?
Electrobirds:
Keys: Mujuice – Downshifting
Drummer: Турбо – Я хулиган,
Guitar 1:Стрыкало – Тени
Guitar 2: Batushka – Yekteniya III
Bass: The Smiths – There is a light that never goes out
TMODM: What's next for you?
Electrobirds: We are currently writing new songs. At the beginning of the war, we decided to suspend our musical activities, because we thought that this was not the time for "love songs". But the war can last for many months, and we need to learn to live, write, work, love in the new realities. So now we're getting creative. Also, with our label Electricity, we will soon prepare something interesting for our listeners, there will be news soon. It's too early to talk about concert activity. We will win, the war will end and then we will continue our concert activity.
My Mother Hates Me – Всё равно [from Всё равно, released March 21, 2021]
about war and community: at first, of course we all panicked and had rough paranoid days n nights. for the first two days i slept for about 2-3 hours in total and it was not a great experience. our band live in kiev so we heard the rockets and explosions, and one of them even destroyed the house really close to the home of our drummer. but then when we all left kyiv and got to the safety things started to go back to normal. right now we're all in different places but we all believe in our military forces and our community even got stronger and friendlier. people from abroad started to discover our music scene and we're all happy to show our music and share it. even before war we've got a decent community around our label and new Ukrainian music but war made it stronger and independent from russia and their music scene.
about всё равно: at that time i was into shoegaze and also i always liked fast and loud music. so i tried to do both and that's what happened. simplistic lyrics were inspired by the russian band "sonic death" which i was a big fan of at that time. noisy sound was a result of my poor sound engineering and also love to fuzz war and fuzz effect at all.
what record changed your life: lots to be fair))) i don't want to write a whole poem so i'll say only few of them : mbv – loveless, ty segall – ty segall(2008), pasosh – нам никогда не будет скучно, sonic death – home punk, slackers – мне скучно, sonic youth – goo, arctic monkeys – whatever people say i am, that's what i'm not. i had lots of different periods in my music life and all this albums shifted me into different creative periods. but if it's important to point out one album, it's definitely ty segall – ty segall(2008). this album showed me how simple and at the same time awesome garage rock can be.
Super Pink Moon – Disconnection Mantra [from SUPER, released December 1, 2021]
Ethereal Riffian – Dreamgazer [from Legends, released September 6, 2019]
Twin Quasar – Over The Sun [from Entropy, released October 18, 2020]
Your Inner God – Plateau [from Dead Inside, released October 31, 2021]
TMODM: Normally I ask about influences and future plans, but given what's happening in Ukraine I'd very much like to know how you are doing. How has the Russian invasion affected you are your community?
YIG: due to the war initiated by Russia, many are forced to leave their homes, but the guys and I are trying to help everyone in need as much as we can
we also released a cover of the Ukrainian world-famous song Щедрик, all proceeds from listening to which will go to charity in Ukraine
TMODM: What had the strongest influence on Dead Inside?
YIG: the main influence was the passion for heavier music and bands such as Cult of Luna, Toska, Stake and Gojira
and also – the guys constantly called me (Kostya) grandfather (in Russian it is consonant with the word dead), so in a sense, this album title is associated with an intra-meme
TMODM: What record changed your life?
YIG: for Dead Inside it would be Toska – Fire By The Silos
TMODM: What's next for you?
YIG: we write music and manage our patreon
And then – who knows?
Stoned Jesus – I'm The Mountain [from Seven Thunders Roar, released March 21, 2012]
Gooos – Night [from Spiral, released July 21, 2021]