This episode focuses on recent Garage rock and psychedelic music from the US and Canada. I've recently done a show on psychedelia in the UK and another show focusing on Australia and New Zealand. So with this episode I've covered all of the founding member states of the Five Eyes alliance.
I'm not exactly sure of when I became aware of the Five Eyes but it just reinforced this fear I've had that we're spiraling into an Orwellian future. I read 1984 many years ago, but I've started to wonder if the Five Eyes alliance is Oceania–and that we've always been at war with Eastasia. 1984 was certainly dystopian with a steady flow of disinformation, but even so I don't think even Orwell imagined how people would be such willing participants in the spread of disinformation.
The music in this episode is divided roughly evenly between the US and Canada. This episode is longer than usual because I got sidetracked by the Russian invasion of Ukraine. That got me to put together an overdue episode devoted to Psychedelic Source Records. I thought they hit exactly the right tone with Mantras For Peace. Then I put together an episode of garage/psych and stoner bands from Ukraine. All the while I kept adding tracks to the playlist for this episode. Rather than break it up I thought I'd go with the episode I had originally sketched out with a set devoted to music from the US and a set of Canadian music. The styles run the range from garage punk to minimalist/ambient psychedelia.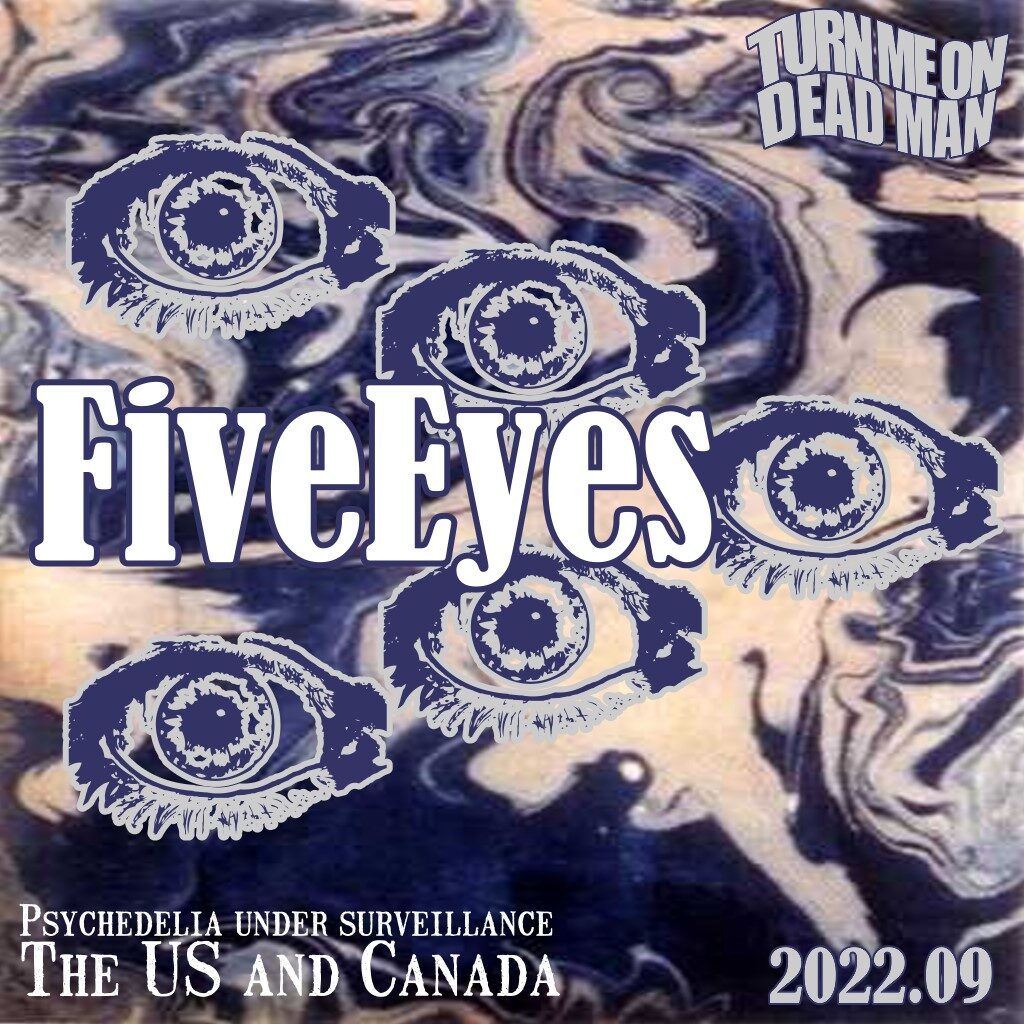 00:39 The Living Sky – Cylinder
04:31 Slow Dawn – See-Through
07:40 Night Collectors – One Thousand Years
14:39 Shimmer Bed – Signs
16:49 Supplemental Pills – Run On
23:50 Myrrs – When You're Here
28:28 thefamilystoned – Deaf Church Choir
33:05 Skloss – Upper Attic
37:20 Fantastic Purple Spots – Blasting Into The Sun
40:40 Magic Shoppe – I Feel High
43:55 Daemones – Refractor
49:39 Fuguers Cove – Gust
52:12 Babe Ruthless – Dog Days
53:33 Lightning – Vallejo
57:07 Deadlights – Paralyzed
1:00:20 Groop – Belly II
1:04:13 Shimmer Bed – Fine
1:10:10 John Denver Airport Conspiracy – The Big Classic
1:13:32 Omissam – Hide
1:16:15 Cosmic Drifter – Chasing Shadows
1:20:57 The Gateless Gate – Helcaraxë One
1:31:02 Lammping – Everlasting Moor
1:34:35 Blume – It's You
1:44:30 Spheroid – Transparent Radiation
The Living Sky – Cylinder [from Enter The Sky, releases April 29, 2022]
The Living Sky is Jason Millard and Matthew Himes. The boys have worked together closely in various capacities for years, and the Living Sky is the latest strange form, a blasted blend of smeared astral boogie, garage fuzz drift, and bleary eyed groove from the frozen Midwest. With elements of wispy commune rock, deep fried drone, and an almost tropical left-field funk, the tunes are guitar heavy, quasi-rural, with accents of Farfisa, hand drums, flute, wailing feedback, and mystery ocean tone.
TMODM: You've already provided a good explanation of your influences, but what would you say was the biggest influence on "Enter The Sky"?
Jason: It would be impossible to pick a "biggest" influence on "Enter the Sky", but there are a few themes that are very strong.
First, this album was created with a very close friend that I've known for over 20 years throughout all the ups and downs of life.
We know each other very well so there is little to get in the way of creation and we can communicate freely and directly.
Second, Covid insolation was a huge part of creating this.
Matt and I played music outside during the early days of the pandemic, just jammin' hard in a multitude of settings (acoustic guitars by the river, big amps in my backyard, battery powered amps, and electronics in the woods).
The natural world continues to be a major influence. Giving a concert for/with songbirds and other animals is a very spiritual practice for me, even if that sounds hippy-dippy.
My playing and listening changes significantly when outside, versus playing in a dark basement with concrete walls.
Last, adding to the canon of psychedelic and free music is of grand importance to me.
So many bands and people have impacted my life that I just want to try to do the same for others.
Matt: It's pretty difficult to pinpoint one single largest influence for the new album, but I'd say that's probably true for any art that you've made yourself.
Generally, I'd like to think that as artists, we absorb a huge range of influences from all around us, and what comes out when we make our own art is a combination of all of that, filtered through our own approach and technique to make something uniquely our own.
We both play a lot of music, so for "Enter the Sky", Jason and I came together with a focused intention of creating psychedelic rock and roll, and working within that tradition.
I'm equally inspired by say, a Robert Frost poem, as I am by taking a hike, or sitting quietly by the river. The album came together over the course of about a year of recording and constantly trying new ideas.
With The Living Sky, Jason and I tend to balance between songwriting and true improvisation, so a lot of the music is born from in-the-moment choices, and tapping into an intuitive creative process.
We encourage each other to take chances and play outside of our comfort zones, rather than thinking too much about any individual moves we might make.
TMODM: What's next for the group?
The Living Sky is going to continue making music and sharing recordings.
We've got another album almost ready to go, and plenty of ideas for the future. "Enter the Sky" officially drops April 29th, so we're working on ideas for an album release celebration.
We just want to continue on in creation for ourselves and others.
Slow Dawn – See-Through [from Into The Machine Haus, releases May 13, 2022]
TMODM: What had the strongest influence on Into the Machine Haus?
SD: This record was hugely influenced by japanese psych noise ala High rise, Les Rallizes Dénudés, etc., American Hardcore, White light White heat era VU, Space Ritual and as always anything P.Kember/J.Spaceman have done.
TMODM: What record changed your life?
SD: The first Stooges LP, I purchased this as a young boy and have never looked back. This still sounds as chaotic and rad as it did when I first laid my ears on it. Total Mutant Dummy Rock.
TMODM: What's next for you?
SD: Shows, Gig and Shows. We haven't played in over 2 and half years, we are really eager to make people uncomfortable with our noise in the flesh. And as always we will keep making weird music for cool people.
Night Collectors – One Thousand Years [from One Thousand Years/Transmissions, released February 18, 2022]
TMODM: What had the strongest influence on One Thousand Years / Transmissions?
NC: Bo Didley + "VSSS" (Velvets/Stones/Stooges/Suicide)
TMODM: What record changed your life?
NC: too many to name… but a few select choices – "A Love Supreme" John Coltrane + "White Light/White Heat" Velvet Underground + "Four Violins" Tony Conrad
TMODM: What's next for you?
NC: studio recording in July + LP/CD (via Debacle Records/Cardinal Fuzz Records) early 2023
Shimmer Bed – Signs [from Hard Dreams, released September 13, 2021] and Fine [from Fine, released September 13, 2021]
TMODM: What had the strongest influence on fine?
SS: Influence man everything the streets the colors of the sky the feelings u get walking down the street. I love Ravi Shankar the Beatles obviously and stones anything for sitar but really like Ravi Shankar
Streets of Hollywood is biggest influence
I'd say revolver or let it be. It didn't really change my life cause I don't remember I time before hearing that
It was always there
More than music
TMODM: What record changed your life?
SS: So for something that changed my life would be something more like nirvana in utereo
Offspring smash
The gateway drugs to punk
There probably when the change happened for sure
TMODM: What's next for you?
SS: Next is just playing shows with the version of my band that I play live with
I'm recording as we speak
Supplemental Pills – Run On [from Volume 1, released April 8, 2022]
TMODM: What had the strongest influence on Volume 1?
SP: Besides the long-term musical influences we all share (Spacemen 3, Velvets, Stones, 13th Floor Elevators, Stooges, Sleep, Brian Jonestown Massacre, Krautrock…anything droney, etc) and copious amounts of weed, I'd say the strongest influence was a mutual desire to make sounds without pre-conceived ideas, sonic limits or trying to fit in any genre. That was the overarching thing. Half-jokingly, we have only one rule in the band…"No rules. Just right!" (thanks to Outback Steakhouse adverts).
TMODM: What record changed your lives?
SP: This is Mark, the drummer. At the moment, I can only speak for myself but the dudes and I track so close musically, that this could come from any one of us. As a kid, a friend of my Mom bought me a copy of The Rolling Stones' "Got Live if you Want it" LP, which blew my mind completely. The energy! The power! The screaming girls! I immediately started hounding my parents to buy me a guitar or some drums.
TMODM: What's next for you?
SP: We started as a group of friends who would get together on Monday nights and jam forever with the tape rolling. That's what makes up a lot of "Volume I" – Jams that morphed into songs via studio trickery and love. It was all very casual at first…we weren't even planning to be a real band until we listened back and liked what we heard, but then we had to wait to play shows due to the pandemic. Since then we've become a bit more of a proper band, playing shows and trying to build an audience here in Portland, Oregon and it's surrounds. Going forward, we'll keep on with that as well as (hopefully) releasing our second full-length album this year. There's no real plan but we're trying to take things at least a little bit more seriously than when we started out.
Myrrs – When You're Here [from The Creation of Atanami, released April 11, 2022]
TMODM: What was the biggest influence on The Creation Of Atanami?
Myrrs: Atanami started with a paper plate and some paint droppings left over from a painting i had just finished when i looked down and noticed something, the shape of the paint and how it dripped as i poured it on the plate resembled (slightly) an abstract, primitive, alien version of The Creation Of Adam by Michaelangelo.
I took a picture of it and that is what became the album cover, weeks of staring at this picture it started to spark an inspiration musically that would become a 6 month endeavour of what i believe has been my best attempt yet at music production, from the writing stage to the final mastering sessions of this album have been a very changing experience in my life and definitely an album I won't forget making. But in hindsight i believe the influence that made The Creation Of Atanami was the power of improvisation, DIY spirit and a longing to add to the constant evolution of music and maybe inspire a few people along the way.
TMODM: What's next for you?
Myrrs: MYRRS has played various live shows recently with many amazing bands of many styles and talents, some of which i have waited as long as 3-4 years to share the stage with and meet personally. as we plan for more live shows soon we also have more material, this time an album that has been under construction and the main skeleton of our live setlists over the last couple of years.
MYRR DYRR is expected to commence it's recording sessions sometime late summer/early fall of this year, Meanwhile MYRRS side project ODD FACTION is getting ready to release the first peak into their new album "The Cryogen Suite" single available May 4th on YouTube and Bandcamp on the official pages
thefamilystoned – Deaf Church Choir [from These Things Are Beautiful You Are These Things, released March 12, 2022]
TMODM: What had the strongest influence on THESE THINGS ARE BEAUTIFUL YOU ARE THESE THINGS?
TFS: Just sorta the state of the world .. the pandemic , being isolated. Being separated from the band .. feeling alone. coming out if that and feeling alive again too. The title track is from a poem I wrote for my love .. I was listening to a lot of the Swedish and New Zealand low fi scenes ..
TMODM: What record changed your life?
TFS: I'm constantly blown away from records. I feel like every record I get changes my life . Sonic youth washing machine , completely changed everything for when I was 12 or so. Neil young's harvest is my dessert island record. The dead's Europe 72 rocked my foundation.. i don't know so many punk records and noise tapes and weirdo free jazz stuff. Coltrane meditations .. pharaoh , Sonny sharrock
TMODM: What's next for you?
TFS: We're going to record a proper slyne and the family stoned record. Mid may we have plans to do that . I'm very excited , we haven't made a record together since the "Lucy in the sewer with dogs " album.. and things have changed .. members mostly. I'm exciting to get this version of the fam down on tape ! A bit freakier and noisey !!!!
Skloss – Upper Attic [from Voices Travel Through This EP, released March 17, 2022]
TMODM: What had the strongest influence on Voices Travel Through This EP?
SKLOSS: The strangest influence no doubt was COVID and the pandemic. Being stuck in a living room jamming and making a racket for this record with one another was a really cathartic and rewarding experiment.
Musically – LOW, loop and sleep if you put them all in a washing machine.
TMODM: What record changed your lives?
Karen- MBV's Loveless made me think about music differently. Also waiting for 20 years to see them live was a trip. My ears were ringing for a week, even with earplugs.
Sandy- Records continually change my life but I'd say without a doubt John Peel had the biggest influence in music for me listening to his show on the radio growing up. He exposed us all to so many brilliant bands and eclectic genres of music. Peel was wee window to a whole world of music from a council scheme in Scotland.
TMODM: What's next for you?
SKLOSS: We're pretty new so playing more gigs and having fun with it. Planning on recording a full album and a hopefully a tour would be magic.
Fantastic Purple Spots – Blasting Into The Sun [from Fantastic Purple Spots, released February 7, 2022]
TMODM: What had the strongest influence on your self-titled LP?
FPS: our decades of musical collaboration, turning each other on to bands and sounds throughout the years, our shared love of the 13th Floor Elevators, Village Green-era Kinks, Eric Dolphy, Dara McAnulty, the life force
TMODM: What record changed your life?
FPS: The Beatles "Tomorrow Never Knows" or "Down in the Basement" by Sugar Pie DeSanto
TMODM: What's next for you?
FPS: We put our heart and soul into our first album. It was a great experience, discovering our sound, finding different ways to collaborate and delight ourselves. Now we see where we can go. We are already recording songs for a second album and the good vibes keep flowing.
Magic Shoppe – I Feel High [from Mono Lake, released March 4, 2022]
TMODM: What had the strongest influence on Mono Lake?
MS: Dreams! A few of the songs came directly from dreams I had. I Feel High was written entirely from a dream. I was sitting with some friends in a living room somewhere listening to music. The music was "I Feel High" in it's entirety. Every chord, riff, drum beat, vocal lyric and progression… all came directly from my subconscious (via a dream). I woke up and sounded out the different parts into my phone recorder, then tracked it all. Amazingly, the record's closing track "Drugstore Heart" came to be the same way… almost exactly. Kinda wild for me… I don't hear unwritten songs in dreams usually!
TMODM: What record changed your life?
MS: I've been asked this before! My Bloody Valentine's "Isn't Anything". "Soft as Snow" was the first MBV song I'd heard and it sounded super odd to me. The other tracks are so different, but the record as a whole is super raw and abrasive sounding… I fell in love with it very quickly, then went backwards and listened to their "You Made Me Realise" EP.. also blew my mind. This was a really long time ago! (I'm old). When Loveless came out, I honestly wasn't as impressed. It's a great record… and I know a lot people consider it to be MBV's best record. It just didn't floor me like the earlier two.
TMODM: What's next for you?
MS: We have a month long tour of the EU and UK coming up in November 2022. We're touring with California's Asteroid no. 4 (an amazing band!). It should be super fun! We also have a 4 song EP ("Patty Hearse EP") coming out around that time too. It's a weird one. No track is longer than 2 minutes (the whole EP totals at 7 minutes!). It's a 7-inch (white vinyl). The song styles are kind of all over the map too. It was fun making the record.
Daemones – Refractor [from Petrichords, released April 15, 2022]
TMODM: What had the strongest influence on Petrichords?
Daemones: I'd have to admit that the album was really influenced most by factors in life rather than something music related. The album name "Petrichords" bubbled up due to the cluster of "natural" events that happened up here in the Pacific NW over the last two years. A pretty epic fire happened close to the Portland Area in 2020 (I live just a couple miles from where the emergency evacuation line stretched out to), which then was followed by a massive ice storm that knocked out power for over a week (or more in some nearby areas) in early 2021…which THEN was followed by a record-shattering heat wave a few months later (most of the frantic cricket sounds you hear at the end of Refractor was actually from my hand recorder outside my house on the hottest night in recent history here). All during the worst of the pandemic, no less. All of these elements just brought to culmination a respect for our universal fragility, but we chose to juxtapose that with our ability to adapt and find some personal meaning in it all. No sense in getting too caught up in what we can't control, so I tried to explore things a bit more positively within the lyrics for the songs here.
We'd kicked around the word "petrichor" before, which is a term that describes the super refreshing smell you get in the first rain after a harsh drought. Given the epic mess of events that we'd lived thru over the whole time we were writing these songs, it seemed to make sense to call the album "Petrichords". It's literally the music that came out of us during that long bout of chaos.
TMODM: What record changed your life?
Daemones: It's going to be hard to pick just one record that most changed my life – I feel like so many records help "nudge" me in varying directions all throughout life. But to pick one from early on in life, I'm going to have to go with the first Asia album. This album provided such a serious breadcrumb trail that got me into so many other bands, albums and art that really flipped my reality. Everything down to the epic fantasy cover art of a giant water serpent by Roger Dean (which led me to other bands just from learning more about other album covers he did), to learning of the bands those guys were also in, like King Crimson and Emerson, Lake & Palmer. Those bands and so many other 60s/70s rockers that would put together these elaborate theme albums just simply crushed perceptions of where music could take someone.
TMODM: What's next for you?
Daemones: We just had our digital album release show for Petrichords, but we'll be looking to celebrate it all over again when the vinyl copies are in-hand at the end of summertime, so we're most looking forward to that next. We're still shaking some dust off from the lack of live-playing options over the past two years, but we're aiming to remedy that with some regional shows for the rest of this year at minimum. Beyond that, we've got a healthy pile of demoed songs that need to get the full treatment for the next release. Hopefully it won't be accompanied by another two-year cycle of natural disasters and social tragedies…but if it does happen that way again, we'll just do our best to find a seam through the mayhem.
Fuguers Cove – Gust [from Ghost Inventory-False Memoir, released March 23, 2022]
TMODM: What's had the strongest influence on your recent albums?
FC: My influences in 2022. . . hmm, hard to say. I've put out three EPs, and each one is it's own thing. The first is shambolic & lo-fi–very 1990s. The second is a collection of previously released work, including "Gust," which I compiled for a faculty art show at the school where I teach, and the third has more of a classic rock meets Superchunk vibe. Since 2020, I've found myself moving away from 2 minute psych-pop songs and into epic 8 minute slogs complete with guitar solos and extended codas.
TMODM: What's next for you?
FC: If I were Ty Segall, I guess my next move would be to write dance music. But I'm not, so I'm thinking two things for the near future: a short reverb-drenched lo-fi psych EP, and a full length album by my thrash punk doppelganger, The Burning Silos, who are unknown in the US but mildly popular on Ethiopian facebook (and, yes, I am being serious).
Babe Ruthless – Dog Days [from I'm Not Having Fun-Destroyer, released February 4, 2022]
TMODM: What had the strongest influence on I'm Not Having Fun​/​DESTROYER?
BR: One of the strongest influences came from the artist Cheatin Snakes! He has a clothing line and the releases are themed and I took a lot of inspiration from his Camp Destroyer line that got me thinking "what would the bad kids at Camp Destroyer listen to?" (The answer was very punky) and that helped start the writing process!
TMODM: What's next for you?
BR: We've been playing a lot of shows and they keep coming! We have a new music video and hope to do another one soon! And always working on new music so there should be some form of new tunes coming out later this year!
Lightning – Vallejo [from 222, released January 7, 2022]
TMODM: What had the strongest influence on 222?
Lightning: Weird synchronicities, heartbeak, chaos and angel numbers.
TMODM: What record changed your lives?
Lightning: For me (Anthony) it was Captain Beyond self-titled from start to finish
Ricky – Tool – Undertow
Rafa – Purple Mercy self-titled
TMODM: What's next for you?
Lightning: we're going to be working on a full length album. We have quite a few songs that have been just lurking in the shadows that we never really finished.
Deadlights – Paralyzed [from Eleven Step Intervention, released March 22, 2022]
TMODM: What had the strongest influence on Eleven Step Intervention?
Deadlights: My influences are pretty far-reaching. I'm a pop and power pop fan at heart, however Deadlights is a concerted effort to blend those pop elements with a more distinct dreampop/shoegaze vibe. Biggest influences for this record would be bands like Ride, Swervedriver, The Church, Chameleons UK, Drop Nineteens, The Posies
TMODM: What record changed your life?
Deadlights: My favorite record of all time is the Posies "Dear 23" record from 1990. It informs just about everything I do musically.
TMODM: What's next for you?
Deadlights: I have a charity single ready to drop next month – along with a bonus cover from an obscure 80s post-punk band called Play Dead. I'm thinking about directing all proceeds from it for Ukrainian relief efforts.
Groop – Belly II [released March 1, 2022]
The John Denver Airport Conspiracy – The Big Classic [from Something's Gotta Give, released July 30, 2021]
TMODM: What had the strongest influence on Something's Gotta Give?
JDAC: The songs were written during the thick of the pandemic – so I would have to say unenmployment
TMODM: What record changed your lives?
JDAC: One record that changed my life was The Kinks Are The Village Green Preservation Society
TMODM: What's next for you?
JDAC: Next for us is just cracking on with it and recording new music. We've amassed about 2 albums worth of songs and are eager to record them proper.
Omissam – Hide [from Others, released February 4, 2022]
Cosmic Drifter – Chasing Shadows [from Chasing Shadows, released February 4, 2022]
TMODM: What had the strongest influence on Chasing Shadows?
CD: So many unconscious influences… it's probably whatever I'm listening to most at the time. I wrote Chasing shadows five or six years ago and it turned out to be one of those songs that takes a long time to finish. It went through a lot of adjustments over the years and I think it has various influences because of all the different artists I was listening to during that period of time. My writing has always been very influenced by punk rock because I grew up playing in punk bands. The Shadows, Neil Young, Neutral Milk Hotel and Bruce Springsteen have also been big influences for a long time, so they're kind of ingrained in my writing style to some degree. Lately I've been trying to break out of my habits and build more atmosphere and tension. I want to capture the feeling that I get from artists like Beach House, Still Corners, Boards of Canada, Kurt Vile and early Tame Impala. The goal is to create a psychedelic, transcendent, otherworldly vibe that transports the listener to a distant land or another dimension. I don't know how successful I was this time around, but there's a lot more material in the pipeline.
TMODM: What record changed your life?
CD: This is a tough question because it's difficult to choose just one. When I was a kid, one of the first CDs I bought was Third Eye Blind's self-titled debut. It was probably my main introduction to guitar based song-writing and to this day I still think it's a great record. In my teen years Operation Ivy changed things for me in terms of what music and lyrics could mean on a raw, personal, political and philosophical level. I still spin the Energy/Hectic reissue every few months. In my late 20s, Death Is This Communion by High on Fire reinvigorated my love for playing guitar. That band has been a huge influence on my riffing since then.
TMODM: What's next for you?
CD: I'm working on a completely DIY full length record. I have a ton of songs from before and during the pandemic that I've been honing for months and in some cases years now. I've been getting into pedals, layering sounds and venturing into new song-writing territory. I'm used to yelling angrily from behind a wall of distortion so this has been a bit challenging for me, but I'm excited about where it's going. I'm also working on putting a band together to play live shows, which has been difficult for obvious reasons, but it's gonna happen so stay tuned.
The Gateless Gate – Helcaraxë One [from Hinterlands, released March 24, 2022]
TMODM: What had the strongest influence on Hinterlands?
GG: When I do that sort of drony ambient, my influences are generally early German electronic stuff, like early Tangerine Dream, Klaus Schulze, and the two early Popol Vuh albums.
TMODM: What record changed your life?
GG: If I go back far enough in my distant past, I think my ears were really opened up at age 16 by getting a hold of a crusty old 5$ vinyl record of "In the Court of the Crimson King." In particular, "Epitaph" blew my mind immediately. I'd never heard anything so intense before.
TMODM: What's next for you?
GG: I'm also a singer-songwriter, so my current project is an album of traditional British folk music done in a psych-folk style.
Lammping – Everlasting Moor [from Stars We Lost, released March 4, 2022]
TMODM: What had the strongest influence on Stars We Lost?
Lammping: Too many influences to count. From the production techniques of Madlib to krautrock drummers to Iommi's riffs (mandatory).
TMODM: What record changed your life?
Lammping: Mikhail here. Probably Revolver by the Beatles and a compilation called Full Clip by GangStarr, in equal measure. One opened my mind to songwriting possibilities, the other, to production.
TMDOM: Whats next for you?
Lammping: Gonna experiment more with our sound this year. Or might just go super doomy and heavy for the next record. It's all up in the air.
Blume – It's You [from Repetition, released February 22, 2022]
TMODM: What had the strongest influence on Repetition?
Blume: Music wise I was pretty influenced by krautrock bands and early experimental electronic music when I was working on Repetition. Bands like Neu! and Cluster come to mind. I had been working on an album that incorporated more guitars while taking influences from the electronic world and I had come up with some ideas that weren't exactly fitting with the rest of the album. I chose to focus on these ideas that all had a repetitive nature and wanted to highlight that more. Repetition has always been a constant in my music, it is something I am drawn too and feels primal and natural, but with this EP I wanted to focus on that even more.
TMODM: What record changed your life?
Blume: The Velvet Underground & Nico probably had the most profound change on me. How the music was so raw and simple yet compelling and dynamic. It really influenced me in my thinking less is more.
TMODM: What's next for you?
Blume: I've just finished up a third album that I'm planning to release sometime this summer if everything stays on schedule. I've got cassettes being made for a physical release and will be putting it out on Bandcamp and the usual online/streaming outlets. Hopefully will be out playing live shows again this summer as well!
Spheroid – Transparent Radiation [from Sling, released March 2, 2022]
TMODM: What had the strongest influence on Sling?
Spheroid: The bigger ones for this are Deftones, Tool, NIN, New Order, BRMC, and the Jesus & Mary Chain, but other big ones for this project include Garbage, Nirvana, Filter, The White Stripes, The Vines, The Strokes, Tame Impala, Alice In Chains, Soundgarden, Zoviet France, David Bowie, My Bloody Valentine, Psychic TV, Spacemen 3, T2, Atomic Rooster, Queens of the Stone Age, and plus all the rock & metal music I listened to as a kid.
And, about how "Transparent Radiation" came to be: I was inspired by Pete Kember's live version from 1989, how it was his own style, it's different from the original, but still reminiscent of The Red Crayola. I was also influenced by the albums Leaving Meaning by SWANS and You Are The Resurrection by The Kundalini Genie.
TMODM: What record changed your life?
Spheroid: Life-changing records: (I'll try to keep it brief…)
Audioslave's debut, Billy Talent i and ii, One-X by Three Days Grace, Broken by NIN, White Pony by Deftones, Never Mind the Bullocks… by Sex Pistols, Kid A by Radiohead, A Catholic Education by Teenage Fanclub, Lysol by Melvins, Corky's Debt to His Father by Mayo Thompson, Radio-Activity by Kraftwerk, debut album of Duran Duran, and every album by Beck (I think I've heard every one..? haha).
TMODM: Whats next for you?
Spheroid: Stylistically, I'm working on adding more vocals to my music….something I'm not completely comfortable doing yet. Also trying to move away from strictly noise music. My main music project is Organisationer as of late. It's a folky singer-songwriter type thing. Something that is influenced by early Beck, Phil Elvrum, Jandek and Neutral Milk Hotel. I started it in Sept '21. I like working on it because it's so much more stripped down than what I've tried doing before. There's no drums. Just an acoustic guitar, my vocals, some keys and some effects. I just released a "promotional EP" for my new full-length album that should be released by June. It's on Bandcamp.
I also make electronic music under the name Isoscelex. It's a mix of EDM/techno/house/new wave. A lot of it is instrumental.
If you are wondering about what's next for Spheroid: taking a bit of a break for now, to focus on other things including Organisationer, but I'm hoping to begin recording this summer for a full-length release. It should be completed by mid-2023.