Turn Me On, Dead Man podcast 2020.03 Somebody's Controlling The Vibes on Mixcloud includes garage rock and psychedelic tracks released (or re-released) from late January to early February. The title of the podcast, as well as the breaks used throughout the hour, are from the outlaw biker/horror movie Werewolves On Wheels [1971].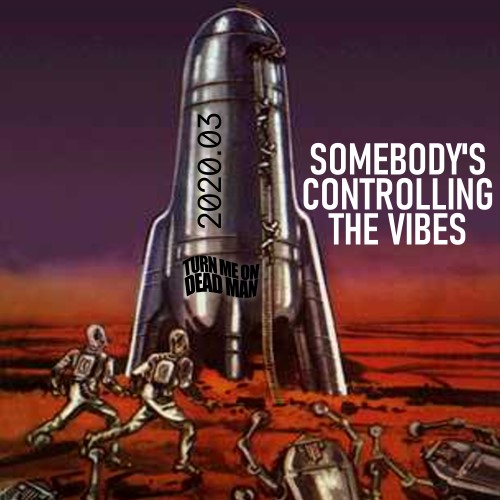 00:00 TMODM – Intro
01:08 Capricorn One – Hey Garcon
04:57 Mouse – Electric Face
09:11 Ozo – Saturn
13:56 TMODM – The Truth
15:25 Lenny Kaye & The Fleshtones – Lost on Xandu
18:00 Crushing Yellow Sun – The Bomber
21:48 No Glitter – SUB
24:15 Van der Vous – Cuidad Del Sol
28:18 TMODM – Protect Us From Your Evil
29:32 Lemurian Folk Songs – Logos
37:55 Wolf Tape – Wreckage
41:01 Dead Sea Apes – Night Lands
54:19 TMODM – Outro
---
Capricorn One – Hey Garcon [from Capricorn One, released February 15, 2020].
Capricorn One is a "space-rock odyssey" project Ed Ackerson was working on before he died of pancreatic cancer in the fall of 2019. Ed played in several bands (my favorite being the 27 Various), produced quite a few more and ran Flowers Studio in Minneapolis. A celebration of Ed's life took place on Feb. 15, 2020 at First Avenue in Minneapolis featuring artists Ed recorded or produced, as well as bands Ed was a part of. Surviving Ed are his wife, Ashley, and four-year-old daughter, Annika. All proceeds from the First Avenue show will benefit the Ed Ackerson Family Fund and the Pancreatic Cancer Action Network.
Mouse – Electric Face [from Reverse : Universe, released February 6, 2020]
TMODM: Your Bandcamp page includes the following quote, "Desolation, global sterilization, reanimation. Into the depths of a black hole. Into the expanse of a new universe." Is this was some sort of prediction or perhaps a warning?
Damon Miles: The album is more about what is not said than is. Certainly a warning told through a fantastical lens of space travel & galactic warfare. Within the context of the story & the concept behind it, humans must evacuate earth due to deteriorating living conditions and find something new for themselves, which is where the album picks up. Traversing the black hole brings with it the bizarre transformation to mice beings which then brings upon the unexpected in the expanse of a totally new universe where everything that was known is not and must be reestablished for the last of the human/mice population. An impoverished mice planet ruled by cruel cat-like creatures bent on universal domination in need of liberation. It is a call for action to make something of the new reality they find themselves in, to save what is left & rebuild. The album comments on the nature of human beings as greed for power and control dominates our beautiful yet impoverished planet. With knowledge of the state of today's climate and the conditions set in motion by the human race, change is necessary. The damage to a certain degree is irreversible and we have been warned to operate from a higher state of being as a collective to build from our mistakes and to live in harmony with nature and our own existence for future generations that are deserving of this. Something's coming, and we have to let it.
OZO – Lifeship [from Saturn, released February 7, 2020]
TMODM: You're incredibly prolific and I'm just wondering how you keep it all straight. Do you always have several projects going on at once or do you focus on one thing at a time?
Mike Vest: It depends really. Sometimes I'm recording a few albums back to back. I'm always recording by myself. I like messing around with different recording techniques, plugins and effects. I'm always cracking additional upgrades to logic etc. Think I've got 5/10 grands worth of stuff. I only use 20% of it. I've got 300 organ presets. Prob. Never use em. Haha. I do a lot of overdubs at my house/studio. Because 11Paranoias and Melting Hand all live in London and I live in Newcastle. I record down there but then work on extra guitar stuff at mine to save money. I can concentrate better at my place etc. I'm always recording Lush Worker, I'm trying to release an LP or do more shows. I'm playing at Chaos Theory's 10 year celebration @The Dome London, end of this month. I really want to do more Lush Worker albums but I really want to do an LP but no one is interested in either really. Upsetting but it is what it is I guess.
TMODM: How did OZO come about? Now that you've recorded Saturn it seems like a natural collaboration, but was that the case? Whose idea was it?
Mike Vest: My idea, always wanted to do something with Karl [D'Silva, from Drunk In Hell] and Graham [Thompson, from Ballpeen]. Seemed like the perfect time. Just got sick of hearing loads of elevator jazz/psych music. I have to admit it was going to be just like a weird rock album that graham and I would do. But got Karl in. He improvised and it was just magic. Graham's drumming was so good I thought I would have him lead the tracks. Generally on rock albums drums can be in the background. So I thought the best way to have them louder and up front. The answer was free jazz.
TMODM: Who are your main influences?
Mike Vest: Fushitsusha, Globe Unity and life
Lenny Kaye and The Fleshtones – Lost on Xandu [released January 24, 2020]
Rough Trade sold this 7″ on Black Friday, 2019. They explained, "Garage rock connoisseurs may remember the instrumental 'Lost on Xandu' from The Fleshtones' 2011 album Brooklyn Sound Solution for its distinctive guitar work from the hands of the legendary Lenny Kaye. Eight years later, Lenny went back to the instrumental tune and crafted some lyrics that paint the scenery of an outer space landscape, adding his own vocals to the song and turning the track into something completely new. This reimagined version of 'Lost on Xandu' with vocals will be available as a limited edition 45 single on cloudy orange vinyl for Black Friday 2019. The vocal version of 'Lost on Xandu' is found on the A-side, and the B-side features a dub-style rendition of the track (starring Peter Zaremba as Space Commander) titled 'Lost on Xandu (Version).' Neither the vocal version nor dub version of 'Lost on Xandu' have been previously available in any format."
Crushing Yellow Sun – The Bomber [from Throwback, released February 10, 2020]
Crushing Yellow Sun is "a one man heavy psychedelic sludge project whose influences vary slightly from album to album." He's released a steady stream of tracks over the last few months.
TMODM: What made you decide to release a full-length album?
CYS: My main reason for releasing a full length is that I just figured it was time. I had spent most of the past year releasing one single after another and with the completion of my band's latest self titled Ep (Dead Panda- to be released March 1st) I found myself with some extra time to concentrate on my own project. "Throwback" collects a lot of singles and some of my favorite CYS tracks together, plus a few new ones. So as the name implies, it's not all new material, but it's stuff I thought was worth revisiting
No Glitter – SUB [From SUB / Driving, released February 7, 2020]
I asked Billy Martin about No Glitter, and he described it as "a solo project where I record the songs in my home studio. Chances are there will be a live band playing around Rochester NY this year. I will continually release new music as the year goes on too."
Van Der Vous – Cuidad Del Sol [released January 31, 2020]
Vitor Matos, vocalist and lead guitarist for Van Der Vous, is from Salvador, Brazil, but went to Buenos Aires, Argentina to record "Cuidad del Sol".
TMODM: Why did you go to Argentina?
Vitor: I have arrived here in 2017, first to learn Spanish and to feel a different country and culture, to feel how it is to live abroad. It was cool initially, because everything was new for me, the culture, the language, the people, it is a different country.

So, still, here in Argentina I released the second album called "Espectro Solar" and another experimentation as a single called "Vanity Lies" that got well in United States because of Danger Mouse playlist, but it is not the kind of sound of the band, you know? It is sad and has strong lyrics, in a good way, it's a cool song but now similar with the other songs I have.

In 2018 / 2019 we've recorded two singles, "Ciudad del Sol" and the unreleased single "Aquelarre" that will be part of our third album that I hope we will release this year.

I am going back soon to my home country Brazil to live for the first time in another state (San Pablo), and I hope to release in Brazil because almost all of the songs will be in Portuguese, and I need to connect again with my fans there and my culture, my country. So, here in Argentina was a good experience but I can't stay longer because I miss my cultural connection with my country and I feel that I need to do something with my music to go against the system, the extreme-right president that is putting the country down and I feel that my country is going to be in a really bad situation, so, I don't want to only watch this but to stay there and use my music and art against the establishment, this president. That's one point that I feel that I have to do, the second, is to reconnect with my fans, live.
Lemurian Folk Songs – Logos [from Logos, released February 4, 2020]
Lemurian Folk Songs describe their music as "Processive Rock". The tracks from Logos were recorded live together with "Ima今" in one take, in the summer of 2019. They include this enigmatic quote from EA: On the General Doctrine of Mantras, "In order to understand what a mantra is, it is necessary to adopt the perspective that considers all things in function of sound and movement. Everything in the universe is a vibration; this vibration has the living sense of speaking, of expressing the invisible world. It is movement as sounding word and revealing Logos."
Wolf Tape – Wreckage [from II, released January 29, 2020]
This one has really stuck in my head. I love the way the guitar provides a counterpoint to the vocals on this track.
TMODM: What are your influences?
Wolf Tape: We all grew up in our teenage years together obsessing over Green Day, The Flatliners & many other Fat Wreck bands. We like to mix that punk sound with rock n roll like Neil Young & the Beatles but with a heavy, tasty riff like Black Sabbath & Motörhead, just to make a few.
TMODM: What about future plans for the band?
Wolf Tape: We all have professions and work for a living, we play shows when we can and would love to play more! Wolf tapes already working on new songs for a split with a band called Dark Tag.
Dead Sea Apes – Night Lands [from Night Lands, released February 7, 2020]
Dead Sea Apes recorded Night Lands with Nik Rayne of the Myrrors.
TMODM: Do you have any plans to record with Nik Rayne again?
Dead Sea Apes: We don't have any specific plans to work with Nik again – to be honest there was no plan in the first place, he just happened to be in the UK for a few weeks so we got him to play on two tracks for The Free Territory, and then had a jam together which became the Night Lands album. I'm sure if our paths cross again we'll have another jam and see what happens but there's nothing planned at the moment. There's more info about the album in this preview/interview. This is Nik's current project.
---