It's Super Bowl Sunday and what better way to mark the occasion than with some new psychedelia? Actually only two of the bands in this episode's playlist are from the US. Four of the bands are from the UK where, I understand, the NFL is trying to establish a foothold. So anyway, the season comes to an end but the psychedelia goes on….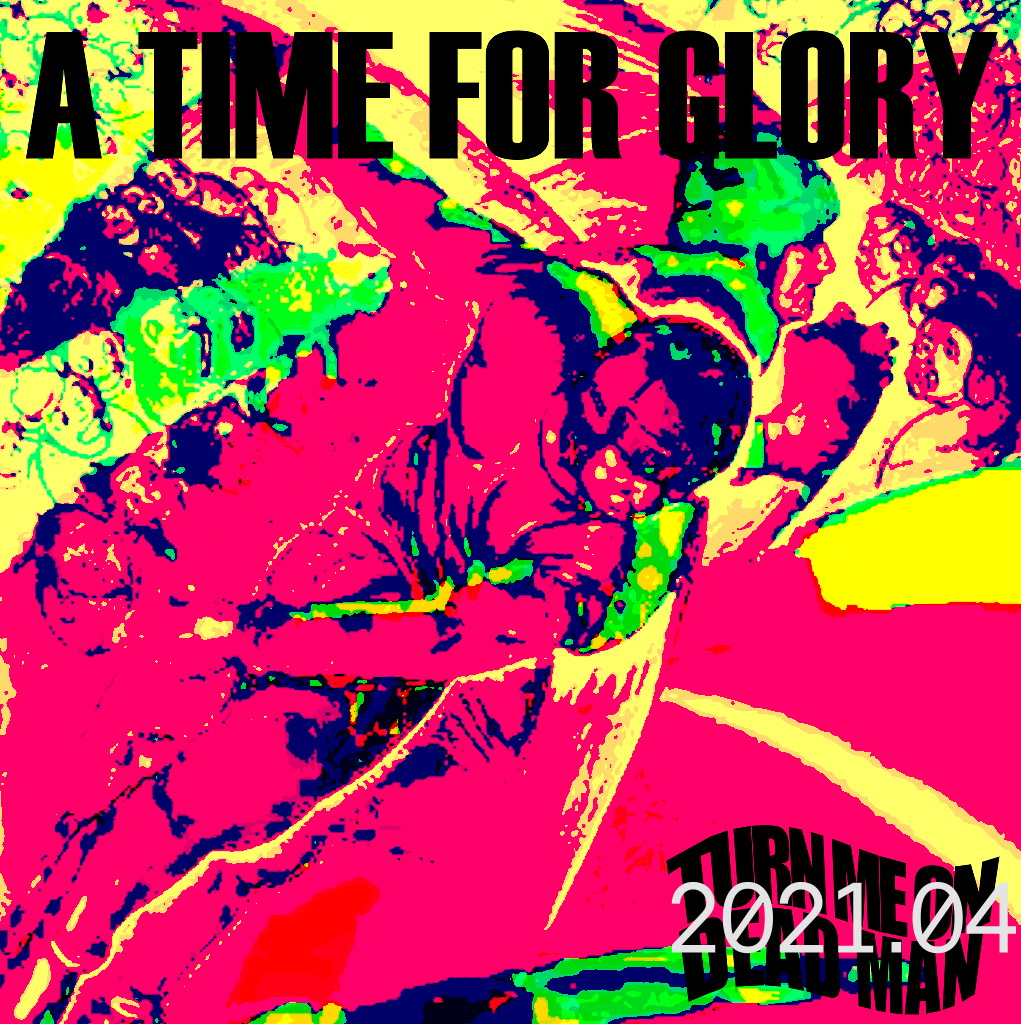 00:00 Turn Me On, Dead Man – Intro
01:06 Blood Moss – Lagoon
04:12 Dreamweapon – Rites of Lunacy
09:03 The Telephones UK – Graceless Bird
13:12 Castle Club – Today
16:28 Pilot Voyager – Fuzziness
23:18 Underweight – Head Drop
28:04 Black Helium – Pink Bolt Cvlt Nation Sessions
39:44 Lumerians – Transmission Overture
51:55 Kombynat Robotron – Poldhu
---
Blood Moss – Lagoon [from Blood Moss, releases 2/29/2021]
I corresponded with Matthew Dwyer of Blood Moss.
TMODM: Who are your main influences?
MD: I initially envisioned this project as a dungeon synth/ambient album, but other influences crept in and overtook that direction, so the dungeon aspect took on a more textural element. I liked the sound of some older 90s artists like Depressive Silence and Jim Kirkwood, and I tried to convey the melancholy of those records combined with newer garage psych. Darker sample based hip hop and sound collages also definitely influenced the sound.
TMODM: What's next for you?
MD: A few of these songs (including Lagoon) are actually demos that I liked the sound of but were made prior to full recordings for a psych band I'm in called Bard's Flying Vessel. We are releasing our debut LP in the coming months — throw a follow to our IG @bardsflyingvessel for updates.
TMODM: What's your sense about the future? Are we in some kind of downward spiral or do we have cause for optimism?
MD: I sure hope (and it seems) things are on the up and up. I don't have much motivation without optimism, so to me things like social and environmental justice, the pandemic, etc, need optimism to strive for and you make plans from there.
Dreamweapon – Rites of Lunacy [from Rites of Lunacy, released August 07, 2020]
The Telephones UK – Graceless Bird [from The Bridge, released January 22, 2021]
Castle Club – Today [from Dead at Ghostspace, released January 01, 2021]
I emailed Castle Club with my standard questions before I realized that I had already run these questions by them a few months ago when I included their song "Anybody Else" in Podcast 2020.14 Mark IV. Still, they were good enough to provide fresh answers.
TMODM: Who are your main influences?
CC: The three of us all listen to a lot of the same music. Motorhead, AC/DC, Yes, Devo and so on in that order.
TMODM: What's next for you?
CC: Right now we're recording our next album, which kind of sounds like King Crimson, but left out in the sun after drinking too much.
TMODM: What's your sense about the future? Are we in some kind of downward spiral or do we have cause for optimism?
CC: I can only speak for myself, but I'm genuinely optimistic about our future on a macro level, but not at all optimistic about the next 50 to 100 years. I think we'll eventually figure out our shit, but I'm not sure if I'll be alive to see us stick the landing. Of course, it's always possible we fuck up epically and never recover. It's hard to say whether we're on a downward spiral though, maybe it's better if we think of it as spiraling down towards the top."
TMODM: I didn't make the connection that I had already included "Anybody Else" on an earlier podcast! Sorry to be repetitive with my questions! I watched the video for "Anybody Else" and I was wondering what amps you use at Ghostspace. Are those Vox amps in the video yours?
CC: I used a Vox AC-15 for the first two Castle Club albums, including the album from which 'Anybody Else' comes. In that video it looks like we've got my AC15, Dylan's Ampeg bass rig (not sure of the model on that), a little Vox Valvetronic, some small practice amp, and a few others that I can't pick out. I seem to remember there being a Fender Twin as well. As far as recording is concerned, we're either using my AC-15, or more recently a Fender Hot Rod Deluxe for guitar. For bass we're either using that Ampeg, or in the case of the first few Castle Club albums, a DI with pedals, a DI from a guitar amp or a mic'd guitar amp.
Pilot Voyager – Fuzziness [from Nuclear Candy Bar, released January 29, 2021]
Underweight – Head Drop [from Burn It Down – The EPs, released December 19, 2020]
I corresponded with Charlie and got responses to my questions from the guitarists/vocalists for Head Drop, identifying themselves only as Sean and Kev.
TMODM: Who are your main influences?
Sean: Records from 87/88 by Loop, Spacemen 3, Sonic Youth and Mudhoney. More recently – The Telescopes, Feral Ohms, Anthroprophh and Radar Men From The Moon. Queen.
Kev: Loop, Hawkwind, Spacemen 3, Mudhoney, early '90s Monster Magnet, Gnod, 70s Motorhead. East 17
TMODM: What's next for you?
Sean: A record of new stuff – maybe a double; partly written, partly improvised. As soon as we're allowed in a studio.
Kev: Exactly what Sean said.
TMODM: What's your sense of the future? Downward spiral or optimism?
Sean:
'May the long-time sun shine upon you
All love surround you
And the pure light within you
Guide your way on'
Kev: it will be different, some things may come out to actually be a bit better in places when the dust settles, but probably worse (at least for a while), if you're poor, and / or are a British based musician.
Who knows what will be left. DIY bands in DIY venues and every musician that does anything less than sell out arenas will have a standard day job like the rest of us unless significant changes are made to those good old esoteric music business revenue streams.
DIY bands and labels and Bandcamp will prevail though!
In wider terms, many changes in the evolution of society come out of dark, chaotic times. We are part of a lesson that will be being taught in schools 100 years from now. In the last 11 years we've had political carnage and the quiet erosion of so many hard fought rights and support systems that were put in place over the years since 1945. Those who those systems were put in place to protect, successfully being persuaded that they are a bad thing. Strange and sad times.
And then a devastating pandemic that was initially managed by a son of privilege choosing to miss the first 5 COBRA meetings rather than cancel his holiday, thus setting the tone for the response until now.
How much more will people take?
Who knows, but it will all be part of those future history lessons.
Change will come, eventually, here's hoping it's for the better.
Black Helium – Pink Bolt Cvlt Nation Sessions [from Cvlt Nation Sessions 2020, released December 31, 2020]
I corresponded with Beck Harvey of Black Helium.
TMODM: Who are your main influences?
BH: We are inspired by those fearless artists who push the edges of acceptance, they are our treasured sonic psychonauts ; We love the 13th Floor Elevators, The Beach Boys, Hawkwind, Spacemen 3, Black Sabbath, Betty Davis, Amon Dual II, Butthole Surfers, Electric Wizard, Pink Floyd (especially Pompei era), The Oh Sees, Funkedelic, Groundhogs, The Incredible String Band, Voivod, Celtic Frost, Trouble, Can, etc etc the list is endless and we add to it continuously.
TMODM: What's next for you?
BH: At this moment in time we are just sitting out the bastard plague.. the plan is to get through this safe and sane. We, like everyone else are in a strange state of limbo. Whilst we dangle and wait for things to return to normal, we are sucking up more music and psychedelising ourselves … We turn to classic metal and comfort ourselves with the Judas Priest, Megadeth, Beach Boys, Incredible String Band and Bowie, this helps..
LP 3 is emerging from somewhere… in bits… but we don't know where yet… or where its gonna land?????
TMODM: What's your sense about the future?
BH: Change is coming, Oh yes, and well things weren't so great before, so we are hoping and praying that things will improve. We hope that there will be a worldwide realisation that society needs to support its most vulnerable to survive. Hoping that there will be more empathy in this world and that what we really need to do is to love and protect each other and don't cut down any more trees! Plus we have to stop all this division bullshit everyone seems to mindlessly falling for. We are stupidly optimistic. We are emerging… changed. Cant wait to rehearse again.
Lumerians – Transmission Overture [from Fuzz Club Session, released January 29, 2021]
Kombynat Robotron – Poldhu [from Spontane Emission, released November 02, 2020]