Last year saw a steady stream of new 1960s garage/psych compilations. New comps fell into two categories: obscure international psychedelia or more familiar music reworked around some theme. The first set of this podcast focuses on international psychedelia, most of which are from small labels. The second set covers US and European music, with several of the tracks coming from ambitious box sets.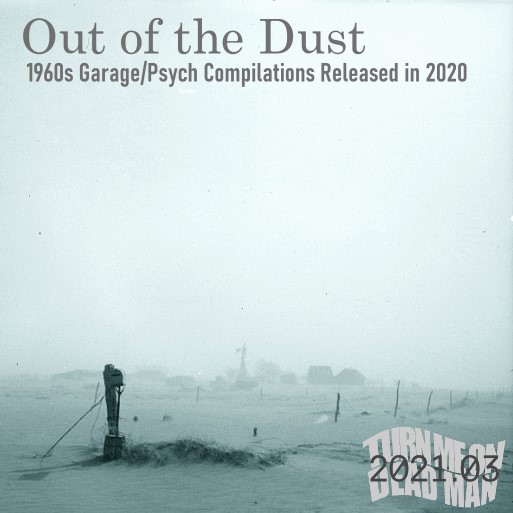 00:00 TMODM – Intro
02:00 I Ragazzi del Sole – Nostalgia Di Te
04:42 The Mod East – Angelita
06:43 Group Syaeed – Mosh Va Karnah
08:19 Os Litles – Maze
11:26 The Mebusas – Mr. Bull Dog
15:22 Baris Manco – Flower of Love
18:00 A. Halim & De'fictions – Kembali Lagi
21:20 Tabernash – Head Collect
24:18 Mike Batt – Fading Yellow
27:48 The Action – Look At The View
31:43 The Creation – Making Time
34:38 Dana Gillespie – Andy Warhol
37:01 Moonshine – Ring Around The Roses
41:25 Beefeaters – Night Flight
44:30 Deuter – Soham
48:00 Astral Army – Interstellar Shortwave
52:27 Carol Of Harvest – Put On Your Nightcap
---
This episode opens with three tracks from compilations created by Vincezo Martino and released through his website Paradise of Garage Comps. By my count Vincenzo put out 18 compilations last year, adding volumes to series that each have a different focus: Italian beat on Atto di Forza, Sardinian beat on Troppo Forte, beat/pop on Avanzi Beat, fuzzed punk on The Wind Blows Hard, international garage punk on Plastic Society and moody garage punk I'm Losing Tonight. Already in 2021 he's released two volumes of a new series called Wild Trip, focusing on 1980s garage/jangle pop. Vincenzo has started his own streaming service through Zeno.FM called Out Of Time to play music from his vast collection.
In preparing this podcast I did a short interview with Vincenzo Martino.
TMODM: How do you go about making your private comps?
VM: The private comps I create them by assembling the best songs of the material I listen to every day (vinyl or mp3), usually obscure garage material mostly with folkrock and moody sounds, or many other things of mid-Sixties Transworld garage or Italian Beat.
TMODM: How many tracks from your private comps are not on any other comp?
VM: I can't tell you exactly what the number of uncomped songs that only present in my comps are, but I can tell you that it often happens to I insert several.
TMODM: Are there uncomped tracks that you're still looking for?
VM: There are currently no uncomped songs I'm looking for (I have a good mp3 server and a good number of vinyl comps to draw from).

Rounding out the international set are tracks from the Zebra label compilations Africa: Psychedelic Rock Nuggets 1969-1974 and Istanbul Rock: Lost Turkish Psychedelic Nuggets 1966-1971, from the Sputnik label compilation Psyche Oh! A Go Go, covering psych from Malaysia and Singapore, and Volume 4 of the Groovie Records series Brazilian Nuggets: Out of the Jungle. A couple of other labels released additional volumes of longstanding series: Riding Easy Records added the tenth and eleventh volumes to their Brown Acid series, and Garden of Delights released Psychedelic Underground 19–tracks that open and close the second set of the podcast.
The British tracks featured in this episode were from ambitious box sets build around stylistic themes, covering baroque pop (Tea & Symphony: The English Baroque Sound 1968-1974), Mod (Halcyon Days: 60s Mod, R&B, Brit Soul & Freakbeat Nuggets), proto-psychedelia (A Slight Disturbance In My Mind: British Proto-Psychedelic Sounds of 1966), and progressive rock (Peephole in My Brain: The British Progressive Pop Sounds of 1971). An additional British psych track coms from the Dig The Fuzz release Sydney's Lunchbox: British Psychedelics 1968-1977. Danish psych is covered in the box set Living On The Hill: A Danish Underground Trip 1967-1974.
Three Krautrock tracks conclude this podcast. Bear Family released four volumes of the Kraut! series, each focusing on a different region of Germany in the late 1960s and into the 1970s. Guersson Records released Pyramid Edits, an EP of recordings from the Pyramid label, and Psychedelic Underground 19 is a sampler of Krautrock reissues on the Garden of Delights label.
"Making Time" by The Creation [UK]

"My. Bull Dog" by The Mebusas [Nigeria]

"Maze" by Os Litles [Brazil]

"Head Collect" by Tabernash [US]

"Look at the View" by The Action [UK]

"Flower of Love" by Baris Manco [Turkey]

"Soham" by Deuter [Germany]

"Night Flight by The Beefeaters [Denmark]

"Andy Warhol" by Dana Gillespie [UK]

"Kembali Lagi" by A. Halim & De'fictions [Malaysia]

"Put on Your Nightcap" by Carol of Harvest [Germany]

"Interstellar Shortwave" by Astral Army [Germany]

"Ring Around The Roses" by Moonshine [UK]
Did I miss a 1960s garage/psych comp released in 2020? Let me know.