I recently watched In My Mind
, a documentary about an interview with Patrick McGoohan conducted in 1983. The interview was for a documentary that was released the following year about the The Prisoner
, which first aired on television in 1967. McGoohan was as enigmatic in the interview as the show itself and interviewer Chris Rodley wanted to revisit the interview more then 30 years later to give it a somewhat less enigmatic presentation. In My Mind had a lot of great footage and given that I revisit The Prisoner every few years (because I want information… information… information…), it was interesting to see.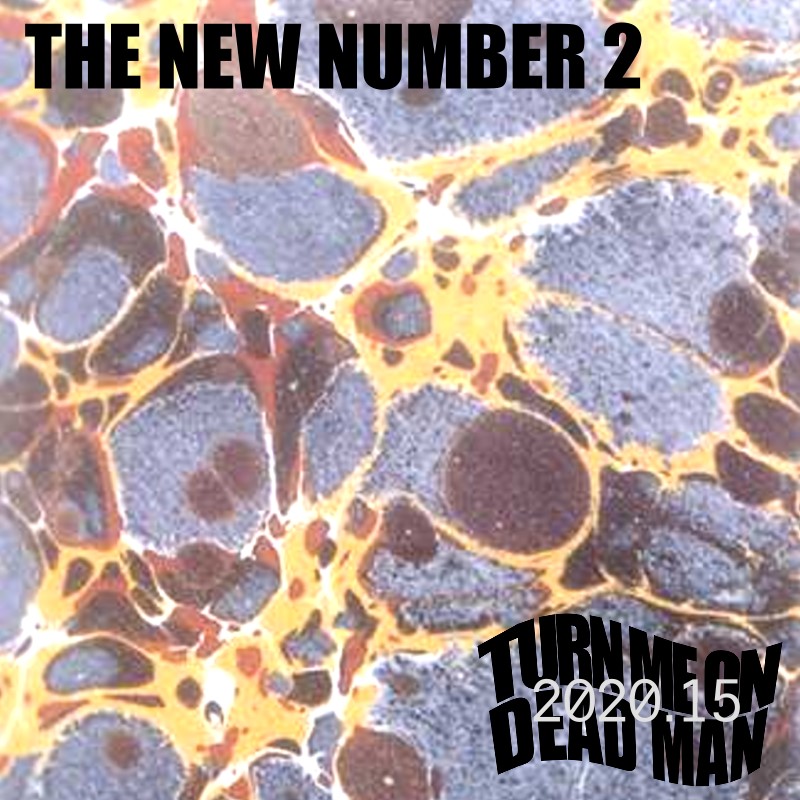 00:00 TMODM – Intro
00:50 EarthOmen – Black Cloud Part I
05:42 Thee U.F.O. – Floating Eye
08:37 Spiral Wave Nomads – Ten Color Ritual
16:15 The Electric Myrrs – Witchy
20:21 black (w)hole – Psilosy
24:33 C.B. Kidd – Wishful Thinking
28:25 Sun of Man – Heavy Burn
32:45 Druggy Pizza – Radium Canyon
35:30 Burnt Hills – untitled (b3)
41:38 Minimal Bliss – Sunburst Eyes
46:50 Flying Anomaly Theorized – Fire in the Sky
54:40 EarthOmen – Black Cloud Part III
57:35 TMODM – Number 6 resigns
EarthOmen – Black Cloud Part I [from Black Cloud, released July 17, 2020]
Thee U.F.O. – Floating Eye [from Light Boat Drones, releases October 31, 2020]
TMODM: Who are your main influences?
THEE UFO: We listen to a lot of different music but during the recording of that album we were listening to CAN, Ty Segall, The Myrrors, ÖM, West Coast Pop Art Experimental Band, OhSees and Beak>. Though I think older influences like Syd Barrett and Tyrannosaurus Rex shine thru' more on the album. What we listen to changes and grows all the time, so it's hard to pin it down to a few acts. I started playing garage rock when I heard The Sonics as I was "learning" guitar a few years back and I've been obsessed with The Doors since I was 15 so I think them two bands do well to sum up the over all sound of THEE U.F.O.
TMODM: It looks like you've been very productive this year and recorded quite a bit. Have you been affected by the pandemic?
THEE UFO: I try to record as often as possible even just demoing stuff, so I don't think I've been more productive than I usually would be, I've been wanting to release music more now because it's being recorded on a tape machine which I've been wanting to do for a while, the production is exactly what I've been looking for. Luckily I have a small studio/rehearsal space in my shed so being stuck in suits me pretty well, I stay in record, press cassettes, watch movies and paint most of the time anyway, I'm still able to go for a cycle and walk the dogs too so I'm pretty happy.
The pandemic has been good to the band in a way, people are spending more time on the internet, listening and looking for new music so I think they happen upon us by chance really. The worst thing is not being able to play live. We had a few shows booked for this year but obviously they were canceled, When things were looking better we booked a socially distanced show but things took a turn again and that got canceled too.
TMODM: What's next for you?
THEE UFO: We'll have a single on a Compilation late this year or early 2021, all the proceeds for that will go towards cancer research. The comp is called Psych Against Cancer, they raised £7,000 last year I think? I could be wrong though!
As well as that I'm recording another album for early 2021 and probably more…
Spiral Wave Nomads – Ten Color Ritual [from Ten Color Ritual, released August 24, 2020]
I corresponded with Michael of Twin Lakes Records.
TMODM: How has your label been affected by the pandemic?
TLR: The label hasn't really been affected too much by the pandemic since it's a small operation and, at this point, consists mainly as an outlet for the bands/projects I'm involved with (Spiral Wave Nomads / More Klementines / Drifting North). Eric and I recorded the "Ten Color" EP and our forthcoming LP (due out New Years Day on Feeding Tube/Twin Lakes) prior to the pandemic. The same is true for the next More Klementines LP, which we are prepping now. However, the pandemic did interrupt the recording of the next Drifting North LP (an offshoot of No Line North). We still have one or two more songs to record for that one, but we haven't planned the logistics of getting back into the studio. But toward the end of the summer, we did manage to record an album's worth of new material socially distanced and outdoors for another More Klementines release beyond the next one. We actually captured the whole session on video, too, so we'll be releasing the video as well at some point once we find time to edit it.
TMODM: What's next for you?
TLR: So we have a good amount of music in the can, so to speak, but we really miss playing gigs and going to gigs and seeing our friends, especially around the New Haven scene (which rules) 🙂
The Electric Myrrs – Witchy [released October 06, 2020]
TMODM: Who are your main influences?
EM: Too may to type lolol
TMODM: How have you been affected by the pandemic?
EM: The pandemic effected us about the same as everyone else, closed bars and venues leaving no place for gathering or playing live. But we have networked and found a few live streams as a means of some sort of live representation during the crisis.
TMODM: What's next for you?
EM: We have some new music coming very soon as "Witchy" is one of a few demo releases that are following the release of our next album. As well as also working with local film directors and producers on a film soundtrack for the movie "Jije" an up and coming horror movie that has just wrapped filming recently.
Mid November we should be walking into the studio to record our latest single "Sun Ma"
black (w)hole – Psilosy [from Cosmic Noise Symphony, releases November 20, 2020]
I corresponded with Karl Pelzmann of black (w)hole and Xtelyon Records. I communicated with Xtelyon Records through Twitter.
TMODM: Are you with the band [black (w)hole]?
KP: Ha… you could say that. It's, like most releases on Xtelyon Records, my (Karl Pelzmann) own project, with some guests here and there. Just started Xtelyon because I got tired of using an individual soundcloud etc. page for each project.
TMODM: Who are your main influences?
KP: Quite a lot, for black (w)hole mostly some 70s recordings from Hawkwind, Can, Pink Floyd. Later on I started digging into noisy jam stuff like Bardo Pond, and some obscure Japanese bands like Kousokuya as well.
TMODM: How has life changed for you during the pandemic? Have you been able to perform/record much in the last few months?
KP: Personally not that much. Didn't get infected and I don't think anyone I know did. Plus I'm not the most social person, hanging out with his huge circle of buddies every day… As label, well, the last two releases got a bit delayed. Never cared much for live, can't play everything at once, and finding other musicians and venues to play niche music around this small town wasn't worth the hassle to me yet. Luckily I don't have to live from music alone, otherwise I'd be dead and buried since a long time… Full-time musicians with gigs as main income are far worse off.
The lockdown for about a month that we had here had at least one benefit; because I can record at home I got three albums for next year about 70% finished already.
TMODM: What's next for you?
KP: At least three new albums 2021. The new black (w)hole turned out a bit less "spacey" and more direct noise rock-ish.
C.B. Kidd – Wishful Thinking [from Wishful Thinking/Drizzle, released October 02, 2020]
Sun of Man – Heavy Burn [from IV, released September 11, 2020]
Druggy Pizza – Radium Canyon [from Radium Canyon/Blasted Lands, released September 21, 2020]
Burnt Hills – untitled (b3) [from Slip Through Time, released October 06, 2020]
Minimal Bliss – Sunburst Eyes [from Endless, released September 04, 2020]
I corresponded with Pauli Kivioja from Minimal Bliss
TMODM: Who are your main influences?
PK: Our biggest influences are bands like Tame Impala, Pinkshinyultrablast, Fuzz, Kairon; IRSE! etc.. the dreamy shoegaze sound in general. Also the Russian "doomer" bands like Kino affected this first release greatly. And of course TWIN PEAKS!
TMODM: How have you been affected by the pandemic?
PK: We haven't been affected by the pandemic much, only in the way of not being able to play any gigs or go see them.
TMODM: What's next for you?
PK: Who knows… all of us live in different cities now and we get to jam less often now. Although, we are writing new material all the time, which will manifest in some form sooner or later. More dreamscapes will come…
Flying Anomaly Theorized – Fire in the Sky [from What's Up Moony?, released September 13, 2020]
I corresponded with Imbert Aymeric of Flying Anomaly Theorized
TMODM: Who are your main influences?
IA: I would say that for this project our influences come mainly from the original desert and stoner rock scene from the 90's. Kyuss first of all, Brant Bjork in solo, Fu Manchu, Lowrider, Colour Haze as well, and for more recent bands, I think Elder helped a lot. I'm a little bit bored with the current stoner scene, I really miss the 90's vibe. I think, as a great Neil Young fan, that his more electric focused work plays a lot in terms of sound and songwriting.
Their is an other spectrum of influences coming from the 90´s as well, but not really noticeable in this recording, as it's purely instrumental and more on things to come. It's the harder and more Alt rock side of the shoegaze movement, with bands like Catherine Wheel, Swervedriver, Spiritualized and first of all the Verve.
It's a lot to say for only three tracks, but it's the way it is ah ah ah.
TMODM: How much of your music is improvised and how much do you have mapped out before recording?
IA: It's hard to explain, at the beginning we really were just a jam band and the more we played, the more we add written parts. Fire in the Sky is the track with most the improvised parts. The Jam section in the middle of the song is entirely improvised, with just a few patterns to keep tracks of things.
We choose to records the majority of the parts live, avoiding the track by track thing to give our songs a more organic and 70's feeling. As for the improv, a lot of solos are, just took in the moment. It's the same for the basslines as well. As I said before, jam sections in our songs are totally improvised (Fire in the Sky and Cosmic Pheasant)
TMODM: What's next for you?
IA: With the current situation, it's hard to say, but we have new compositions waiting to be worked on. As I said earlier, they will have a more pronounced 90's neo-psychedelia feel to them, with vocals but still with the old school stoner/desert rock sound we love so much