The music in this edition of the Turn Me On, Dead Man podcast doesn't reflect the current state of our world. These are not songs about pandemics, quarantines or the end of the world. As a matter of fact, most of The Corona 714 is upbeat garage rock, some power pop, and of course, a psychedelic freak-out here and there. Perhaps this is because even though these are all recent releases, the corona virus has changed the world so rapidly. I wonder if "social distancing" will become the new normal, and if we'll ever go back to interacting with each other the way we did in the world before COVID-19.
The drops in this edition of Turn Me On, Dead Man come from The Conet Project. My obsession with following the number of coronavirus cases, and continually checking to see if we have "flattened the curve" put me in mind of the odd numeric messages captured by The Conet Project.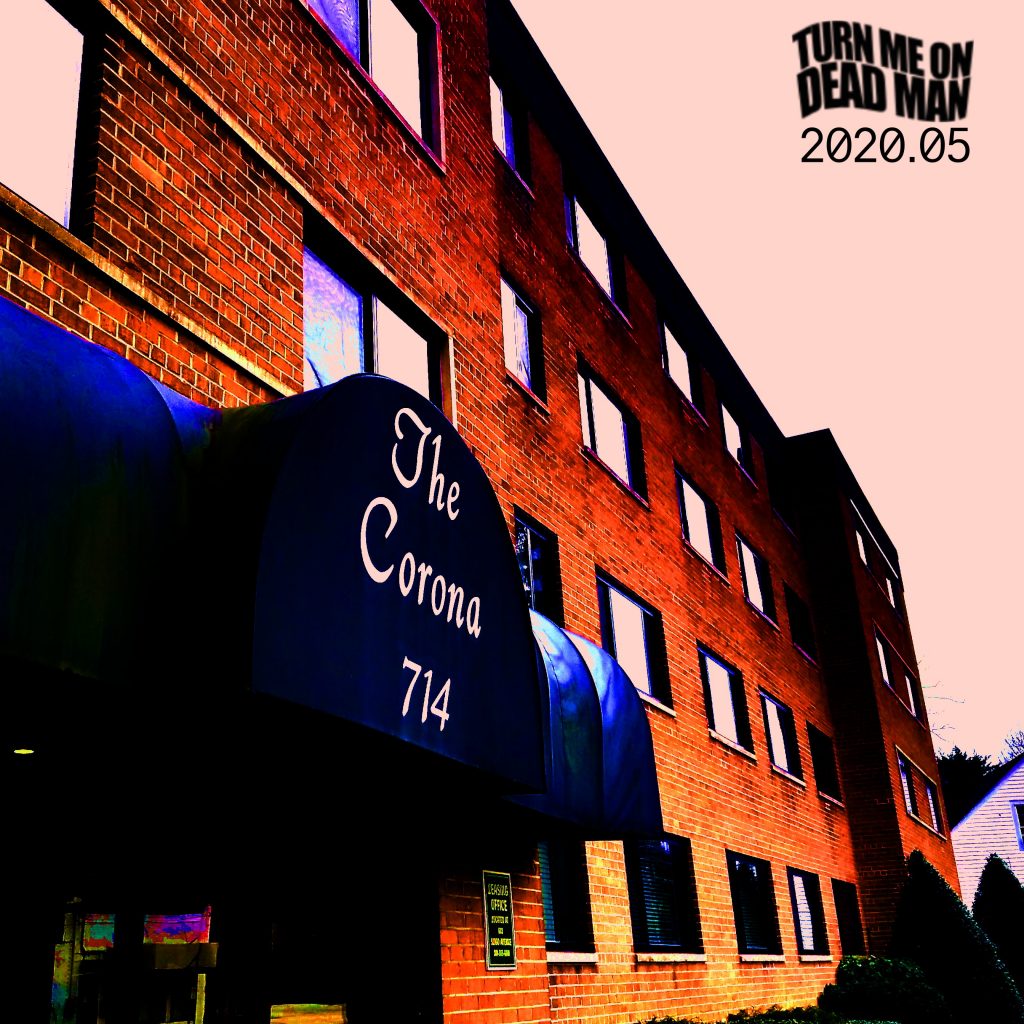 00:00 TMODM – Ready Ready
02:19 Dogpile – Peripheral
06:01 Gavin Watts – Apple Scruffs (George Harrison)
09:11 The Hearses – Carrier Pigeons
12:11 The Psychedelic Suns – Hide From The Sun
16:43 TMODM – Crossing The Cosmic Void
17:55 Yellow Sunshine Explosion – Air
22:28 Black Heart Death Cult – Sonic Dhoom
26:35 Concrete City – Strange Bodies
30:17 "the band whose name is a symbol" – From Dusseldorf to Cologne
36:51 New Blue – "Now I Know"
38:42 Aunt Cynthia's Cabin – Rider In The Desert Sun (Parts I & II)
45:02 TMODM – Trip Around The World
46:17 The Artakees – Rush
49:57 Kikagaku Moyo-幾何学模様 – Gypsy Davey
53:33 Jambattista – Walker
56:16 The Flower Machine – Through a London Window
58:57 TMODM – Counting Out
---
Dogpile – Peripheral [from Dogpile EP, released Feb. 20, 2020]
Dogpile is the solo project of Connor Davidson, 21, from Toronto. I asked him about his influences and his plans for the future. "My main influences for sounds are Oh Sees, King Gizz, Hendrix, and Funkadelic. I don't really have any songwriting influences I just play and record whatever's in my head, and try to incorporate different sounds I love here and there. And for the future I'm just gonna keep writing and recording until I die, or get a real job."
Gavin Watts – Apple Scruffs (George Harrison) [from One Take Covers, released Feb. 25, 2020]
TMODM: What inspired you to do one-take covers?
Gavin: I'm typically very meticulous about my albums and the sounds I place within my albums, so this project started as a practice in being less precious and more immediate with my performance and decision making in production (recording to tape, never erasing/editing, mixing in one pass, keeping all the natural/organic flaws, etc). I think these covers are less about getting a 'good' take on the first try, but rather, trying to create some sort of immediate feeling in the way the songs are delivered in that exact moment. Additionally, I thought this would be a great way to honor some of my favorite artists (past and present) on their birthdays, thus making it a more cohesive project.
TMODM: What led you to choose Apple Scruffs?
Gavin: Because Apple Scruffs is one of George's lesser known gems, I think it allows for a bit more freedom (compared to say, covering a well known Beatles song). The original version is such a solid, minimal song that I thought it would work well in a 'solo' one take performance (guitar + vocals). I thought having a heavily effected guitar (vibrato/delay) would create a nice base for the vocal melody, which is really the heart of it all.
Additionally, I just really love what the song is about: his love for those fans (fanatics) who would spend hours (days!) standing in front of Abby Road/Apple, just waiting for a momentary interaction with him. I think this is a touching perspective and really shows the level of empathy George had for everyone (something to strive for). Thus, I thought it would be fitting for me (a fan) to 'give' the song back to him.
Some of the future (one take) covered artists include: Bob Dylan, R. Stevie Moore, Neil Halstead (Slowdive), and others.
The Hearses – Carrier Pigeons [released March 17, 2020]
The Psychedelic Suns – Hide From The Sun [from Hide from The Sun, released March 2, 2020]
TMODM: What are your main influences?
Psychedelic Suns: Beatles and Pink Floyd are my main influences! Those bands give me so much inspiration when I face writer's block. With the latest album there is bit of Tame Impala influences too. It's one of the best modern bands right now.
TMODM: How have you been affected by the coronavirus?
Psychedleic Suns: Hasn't effected me too much yet. I'm still going to work normally, but I have bit more time to write new music! I'm bit worried for my parents as they are over 70 years old, so I really hope they don't get Corona. Cannot even visit them right now for months, so have to call them bit more!
Yellow Sunshine Explosion – Air [from Crossing The Cosmic Void, released March 2, 2020]
The tracks by Yellow Sunshine Explosion and the Psychedelic Suns were included on a compilation by the Aumega Project, a psuchedelic net label based in Germany. I corresponded with Sascha, founder of the Aumega Project.
TMODM: What got you to start The Aumega Project?
Aumega Project: I mainly started Aumega Project to bring some really fine Psychedelic tunes to all the music enthusiasts around the world. For that it was very important to me, to be able to offer as many "free download" and "name your price" releases as possible. I also attach great importance to offering the music of well-known and lesser-known artists side by side and a wide range of music. That's why I also offer a number of psychedelic-inspired genres at Aumega Project. I just hope that people can have a good time with my publications and always find new and interesting artists.
TMODM: Was there a specific release (or set of releases) that set you on this mission?
Aumega Project: Because I'm a very enthusiastic music lover myself, I know a lot of good albums from this area and some of them inspired me to found a label myself. Naming them all would go beyond the scope, but to name a few, I would definitely mention the German Krautrock scene of the sixties and seventies. Bands like Can, Agitation Free, Faust, A.R. and Machines or Brainticket, but of course also a lot of international artists like Aphrodite's Child, The United States of America, Far East Family Band, White Noise or Magma.
TMODM: How have you been affected by the coronavirus?
Aumega Project: Covid 19 has an impact on Aumega Project because the number of paid downloads has decreased significantly. However, there is currently a download increase in "free download" and "name your price" releases and also in the plays on Bandcamp. I think that's simply because, people just have more time at the moment to listen to music, but also pay a little attention to their money, which is completely understandable.
Black Heart Death Cult – Sonic Dhoom [released Marh 15, 2020]
Concrete City – Strange Bodies [from "Strange Bodies!", released Feb. 16, 2020]
TMODM: What are your main influences?
Concrete City: Probably the biggest influence on our songwriting is 1970s and 1980s post-punk music. We all grew up in that period and that intersection/balancing of punk energy, arty fiddling, and pop aspiration seems to have had an out-sized impact on how we hear things and what we write. Our prior bands–of which there are many–covered a lot of bases: new wave, garage pop, power pop, math-y indie rock, straight ahead punk and hardcore, what used to be called "college rock," etc. I'm not sure how much of that comes across in Concrete City because we've made a conscious decision with this band to strive for some kind of accessibility or approach-ability. On one hand, we talk about the guitar and keyboard sounds on New Order and Joy Division records a lot. On the other hand, we've stopped in the middle of mixing sessions to listen to CCR to make sure we aren't getting too precious. We're not trying to be clever or obscure with the music. We are committed to beating our hooks to death! If the lyrics are a little strange in a sort of Wire/Mark E Smith/DEVO way, the music and hooks are meant to draw attention away from that. To distract. Confuse?
TMODM: Have you been affected by COVID-19?
Concrete City: Yes, absolutely, it is affecting all of us on a daily basis. Baltimore City is not on lockdown yet, but the state of Maryland is already imposing strict controls on behavior. Last I checked, the official limit for public gatherings in non-essential spaces is ten people. As such, live music has effectively ceased. No venues. No shows. No nothing. This is disappointing for us–we want to play shows after all–but it is potentially disastrous for our many friends who work in these venues. A lot of bartenders, security staff, restaurant staff, sound engineers, stage hands, promoters, etc. are out of work with no end in sight. People are scrambling. It's scary. And us not being able to perform is pretty insignificant compared to all that. I never thought I'd feel nostalgic for playing a show to five people on a Tuesday night in the middle of nowhere, but here we are…

On a positive note, we are continuing to make music even though we can't get together physically. (In between navigating the complications of our new, forced Work From Home lifestyles, of course. Luckily, we all work in some sector of the information economy–teaching, software, professional associations, graphic arts and illustration–so we are all still working for the time being.) We produce all of our own music, from demo to finished product. Almost all of it starts as simple computer demos and notes we pass around via email, instant messenger, and dropbox. All that ad hoc songwriting is still happening. Since going on near-lockdown, we've continued working on mixes from our last full-band recording sessions and have demoed three completely new songs. This is on top of an already tall stack of demos completed before things started shutting down. If our communities can behave ourselves long enough to pull this thing back from ALL CAPS GLOBAL PANIC to something more like an annual flu season, we might get an album out of it. I sure hope so!
"the band whose name is a symbol" – From Dusseldorf to Cologne [from Berserkir Volume I, released January 31, 2020]
New Blue – "Now I Know" [from The Month Autumn, released Feb. 15, 2020]
Aunt Cynthia's Cabin – Rider In The Desert Sun (Parts I & II) [from Misty Woman, released Feb. 7, 2020]
The Artakees – Rush [from Rush, released Feb. 20, 2020]
Kikagaku Moyo-幾何学模様 – Gypsy Davey [released February 24, 2020]
Jambattista – Walker [from Seeking The Seeker, released Feb. 20, 2020]
The Flower Machine – Through a London Window [from Through a London Window​/​One in a Million, released March 5]
TMODM: First, you've been playing psychedelia for some time now. What do you think of the current state of psychedelia? Not just the music, but in the broader social context, as well.
Peter Quinnell: When we started 15 years ago, playing psychedelic pop was a slightly unusual thing to do in Los Angeles. There were only a few bands doing that at the time. Right now there are some fantastic new psychedelic bands in Los Angeles and elsewhere, which is really encouraging. Doing a single for Hypnotic Bridge Records is a big honor, because that label has really succeeded in pulling together the best bands of the genre…. Especially people like Triptides and The Small Breed, which are some of the best bands in the world at the moment…. far better than anything in the charts by an interstellar mile.
TMODM: How have you been affect by the coronavirus?
Peter Quinnell: It's depressing. I just wish everybody the best and I'm doing my part by staying the hell off the streets.
---