It's that time of year where we look back, take stock of everything that occurred during the year and try to make sense of it. I'm looking back on a year of loss–my mother died during the summer and my grandparents' old house where I spent much of my childhood was destroyed in a fire. As if that weren't enough, I lost two teeth (!) in 2021. Like 2020, though, music was a particularly bright spot in an otherwise challenging year.
As for my choices for the best of 2021, I made three lists. The first a Mixcloud compilation of some of the best tracks of 2021, followed by a list (in no particular order) of some of the best albums of 2021, and finally some singles and EPs that I managed to list in alphabetical order.
Last year I also posted a list of notable reissues but I didn't try to keep up on all the reissues that were released in 2021. I was just happy to finally have The Beatles Let It Be box set, and to finally see the Peter Jackson documentary, Get Back. Really fun to watch.
I'd just like to take this opportunity to say thank you to the artists for providing the world with such wonderful music. My picks for the best tracks of 2021: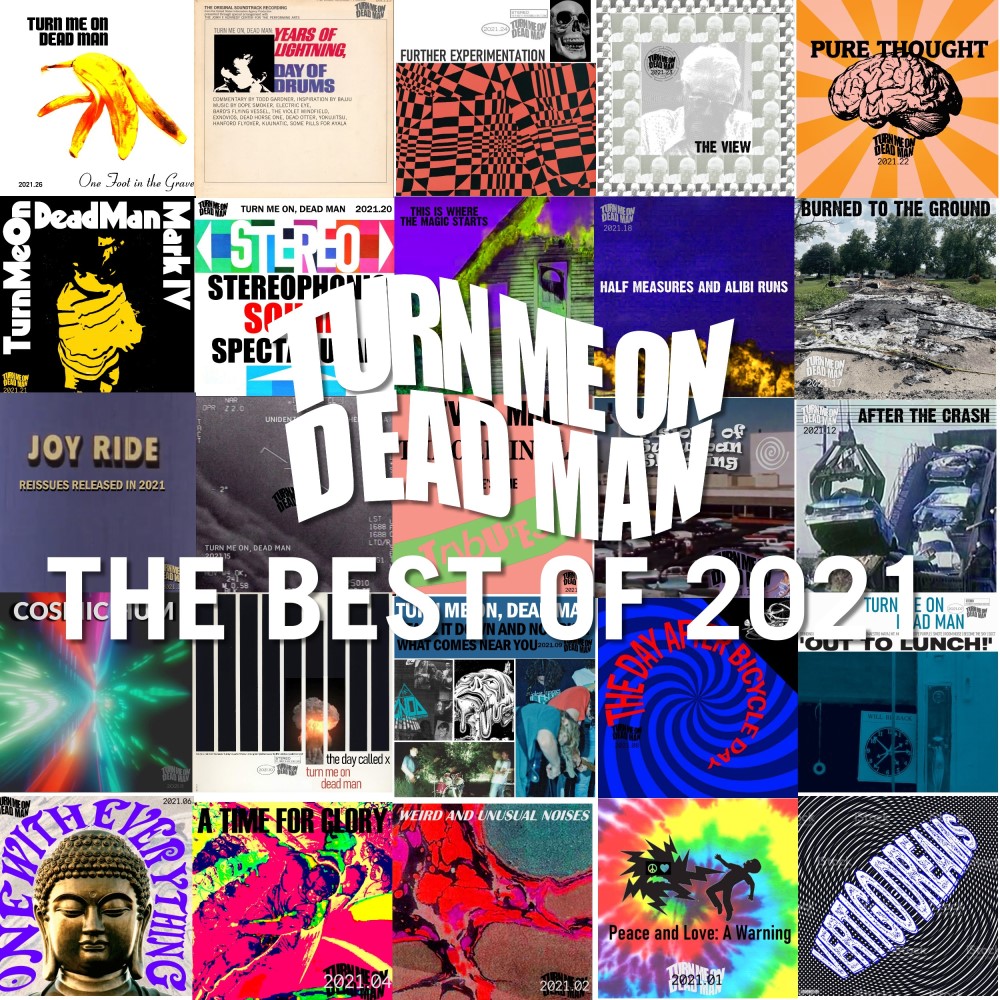 00:00 Turn Me On Dead Man – Intro
00:29 The Dharma Chain – So You Wanna Be A Spaceman?
07:03 Mt. Mountain – Aplomb
11:31 Meatbodies – Reach For The Sun
16:22 The Mountain Movers – I Wanna See The Sun
19:21 Thee U.F.O. – Putrefied Block
22:28 Dope Smoker – NASDAQ
27:09 Grinding Eyes – When The Night Falls
31:01 The Holy Family – Inward Turning Suns
37:05 The Myrrs – Buggy Chawnker
39:11 The Slow Voyage – Expansion
43:14 Magic Castles – Sunburst
46:29 Chainsaw Rainbow – blonde with dark roots
50:05 Mantras – Sunlight Swell
53:54 Ogua – Iyan
59:17 Swan Faucet – Wandering
1:05:48 Raw Optics – Aqua Mundo
1:08:04 The Sonic Splits – Like the Steady Flowing of a Stream
1:12:42 Cheval Sombre – Althea
1:20:22 Hooveriii – Shooting Star
1:24:24 Firefriend – Poison Tree
1:29:41 Comet Control – Secret Life
1:36:37 Shirese – The Glue Murder
1:38:54 Broken Sky – California
1:41:41 Goat – Queen of the Underground
1:47:36 Chino Burga – Meditación
My picks for the best albums of 2021:
My picks for the best EPs and singles of 2021:
My picks for the best EPs/singles of 2021: