The world, or at least the US is opening up to psychedelics more and more. Psychedelic assisted therapy continues to gain acceptance and the legal market for psychedelics is growing quickly. MarketWatch called on Citigoup to cite innovative ideas that could transform society, and where to invest your money to take advantage of these changes. One of the "game changers" this group of anaylists listed was psychedelic drugs. The combination of psychedelics and psychotherapy is opening up new treatments, such as for patients with PTSD. One thing standing in the way at present is these drugs are still illegal in most places. An article in Nature, however, provides a "roadmap for wider acceptance and utilization," and Scientific American offers a strategy to reschedule psilocybin. Right now the United States is far ahead in the psychedelic market as these drugs gain broader acceptance.
Not only are a growing number turning to psychedelic assisted therapy, particularly as the pandemic has exacerbated a mental health crisis, but studies are showing that psychedelics may have other benefits, as well. A study published in Nature finds that psychedelic use is associated with a lower risk of heart disease and diabetes. A study also found that magic mushrooms enhance our emotional reaction to music.
Seattle, as well as three cities in California, have recently decriminalized psychedelic drugs. The city council of Santa Cruz, however, voted to recriminalize peyote. They did this on behalf of Native Americans who use peyote in religious rituals. With use of peyote spreading, the move to recriminalize peyote is to protect "individuals who cultivate entheogens for use in religious, spiritual, healing, or personal growth practices." Still, the psychedelic reform movement is expanding and Denver, a city that has already decriminalized magic mushrooms, is exploring further easing their restrictions in a couple of years.
And then there's the music. Psychedelic music has never really gone away but the recent past has seen a steady stream of great psych, as this episode demonstrates.
00:00 Turn Me On Dead Man – Intro
00:45 The Oscillation – Forever Knowing
08:43 Swan Faucet – Wandering
14:56 Turn Me On Dead Man – Break
16:26 DDT – Set Alight
19:53 Dislocated Flowers – Temple
24:47 The Buzzards of Fuzz – Lonely In Space (Slight Return)
30:36 Andrew Thomas Jacobs – Parum Luceat
34:26 Mystery Egg – Gate Shrouded In Time
39:40 Wine Lips – Eyes
40:58 Apex Ten – Orbiting Jupiter (Extended Version)
52:30 Zodiac Rippers – Morningstar
---
The Oscillation – Forever Knowing [from Untold Futures, releases October 29, 2021]
I corresponded with Demian Castellanos of The Oscillation
TMODM: How does the place you live — your city, landscape, music scene — feed into the music you make?
DC: Yeah I really wonder that myself and have thought about what kind of music I would make if I lived outside of London. Pretty much every Oscillation track I've ever made has been written, recorded and mixed in the small flat I rent in Walthamstow, it's quite a crazy thought actually.
For most of this year I have purposefully kind of not done that much as I have a big change coming up, and finally moving home to Czech Republic to a much smaller city and closer to nature. I really can't wait to see what comes to the surface when I've got myself settled.
Looking back I can see how much The Lizard in Cornwall and the landscape there played a big part in the kind of music I was making. I could see that very clearly when I went to Devon a couple of years ago and took a 4-track cassette recorder. It wasn't exactly the same landscape but it was coastal, cliffs, the sea, a bit sky and a big horizon and I found myself playing very similar ideas to when I was 20, that was a really interesting discovery.
TMODM: What record changed your life?
DC: The Cure – 17 Seconds
TMODM: What's next for you?
DC: A literal change of scenery, another re-assessment of myself. I'll see what happens really, for a couple of months I plan on doing as little as possible for as long as I can get away with it, and hopefully out of that will come new creative ideas!
TMODM: What's your connection to The Lizard in Cornwall?
DC: My mum had enough of London when I was around 6 and on a whim just drove with me and my sister to see where we'd end up.. I guess Cornwall is a far as you can get before you drive into the sea if you go west.
We ended up living at The Lizard Peninsula and the village itself for quite a few years. It was an amazing feeling there.. the the sense of being on the edge of this quite remote part of the country, and the huge expanse of ocean all the way to the states..
The landscape is very dreamlike and barren, and seems to join with the sky.
TMODM: What made you decide to move to the Czech Republic at this point?
DC: My girlfriend (now wife) is half Czech/Slovak and we've been living in London quite a while. She misses the country and family and I always love visiting there. Also got to a point where a change feels really necessary.
And in regards to your first question, like I say I've been asking myself that a lot and would like to change my setting, see how that influences other areas of my life as a person and creatively.
Swan Faucet – Wandering [from Flower, released October 03, 2021]
Swan Faucet is based in Long Beach, CA
TMODM: How does the place you live — your city, landscape, music scene — feed into the music you make?
SF: We live in Long Beach, California, and there's a special type of magic here. There are so many amazing artists, and we are stoked to be friends with so many of them. Seeing them create in their own avenues day by day seeps into our brains when we get together to jam. A lot of our music is inspired by surf and skate sessions too, and most people who are a part of the beautiful music scene down here surf and skate as well. It's like a never-ending feedback loop of inspiration! The music inspires the motion and the motion inspires the music. Everyone in this community down here is always creating and working on projects, its truly a beautiful place.
TMDOM: What record changed your life?
SF: We'll break this one up individually!
Brett: The record that changed my life is Axis: Bold as Love by Jimi Hendrix. This record is responsible for me putting so many hours into my guitar playing, and it really opened my mind to what an album could be.
Olivia: Dead and Born and Grown by The Staves
This is a group of three sisters from the UK who sing folk music together. Most of their songs are really paired down with just the human voice and an acoustic guitar. They are able to do so much with so little and evoke a nostalgia for natural world like no other. Their music and song writing style is truly magical. I've been listening to this album from start to finish just about every week for the past 6 years.
Aman: Steady Diet of Nothing by Fugazi. You know theres no metronome running when these guys do it. They dial in biiiig.
TMODM: Whats next for you?
SF: More music and more live shows! We are already working on our next project, which will be out around November/December. We are also playing as many live shows as we can! The gigs keep on coming, and we aren't stopping any time soon!
DDT – Set Alight [from freshwater, released June 22, 2021]
I corresponded with Anthony Taibi of DDT
TMODM: How does the place you live — your city, landscape, music scene — feed into the music you make?
AT: Living in Humboldt county, I'm constantly inspired from diverse and beautiful landscapes. I spend a lot of my free time hiking, fishing, and camping in these spaces and I count on these activities to recharge my batteries. I think this sentiment is what attracts artists to this area and keeps locals from moving away. It's true, our surroundings heavily influence the music we make. I believe that can be said for most artists and musicians alike. This is a theme we wanted to highlight in our most recent release "Freshwater".
"Freshwater" takes its name from the town where 3d Light Studio is located. While recording in the live room, you can see redwood trees from a window in the control room. I've recorded in many studios that have no natural light. This connection to the outside is nice during long recording sessions. Additionally, the imagery for the album includes local landscape photography. Andy and Dominic are both very talented photographers, and we wanted to showcase their perspective with the album layout. The insert photos were taken by Andy at 3D Light last September, during the height of our fire season. The back cover was taken by Dominic on a Cannon Rebel at one of our local beaches.
Naming the record Freshwater pays homage to the importance of our locality. All of us spend a lot of time in nature and I think that comes through in the music.
TMODM: What record changed your life?
AT: This is a difficult question as I feel many albums have played their role in directing my musical trajectory and in my life for that matter. At a young age I remember gaining a transformative understanding about music through film. Most notably, I remember the first time watching Kubrick's "The Shining". I was probably 11 or 12. The opening credits, scored by Wendy Carlos, drew me in completely and I remember thinking about how powerful that song was and the mood it created. After that I paid closer attention to music in film and now many of my favorite records are soundtracks.
TMODM: What's next for you?
AT: We've already recorded the basics for our next studio album at 3D light. So we're going to be working hard for the next few months to finish this record. Since there's about an eight month turn around time for records these days, we'd like to finish the record by the end of this year so it will land in the second half of 2022.
Dislocated Flowers – Temple [from Acid Red, released June 21, 2021]
I corresponded with Graham O'Brien of Dislocated Flowers
TMODM: Where did this voice come from (on Temple)?
AR: The 'Text To Speech' facility from one of the music programmes I use for production.
I have always liked the Replicants from Blade Runner and the HAL 9000 from 2001: A Space Odyssey so was keen to use something that was supposed to be human but actually is not.
I wanted to use Ai to express human ideas and emotions on this LP to add a sense of dislocation in what is usually the most human element in a song, the voice. I think this tool is a very basic version of Ai so it seemed apt.
It is also very versatile. You can replicate female or male voices by altering tempo's and pitch and means I can refrain from having to sing or talk all the time plus it allows for the building of multiple voices to enhance the songs.
One of the elements I like is its basic imperfection in how it reproduces the words at times. I think it allows the listener to perhaps hear something else or substitute another word or idea to the one written, I know it does for me each time I listen back…those 'accidents' that most musicians like to find when playing or recording their music.
For me, Psychedelia as a music form is and was at the forefront of electronic-based music technology, certainly from its origins in the Sixties part of the experience is about embracing the future especially when it comes to instrumental technology and sounds.
The Beatles, Jimi Hendrix and Pink Floyd where massive innovators who were always looking for new sounds and new ways to make music and at heart they were all Tech-embracing fiends thankfully, especially given how much impact they had then and still have to this day on listeners and other musicians.
Jimi in particular pushed the boundaries in terms of guitar effects especially in his collaborations with Roger Mayer. As guitar was my first and still is my main instrument guitar effects have always been an essential part of making music for me…one of my favourite pedals is the Roger Mayer 'Voodoo Vibe' unit…essentially I see the 'Text To Speech' in the same way…as an effects pedal though with voice.
TMDOM: What do you see as the main themes of Acid Red?
AR: The starting point for the ideas that eventually turned into 'Acid Red' was seeing a painting and reading a quote from the English WW1 Expressionist Artist, Paul Nash.
The painting is – We Are Making A New World
The quote is – I am a messenger who will bring back word from the men who are fighting to those who want the war to go on forever. Feeble, inarticulate will be my message, but it will have a bitter truth and may it burn their lousy souls. Imaginatively in a pictorial sense I was airborne.
I am of the belief that musicians, artists and writers are messengers of their times so this quote resonated.
The picture and the quote had a profound impact on me and got me wondering why 'The War To End All Wars' as WW1 was known at the time and immediately afterwards didn't achieve that aim given how horrific it was and why is it that wars have got bigger and longer since then.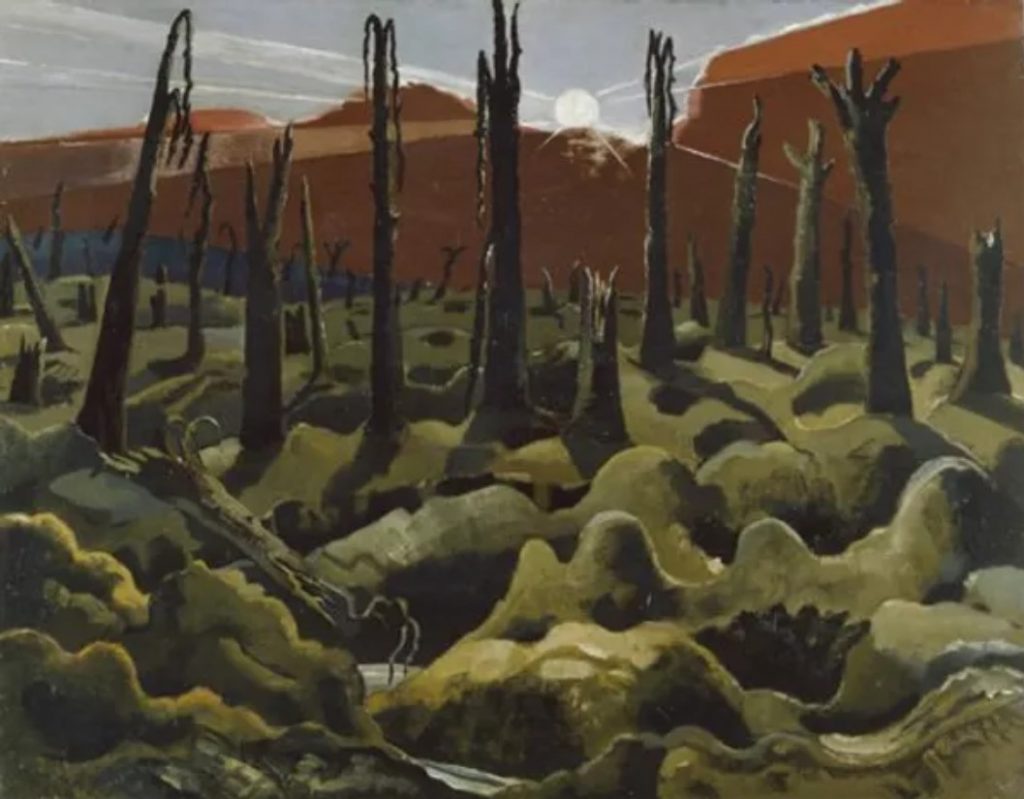 It led me to write the 'Building The Future' trilogy of songs with very broad themes of each song correlating with the three main global conflicts of the last century.
Then asking, how do you get people to participate in such events?
What manipulations are used to Control people and incline them to such behaviours and how do we deal with that or seek to avoid it?
Part of the psychedelic experience is to find answers to these questions, to see how reality is constructed. I agree with Bill Hicks that nature or 'God' – whichever is your go-to – put plants on the Earth that allow you to see things in profoundly different ways…that 'reality' is essentially a human construct so who creates it…you or some kind of what Burroughs calls 'Control'?
From there, questioning why essentially 'human' constructs such as corporations and governments are so inhuman. How does this happen, why does it happen, what are the mechanisms that allow or cause us as an essentially social animal, and at the individual level as people who are striving to be or do 'good' most of the time, do such awful things so consistently and without end?
This dualism fascinates me.
A number of philosophies and religious beliefs put forward notions of good/bad, righteous/evil, love/hate…to me on an individual day-to-day basis these are mostly manifested by; hope/despair liberty/control, beauty/ugliness, truth/lies, generosity/greed…
These are the themes I am looking at.
TMODM: How does 'Temple', with its repeated line "There is always hope", fit in with the main themes?
AR: I believe Hope to be the most benign and strongest driver of humanity in the beneficial and positive impact it has on an individual so wanted that specific theme to be the last 'message' and lyric on what is quite an intense Album…there must always be light to offset the shade I think.
The Buzzards of Fuzz – Lonely In Space (Slight Return) [from The Buzzards of Fuzz, released September 30, 2021]
The Buzzards of Fuzz are from Atlanta
TMODM: How does the place you live — your city, landscape, music scene — feed into the music you make?
BoF: We're from the city too busy to hate! One of the things I love most about Atlanta is that, despite being a large city, we still have a ton of nature. Georiga is full of trees and lakes and red clay. The dichotomy of slow Georgia summers in nature and the hustle and bustle of a southern metropolis is an influence in everything we do. Ours is a hard-working scene and sometimes, at least for buzzards, a little bit of nature is our only respite. My first listen to the final mixes of our new album was actually around a lake, at night this past summer and I'm not sure there's a better way to listen.
TMODM: What record changed your life?
BoF: "Let There Be Rock" from AC/DC. I received my uncle's vinyl copy when I was twelve and I wore the grooves out. Rock and Roll as a religion really spoke to me and continues to be a theme in all that I do.
TMODM: What's next for you?
BoF: Now that the album is here we've got some videos, vinyl, and a tour coming in the new year plus a few other tricks up our sleeves. We're pumped to get back out there to get fuzzy!
Andrew Thomas Jacobs – Parum Luceat [from Nulla Vox, released September 18, 2021]
Andrew Thomas Jacobs is a prolific multi-instrumentalist. This is the second time I've included one of his tracks in an episode of Turn Me On, Dead Man
TMODM: What record changed your life?
AJT: Wow. My parents album Revolver (The Beatles). The first Rock album to penetrate my mind as a child. I listened to classical at night. Late when they played the intense composers. Bela Bartok musically sketched out a whole new world. The first album I bought with my money was his first string quartette. I was 13 I think? Jazz started with my Grandparents big band albums. I bought Love Supreme by Coltrane and that changed things. Many more! I think these four started the idea that I could do anything. So two year later Throbbing Gristle did not seem strange to me and many other bands as well. This started a life long interest in where did this come from? What is it's lineage. All the above have more or less non-western aspects. Which make them unique. What some would call foreign.
Mystery Egg – Gate Shrouded In Time [from Crack Gently and See, released September 14, 2021]
Mystery Egg is an improvisational group based in Austin
TMODM: How does the place you live — your city, landscape, music scene — feed into the music you make?
ME: While Austin may not be as vast and vibrant as places like LA or NYC, it has a rather close knit music and arts community. There's lots of room to express yourself and we're fortunate enough to have the venue Hotel Vegas, which has been a sort of creative nexus and launching platform for a wide variety of artists over the years. There's never too much or too little happening in the scene and as an improvisational band we've been able to carve out a nice little niche for ourselves.
TMODM: What record changed your life?
ME: Choosing one record would be incredibly difficult but I can tell you that we collectively draw inspiration from classic Beat Club footage as well as the YouTube channel "Terminal Passage". This page, run by a mysterious musician from Eugene, OR, has an epic catalogue of classic and modern jazz fusion, psych, and all things in between. They provide a wealth of knowledge and inspiring material to draw from while shedding light on amazing music that seems to have been lost to the confines of space and time.
TMODM: What's next for you?
ME: Since we are an improvisational group we learn and grow with each gig we play and plan to record and release each performance as an individual album or collective piece of music. We have no touring plans at this time and are still trying to find our bearings in the vast sea of the musical universe but I would recommend keeping an eye out for new material on our Bandcamp.
Wine Lips – Eyes [from Mushroom Death Sex Bummer Party, releases October 29, 2021]
Wine Lips is based in Toronto
TMODM: How does the place you live — your city, landscape, music scene — feed into the music you make?
WL: Well, here in Toronto there is a really close scene of great musicians and artists and everyone is super supportive and positive! There's a lot of great bands here that really inspire me to write more and push harder.
TMODM: What record changed your life?
WL: That's a tough one! I don't know if there is one single record that changed my life but the record that made me want to be in a band as a 9 year old kid was Blink 182, Enema of the State.
TMODM: What's next for you?
WL: If all goes well our plan is to tour our new album as much as we can in 2022! We have some shows booked for then so fingers crossed! Other than playing shows we'll just keep writing new songs and putting out new music for as long as we can.
Apex Ten – Orbiting Jupiter (Extended Version) [from 1st Session, released August 17, 2021]
Apex Ten is for Belgium
TMODM: How does the place you live — your city, landscape, music scene — feed into the music you make?
A10: From Belgium , in the center of a trashy town called « Liège " between trips to the Andalousian desert, Australia's Mesas, bright streets of New-York, we are very attached to discovery, to travel, nature,thirst for experimentations, and perceptions of what surrounds us at every moments.
We think that the city where we live most of the time and these alentours mainly abound with splendid projects, stories and a heterogeneous identity that should be discovered, listened to and followed because may be « intentionally » reduced visibility, with underground roots and a common spirit of renewal !
TMODM: What record changed your life?
A10:
Alex (Drums…) :
Massive Attack – Mezzanine (1998)
Deftones – Around The Fur (1997)
Royal Blood- Royal Blood (2014)
Brad (Bass, Synth…) :
Meshuggah – Obzen (2008)
Muse – Absolution (2003)
Karnivool – Sound Awake (2009)
Ben (Guitar, Lap-Steel…) :
Motörhead – Bite The Bullet (Compilation, 2001)
Elder – Dead Roots Stirring (2011)
Jimi Hendrix – Axis : Bold As Love (1967)
TMODM: What's next for you?
A10: And currently we now have the possibility to do some scenes and promote our project, hoping for a growing improvement in the epidemic situation that we know, for the sector, and the rest.
For now our second album is in production (with a certain but not least Simon Lambert) that we are already looking forward to sharing it with you!
Zodiac Rippers – Morningstar [from Tales From the Old Spell, released September 03, 2021]
Zodiac Rippers are based in Long Beach, CA
TMODM: How does the place you live — your city, landscape, music scene — feed into the music you make?
ZR: Long Beach has a great and diverse music and art scene with a strong DIY ethic. Lots of great bands have come and gone from here and it's easy to be inspired.
TMODM: What record changed your life?
ZR:
Andy – The Stooges – s/t
Jeff Z. – Spacemen 3 – The Perfect Prescription
Phil – Comets On Fire – Avatar
Jeff O. – Misfits – Static Age
Adrien – EYEHATEGOD – Take as Needed For Pain
TMODM: What's next for you?
ZR: We have a few local shows lined up to support our new EP including an all Wipers cover set for Halloween. We're writing some new songs and will be working on our debut full length at the end of the year which should be out next Summer. We'll also be booking some out of town gigs and trying to play as much as we safely can as we navigate through this pandemic.