Back with another collection of recent psychedelia, ranging from stoner to psychedelic pop. There have been a couple of interesting items about psychedelic music in the past few days: In Dublin, the inaugural Stratospheres Psych night took place at The Grand Social on Sept. 25th, featuring some of Ireland's best psych rock acts: Sun Mahshene, Tuath and Thee UFO. Stolen Body Records announced the dates for Astral Festival VII, April 30/May 1, 2022 at Strange Brew in Bristol. Australia has a thriving psychedelic scene, and Adelaide's CityMag ran an article "Introducing Mystique Records: Founded by musician Harry Taylor, Mystique Records aims to bring Adelaide's thriving psychedelic music scene out from the underground."
Magic mushrooms now have their own holiday": September 20th is Magic Mushroom Day, created by the 920 Coalition, and Entheofest, the first-ever psychedelic mushroom festival, was held in Ann Arbor on Sept. 19th. The popular press is starting to take notice of the use of psychedelics in treating mental illness. In the past week Newsweek ran an article on "The legality of magic mushrooms and potential use as treatment for depression". Also, Forbes announced 'The End In Mind' Conference, in End-Of-Life Care Is The New Frontier In Psychedelic-Assisted Therapy. Decriminalization efforts have made progress recently: "Class A drug possession 'effectively decriminalised' in Scotland."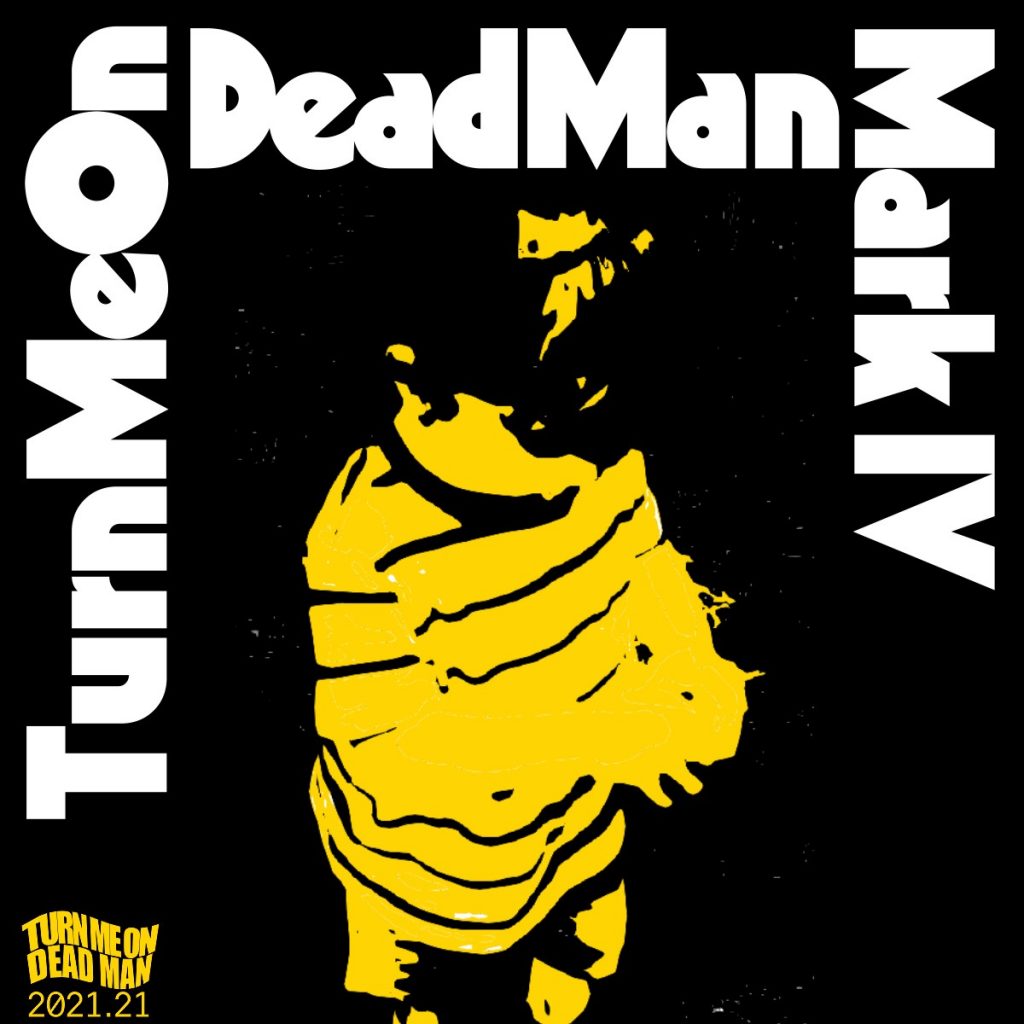 00:27 Vulcanodon Phazer – Lemurian Thunder
07:10 Ogua – Iyan
12:39 Jeffrey Alexander & The Heavy Lidders – Beowulf's Trip
18:49 Mort Rose – On part au soleil
23:06 Scatter Light – Leave Some Room Inside Your Mind
26:40 Psyconauts – Breathe The Love
31:24 Saucer Eyes – Out Of Vision
35:11 Acid Magus – Rituals
41:47 Black Magick Marching Band – Big Dead Everything
44:39 Su Evets – Arc Awakening
52:12 Maragda – Hermit
---
Vulcanodon Phazer – Lemurian Thunder [from Lemurian Thunder, released September 06, 2021]
I corresponded with Lex and Pat of Vulcanodon Phazer, a psychedelic stoner band on Bud Metal Records from Kelowna, British Columbia.
TMODM: How does the place you live — your city, landscape, music scene — feed into the music you make?
Pat: I spent a good chunk of my youth "mushroom hiking" around the forests of my home province of British Columbia, which definitely helped add to the psychedelic mission of Vulcanodon Phazer. To this day I enjoy the isolation of being out in the woods, but nowadays it's on my KLX250 motorbike. Meeting other forest creatures like deer, coyotes, foxes and snakes really gives you a connection with nature, even if it's scary as fuck. There is always a tinge of fear and heightened awareness realizing you are just another animal out in the woods (especially on 'shrooms). Just the sheer size of the wilderness where we live can't help but add a sense of perspective to our tiny human lives compared to the universe, and that shows up in the music.
Lex: I would personally say my location and local scene, doesn't affect much in my music, this isn't a town where metal is particularly supported at local bars, I tend to get my inspiration from heading out into the woods, mountains, areas like that, which helps me get in more of a creative headspace.
TMODM: What record changed your lives?
Pat: Monster Magnet "Dopes to Infinity" absolutely blew me away, it sounded like everything I thought was cool in the world back in 1995 when I first heard it, and it remains perfect to this day. Space, drugs, sci-fi, goddesses, trippy effects, crushing guitars, theremin, I could go on. "Look to Your Orb for the Warning" is a mindblowing song that really summed it all up. "Superjudge" was an amazing album as well. Kyuss "Sky Valley" and "Blues for the Red Sun" were also huge, as well as early Darkthrone and Mayhem.
Lex: I would say Sum 41 – Chuck, it was my first exposure as a kid to any sort of heavy music, the first time I heard The Bitter End, it started me on a path to metal, and then my love of the blues, led to Stoner metal becoming one of my all time favourite genres.
TMODM: What's next for you?
Pat: Well Lex and I were talking about a fully improvisational tripped-out Vulcanodon Phazer album in the future. Let go of all restrictions and conventions and just let it rip. Really explore the sonic capabilities of multiple stompboxes working together! With any luck maybe we get some live shows going, and there will definitely be more VP albums coming down the pipe. Might be time to bring back the Theremin! A new Kabexnuv album of occult black metal is probably next on the list though before I return to Vulcanodon Phazer, but who knows.
Lex: I have a few various projects on the go, always looking for inspiration for the next album, or some other idea. Hard to say exactly at this point, but winter always tends to bring out some good music.
Ogua – Iyan [from Ekkoz, released August 20, 2021]
Ogua is based in Morgantown, West Virginia. I corresponded with Evan Devine (drums, vocals, effects).
TMODM: How does the place you live — your city, landscape, music scene — feed into the music you make?
ED: West Virginia is a fairly isolated place. Its quiet here, lots of natural beauty. That can be really helpful and inspiring of you stop and take it in. But its hard living, all of the elements of nature are challenging you daily, you have to work pretty hard to maintain what you have. I think west Virginians are resilient people because of that. And it does feed into the creativity, in a lot of ways. The music scene is very unique, popular trends don't really matter here, just making music that you feel strongly about so that others will feel the same, that's the point. There's something about playing here, I feel like West Virginians have a low tolerance for bullshit. You gotta be real here, that's the most important part.
TMODM: Tell me about 123 Pleasant Street. It looks to be a creative focal point for Morgantown. What's the venue like?
ED: a beautiful historic brick row building with years of history, originally built in 1891, the 130 year old building has been hosting music since the late 70's, most recently under the name 123 Pleasant Street. The vibe is just great. The people that work there really are like a family, from the top to the bottom. A dark dive bar in one room, a bright modern bar in another, and in the middle, and long brick-walled tin-ceilinged wood-floored room, known for its legendary sound. That stage is my favorite stage to play on earth. The room sounds amazing.
TMODM: What record changed your life?
ED: Nirvana – In utero
TMODM: What's next for you?
ED: Live shows, live recordings, sonic exploration, winter hibernation.
Jeffrey Alexander & The Heavy Lidders – Beowulf's Trip [from Jeffrey Alexander & The Heavy Lidders, released August 06, 2021]
Jeffrey Alexander is a founding member of The Iditarod in 1996, Black Forest / Black Sea in 2003, and Dire Wolves in 2009. He joined Jackie O Motherfucker in 2013, and formed The Heavy Lidders in 2020. He is a former label owner of Magic Eye Singles and Secret Eye Records, and currently runs Pome Pome Tones.
TMODM: What record changed your life?
JA: well huh i dunno. i've been actively consuming records and tapes for about 45 years, since my first 8-track purchases. choosing one that changed my life is daunting, to say the least. it might have been europe 72, which caused me to follow the dead around the country for 5 years. no — my choice is a record that was never actually released. the first black forest/black sea recordings from 2003. i was asked to score the soundtrack to a short film called 'the butterfly hunter', produced by a rhode island school of design student for a final film project. it was the first time that miriam goldberg and i worked together as a duo, cello and guitar. that is the recording that changed my life the most – from there we toured all over the us and europe, produced a bunch of great records, ran a label together, ran a venue together, got married, and now have two unbelievably amazing kids.
TMODM: What's next for you?
JA: next up: some solo recordings i made for a meditation piece is being produced by psychedelic sangha. also, another heavy lidders lp is released nov 6 on centripetal force (us) and cardinal fuzz (uk). i also have a new duo project with my friend ashley in the uk: "ashley paul + jeffrey alexander" will be released on 7″ this fall by astral spirits. and more dwlvs/dire wolves just exactly perfect sisters band is forever on the horizon. need to rack some more homebrew. also, i have laundry to do.
Mort Rose – On part au soleil [from Au revoir cowboys, released September 10, 2021]
Mort Rose is based in Montreal.
Scatter Light – Leave Some Room Inside Your Mind [from Scatter Light EP, released July 30, 2021]
I corresponded with Ollie of Scatter Light, from Sydney, Australia.
TMODM: How does the place you live feed into your music?
SL: The psychedelic music scene in Australia is going through a very strong renaissance and thus we are all exposed to so many great artists from both past and present who are extremely influential to the global psych scene. It's hard not for that to wear off on you and definitely provides great influence to our sound.
TMODM: What record changed your lives?
SL: We would have to say 'Automatic' by Mildlife. These guys have a psych sound like no other!
TMODM: What's next for you?
SL: As we are coming out of lockdown here in Sydney, Australia, we are super keen to hit the stage again and have a number of shows booked in for the end of the year. We also will be heading back into the studio to record our second EP in the coming months. Hopefully releasing early next year!
Psyconauts – Breathe The Love [from Enuma Elish, released July 15, 2021]
I corresponded with Paolo Melotto (voice/guitar) of Psyconauts, from Lucca, Italy. He composed and recorded all the instruments on the song "Breathe the Love".
TMODM: How does the place you live — your city, town, landscape — feed into the music you make?
PM: For the music I make I let myself be inspired by everything around me. Most of all I am inspired by sensations more than by places, but the place can help you to reach that particular state of mind. Lucca is the city where I currently live, it is located in Tuscany and is a city full of history and magic. I let myself be greatly inspired by travel, by the people I meet, and by what life gives us day by day.
TMODM: What record changed your life?
PM: I've always been a great listener of Grunge and Stoner music. But the recording that changed my life I think was "The End" by The Doors. It is much more than just a song, and then the emotion you breathe during the recording is pure magic. It is exciting to know that many moments during the recording were improvised in studio. This opened my mind as a musician and composer a lot.
TMODM: What's next for you?
PM: I've never stopped musically. I listen to a lot of different music, and lately I've been studying about certain aspects related to the roots of music. I became interested in meditation and this is giving me a lot of ideas to create new music. I deepened the study of Mantras and how music is historically linked to spirituality. The next Psyconauts album will talk about these aspects, it will combine psychedelia, music, love, musical roots and spirituality, also talking about some themes to which I am very attached such as the theory of the Ancient Astronauts.
Saucer Eyes – Out Of Vision [from Greenravine, released August 27, 2021]
TMODM: How does the place you live — your city, landscape, music scene — feed into the music you make?
SE: I live in northern california, on the coast up in the redwoods. Small town. Small scene. I think people who live here and make their art here do it without ego. People live here for the quiet way of life, the natural scenery and the lack of crowds. You make your art and you get out of the way.
TMODM: What record changed your life?
SE: Toss up between the Beatles "White Album" which was the first real record my parents showed us kids and Nirvana's "Nevermind" which was the album that made me pick up a guitar.
TMODM: What's next for you?
SE: I've got another Saucer Eyes album titled "Different Lights" which comes out October 9, 2021 I was working on it at the same time as "Greenravine" so its related in a way. Just more based on acoustic guitar picking.
Acid Magus – Rituals [from Wyrd Sister, released July 30, 2021]
I corresponded with Keenan Kinnear of Acid Magus, based in Pretoria, South Africa.
TMODM: How does the place you live — your city, landscape, music scene — feed into the music you make?
AM: We come from the capital city in South Africa, Pretoria. The city itself is warm and inviting, the culture diverse and the landscape full of rolling hills and valleys with plenty trees and greenbelts. The people, their struggles, the nature that surrounds us coupled with the clear human impact on the environment all influence many of the themes that permeate our music. I grew up on a steady diet of rock n roll, all the way from The Doors and Frank Zappa to Black Sabbath, Pink Floyd and Zeppelin. I have my mother and uncle to thank for this. So music, and rock music in particular, have always been an important part of my life.
Our local music scene, at least in our specific genre, is very small but growing up I was exposed to plenty live music, spanning all genres from the classics to metal and punk, to pop and all the rest. When it comes to the psychadelic/stoner and hard rock scene, dispersed throughout the country, bands like Ruff Majik, Monstroid, Mad God, Evert Snyman and Pollinator all played a role in kicking my interest in joining the scene into gear. Bands like Filthy Hippies and Ethyl Ether also put psych on the map here in South Africa, making it all the more a good time to get into it all.
TMODM: What record changed your life?
AM: The Soft Parade – The Doors. An album considered experimental due to the addition of string and brass arrangements, Morrisson was having none of it, the band almost disintegrating, and in the end, a critical success. An album that proves good musicians don't have to just do one thing to be successful. Art in all its glory, truly inspirational. I still spin this LP regularly, especially when I'm writing, it continues to inspire me to this day.
TMODM: What's next for you?
AM: As with releasing Wyrd Syster (our debut album), there hasn't been and still isn't really, a plan. It's all kind of just happened to this point. We definitely want to tour Europe as soon as possible and if our stars align, maybe even the States too, sometime in the future. I've already pieced out all the main riffs for the next album and am now completing the structures and adding the leads, aiming to complete the music by the end of the year. If all goes well, the next album should be dropping by Apr/May 2022, but I guess it's still too early to call it! Basically, I just want to make as much music as possible and go out there to play it for as many people as possible, that's probably the one and only plan.
Black Magick Marching Band – Big Dead Everything [from The Dark Arts Will Break Our Hearts, released September 03, 2021]
Black Magick Marching Band is based in Chicago.
TMODM: How does the place you live — your city, landscape, music scene — feed into the music you make?
BMMB: Chicago is probably an influence in its absence. BMMB got started during COVID during the spring and summer of 2020 when going places and doing things was not an option. I'd already been interested in more lyrical and more imaginative/whimsical songwriting; not being able to interact with the actual world as much kinda prompted a retreat into the unreal.
TMODM: What record changed your life?
BMMB: Narrowing it down to just one record is hard, but—if one must choose—The Beatles' White Album is probably the one album that caused it all to click. There's the post modern approach to genre and the play with myth of The Beatles themselves within the text. The eerie, mildly psychedelic mood lurking at the margins of "Glass Onion" or "Cry Baby Cry" or even "Long, Long, Long." It's a big messy record and absolutely everything under the sun (within a pop rock context, seemingly) is there. This is not the least obvious pick, I know. One big spiritual/conceptual influence for BMMB that isn't necessarily audible in the songs is The Waterson's Frost and Fire.
TMODM: What's next for you?
BMMB: In terms of what's next, there's a couple more songs in process for singles releases over the rest of the year. Then the plan is to figure out how to manage the growing pile of BMMB material. A full length in 2022 seems incredibly likely as the material is there already. But there's also other things—a couple smaller stray groups of songs that could become cohesive EPs as well as one off songs that just need lyrics or minor sprucing up. Don't really know how or what a live version of BMMB would be like, so probably just going to keep recording and putting stuff out as it's done.
Su Evets – Arc Awakening [from Sacrificial Intelligence, released July 25, 2021]
TMODM: What record changed your life?
SE: 1975 Rush 'Caress Of Steel'
TMODM: What's next for you?
SE: We plan to put out some videos for tunes off Sacrificial Intelligence & also a few other videos for stuff off previous sU records.
We currently have another sU album in the works too! For now we refer to it as 'Bermuda'. It delves into the weirdness of The Bermuda Triangle. We may have Bermuda done by 2021's end & plan on releasing it in Spring 2022, but maybe sooner, ha!!
Maragda – Hermit [from Maragda, releases October 15, 2021]
I corresponded with Marçal of Maragda, based near Barcelona.
TMODM: How does the place you live — your city, landscape, music scene — feed into the music you make?
M: We are from somewhere close to the city of Barcelona. To briefly describe it, the place is not heavily industrialised yet but we can't say we live in the woods either. Driving 30km to the south there's the city. Driving 30km to the north there's a natural park called Montseny. We like leaning to the north. About the music scene, it is quite active here. There are a good bunch of punk and hardcore bands, but you need to go to the city to find more psychedelic bands. Now that you do this question, we think our music is more a mirror of how we understand live from a psychedelic perspective than a portrait of our environment.
TMODM: What record changed your lives?
M: We have decided this 3 records as we are 3 people in the band:
Frank Zappa – Overnite Sensation
John Frusciante – The Empyrean
Motorpsycho – Little Lucid Moments
TMODM: What's next for you?
M: We have just released our first single as a band and we will be releasing the full record on 15th October. We are still a very young band and we just focus on creating more music, playing live, having fun and exploring the psychedelic expression of life.