This year is already starting out as strangely as the year we left behind but already some cool music has come out. This episode features garage rock and psychedelia released either late last year or in the new year. I'm warning you with peace and love… Anyway, peace and love, peace and love.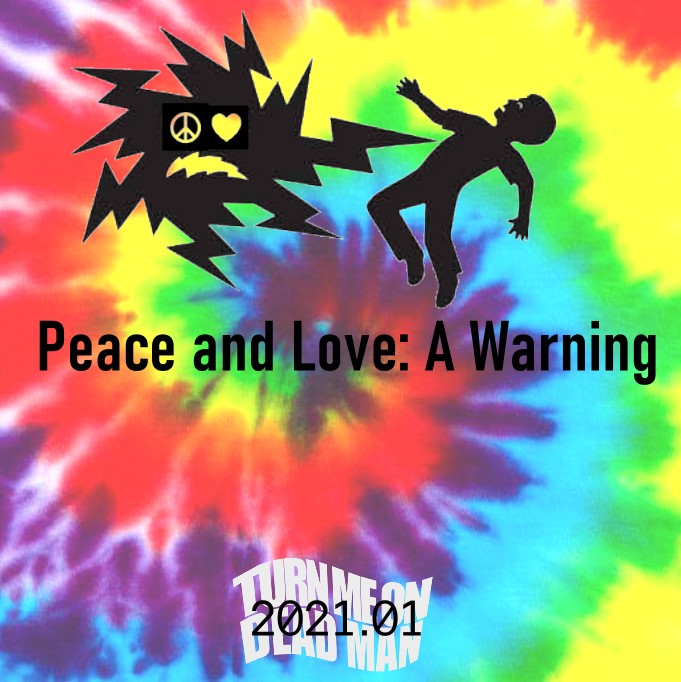 00:00 TMODM – Intro
01:37 Tomorrow Never Knows – Six Sixty Six
06:00 The Myriad Dharma – Feel The One
09:05 The Chans – Mind Sweeper
12:24 Dusty Mush – The Features of Your Mind
15:45 The Psychotic Sidewinders – Cold
19:16 Black Temple – Surrender
22:27 Cave Suns – Surt Skum
26:45 The Family Industrial Complex – (I went down to) Strawberry Fields
30:27 Dark Fog – The Contract
38:13 Narrowleaf – Howlin' In The New Dawn
44:43 Stonegrass – Tea
---
Tomorrow Never Knows – Six Sixty Six [from No. 1, released November 13, 2020]
I corresponded with Sam Wade of Tomorrow Never Knows.
TMODM: The story of your long-standing collaboration sounds really interesting. At what point did you decide to record and release this EP?
SW: So, the story is that Jeremy and I were neighborhood friends who started writing and recording songs with very primitive gear in the early 90's (14 and 15 years old). We went on separate paths for over a decade and reconnected a few years ago over social media. We had done some single collaborations and this year decided to form a band. We both love druggy Beatles music. In fact that was common ground way back when we first started writing. So, Tomorrow Never Knows was born.
Two of the songs we wrote at that young age – "The Drifter" and "Alone On The Moon". I think they really translate well today. "Six Sixty Six" is a cover of an obscure song written by Larry Norman in the 70's. His version is more of a simple acoustic ballad. We decided to take it down the Revolver path and trip it out. We have more music in development and plan on releasing a single in January with another EP by spring.
TMODM: The credits list "Mastered by Simon Gibson at Abbey Road". How did this come about? What's your connection to Abbey Road?
SW: When it came time to master the EP 'No. 1', we both felt like it was only fitting to have it mastered at the studio where so much of our influences created their classics. I chose Simon Gibson as the mastering engineer based on his incredible reputation. Not only was he a key engineer on the 2009 Beatles remasters, but he was also on the Sgt. Peppers 50th remix as well as film score work for Skyfall, Spectre and The Hobbit. His list of credits is astounding and his ear is insurmountable. As producer, I really want someone who would not only get the psychedelic Beatles influence, but also the symphonic rock elements of our music. He was the perfect choice!
TMODM: Why did you use The Terror for the Six Sixty Six video?
SW: we wanted to pull something together that was assembled with public domain footage but also captured that sense of impending doom in the song. Also since we released the track on Halloween, we wanted to do something spooky. When I found that footage, it seemed like it could fit really well and we could get Jack Nicholson to star in our video too! I mean, The Shining is one of my all time favorite films, so if we could play on the image people already had in their minds of this unhinged antagonist, that seemed to work really well to capture the vibe of the Antichrist. I don't think Jack has ever played that role before either, until now. 😂 It was a lot of fun to cut too because I think he's the hero in the original film. It just took a little perspective shift, and suddenly it becomes new again. We combined that with this confessional footage of Jeremy singing in his bunker and a few other films. I'm really very happy with the final result!
TMODM: Looking back on the past year, what is your biggest takeaway from 2020? Any bright spots or just a giant shitshow?
SW: I don't think 2020 was just a shit show. I mean, it has definitely been a rollercoaster ride and it's absolutely heartbreaking to see so many struggling to stay afloat with what appears to be minimal support and understanding from Congress. If you want to hear more about the what I've been involved on that front, let me know. It's a little different from Tomorrow Never Knows.
For me, the lockdown has also been a time of refocusing my craft. I moved to LA just weeks before the pandemic landed in the US. The first few weeks were full of anxiety and soul searching to find an anchor in the storm. Music has always been that anchor in the dark times. This led to several collaborations and productions including reforging the connection with my longtime friend Jeremy McDonald and crystallizing Tomorrow Never Knows. We are currently planning more releases for 2021 as well developing new songs and producing the podcast.
I think, one of the biggest take aways from this insane year is the attention to the need for human connection. We've all struggled to learn how to connect over Zoom or whatever with varying levels of success, but I also think that is something we would have continued to take for granted if the stay at home orders had not been in our lives. I hope that that is one of the things that continues to grow as we look to the vaccines in our future – the need and desire to have real meaningful connection with each other. It's so easy to mistake a social media like or share for the real thing. We hide behind our screens not fully aware that it is inhibiting us from something amazing that can be discovered through actual human connection. Personally, I think that may be all we really have – each other! We sure can't plan on anything else being there. Everything is so temporary. The human connections are hard to argue with.
I certainly don't mean to demean or downplay the visceral and terrifying struggle that millions are grappling with every day. Some don't even have the opportunity to stop and reflect on these truths right now. They are just trying to survive to the next day – the next moment. I hope for a sea change this year and hopefully soon. I know what it's like to not see light on the horizon and I hope something changes for everyone.
The Myriad Dharma – Feel The One [from Within, Without, You, releases February 01, 2021]
I corresponded with Matthew of the Myriad Dharma.
TMODM: Who are your main influences?
TMD: Just to name a few
John/Alice Coltrane
Acyutananda swami
Brian Jonestown Massacre
Beatles, George Harrison
Ravi Shankar
Vedic Literature (Bhagavad Gita, Bhagavat Purana)
TMODM: What's next for you?
TMD: Musically i'll be performing live (God willing), I recorded all this by my Self, exited to see it come together with a band, and hopefully we can blast people with some transcendental sound vibration, you know? Music can take you there, that is, beyond the material creation, and into that sublime world, where there's no death no sorrow and no tomorrow!
TMODM: Any guesses about the coming year? Will it be better than 2020 or are we in some kind of downward spiral?
TMD: All things must pass, as the wise George Harrison once sung, as soon as we take birth in this world, we're already dying, so similarly, what you see now occurring to the current world civilization is the same, ancient Egypt, Babylon, Rome, all advanced civilizations for their time, probably never thought it would come to an end either, but such is life, The good news is we are all spiritual soul, anti-matter, even though the body perishes we don't, how do I know? We can see that we first were a blood clot – baby – teenager – adult – elderly gentleman, yet even-though those physical bodies have completely changed, (according to science there is a complete cellular change of every atom in your body every 7 years) we still remain, and as we leave our bodies when we sleep, or take peyote, we can conclude that that which is transient is non existing and that which we identify as 'I me mine' is actually eternal.
In terms of the world getting together this year I wouldn't count on it, but luckily individual peace can be found within if we're willing to look…
seek and you shall find, knock and it will be opened!
The Chans – Mind Sweeper [from Deep Sea Diver / Midnight Rider, released January 06, 2021]
I corresponded with Brandon Santos of The Chans.
TMODM: Who are your main Influences?
BS: Our influences range throughout punk and rock music. Some highly influential bands include Jacuzzi Boys, The Strokes, Tijuana Panthers, Parquet Courts, Bad Brains, Thee Oh Sees, and Allah Las.
TMODM: What's next for you?
BS: We plan to begin playing local shows again in South Florida, and hopefully do a small tour throughout Florida if things hopefully clear up Pandemic-wise. We are also planning on releasing some music videos and new music in the months to come so stay tuned!
TMODM: Any guesses about the coming year?
BS: Resurrection of Live music
TMODM: Will it be better than 2020?
BS: Hopefully Earth doesn't spiral off into a black hole or something.
Dusty Mush – The Features of Your Mind [from Modest Alterations, released January 04, 2021]
I corresponded with Cédric Bottacchi of Dusty Mush.
TMODM: Who are your main influences?
CB: Tricky question! A lot of things, I listen to very different genres, punk, jazz, metal, blues, prog, psychedelic, pretty much everything with good energy. Then my mind blends everything I like together.
TMODM: What's next for you?
CB: We are working on an EP and an album. These will be more band sounding. As it requires some band practice, lockdowns and restrictions make everything so slow.
TMODM: Any guesses about the coming year?
CB: Live shows would be a great start !
TMODM: Will it be better than 2020 or are we in some kind of downward spiral?
CB: Hopefully better than 2020! Earlier this year, with my other project Modulator II, we released an album about the end of humanity that we wrote back in 2018. So let's hope it's not some kind of foreboding because I don't want to die in an acid rain!
The Psychotic Sidewinders – Cold [from Cold, released December 21, 2020]
I corresponded with Emilan Mierzejewski of the Psychedelic Sidewinders
TMODM: Who are your main influences?
PS: Our main and influences are The Brian Jonestown Massacre, The Allah las and Ty Segall I would say.
TMODM: What's next for you?
PS: We are looking forward to play live music again, we hope we'll be able to set up a proper release party in our hometown (Lille, France) this spring and maybe go on tour if things get better and we have new songs to reccord this year.
TMODM: Any guesses about the coming year? Will it be better than 2020 or are we in some kind of downward spiral?
PS: 2020 was not an easy year for us but we are proud that we managed to release our first EP on our own. We are also thankfull that we've been able to rehearse and write new songs for the next record!
Black Temple – Surrender [from Black Temple, released November 03, 2020]
I corresponded with Tom of Black Temple.
TMODM: Who are your main influences?
Tom: My influences are mainly from the 1960's. Bands like The Doors, The Beatles, Bob Dylan, Lou Reed and Velvet Underground were and are always huge for me. But with this new record I was finding inspiration in noise bands of the 80's and 90's such as Spacemen 3, Spiritualized, Chemical Brothers, Death In Vegas and so on.
Lyrically I have always been drawn to the romantic poets from the decadent period, mainly Arthur Rimbaud, Charles Baudelaire and Paul Verlaine. Also Leonard Cohen, and Bob Dylan again.
TMODM: How have you been affected by the pandemic?
Tom: The pandemic was without a doubt devastating for musicians and bands, lack of live shows have really set everyone back. But there has been a positive. The pandemic has really kept me in that chair and actually forced me to sit down and record.
TMODM: What's next for you?
Tom: I am looking forward to 2021, working on a new album as we speak, publishing a collection of poems and hopefully getting back on that stage.
Cave Suns – Surt Skum [from Surt Skum (Live), released January 01, 2021]
I corresponded with Kit Endean of Cave Suns.
TMODM: Who are your main influences?
KE: We have a wide ranging list of artists on our Facebook page to read through and hopefully inspire people to click on Spotify or Deezer investigate more and have a listen to Mdou Moctar or Black Bombain or Mars Red Sky or Robbie Basho – there's the usual instrument inspirations that most guitar jamming bands can reference but we've been lucky enough to have access to many sounds and styles via the W.W.W. which all go into our melting pot of CAVE SUNS music – also here are some of our favourite animals: Leopards, Mouse Deer (chevrotain), Colugo, Dogs.
TMODM: What's next for you?
KE: I'm at work at the moment, so I'll be finishing work at 7pm then be driving 3 hours to another town and working there tomorrow – with the current social side of life on lockdown, CAVE SUNS are busy writing songs and structures for a new studio record we have plans to record this year. Until that – we will be releasing more live jams we recorded over 2020 when we were able to be together and work with our hive mind. We've been a band for about 8 years and haven't put focus on releasing music, much rather just hanging out and enjoying playing. Hopefully these releases can allow us to play live in more places and meet some new people!
TMODM: Any guesses about the coming year? Will it be better than 2020 or are we in some kind of downward spiral?
KE: We're heading for an extinction level event, whether that is a projectile from deep space crashing into the planet or further complications from poverty created virus threatening humanity, the current race to destruction seems to be gathering pace.
Personally, during the first weeks of lockdown I hoped that as a civilisation (sic), we could reflect on the current annihilation of the natural world for profit and realise that we're destroying our own future one dollar at a time. The desire for wealth and success seems to disregard empathy for others and not look for a better, safer, and more ecological way to live. I'm crossing my fingers that this happens soon and hope CAVE SUNS are going to be playing our music at the end of the world, or during the start of a new one. We're haven't reached the end of the spiral yet!
The Family Industrial Complex – (I went down to) Strawberry Fields [from Centipede / Strawberry Fields, released January 01, 2021]
I corresponded with Sawyer Phillips of the Family Industrial Complex.
TMODM: Who are your main influences?
SP: The Grateful Dead have probably had the most profound effect on me as a musician. Boundless improvisation, timeless lyricism, drug-fueled dancing… just an ecstatic human rock and roll party. There's also Bob Dylan and Neil Young of course. These days I've been listening to a lot of ambient music, Gyuto monks and Tuvan throat singing. More than anything though, it's jamming with other people that influences my music. Normally Andrew and I's endeavors involve a revolving cast of characters getting together, improvising, and experimenting our way through loosely structured songs. This latest project was new for us because we sat down and recorded tracks separately.
TMODM: What's next for you?
SP: Basement jams. I recently broke my wrist, so lots of synthesizer music. Other than that there's a handful of random instrumental recordings from the last couple years that I may play around with and release sometime soon. Also visual art: drawing, painting. I have a couple weird film concepts in the works that I'd like to make music for as well. We'll see. Everything's pretty up in the air at this time.
TMODM: Any guesses about the coming year? Will it be better than 2020 or are we in some kind of downward spiral?
SP: Unfortunately I see us falling deeper into this painfully boring dystopia. I don't think the revolution is coming. Maybe we can have live music and parties by the end of the year but I really don't know. I'm just taking the purgatory as it comes. No need to waste energy fighting it I guess. Until then, hopefully we can all develop more tools – and utilize the ones we do have – to peak around the corner and explore the spaces in between.
Dark Fog – The Contract [from Break Your Mind, released December 04, 2020]
I've been corresponding with Ray Donato of Dark Fog for several years now. Dark Fog was incredibly prolific in 2020 and I included a few different tracks in Turn Me On, Dead Man podcasts through the year.
TMODM: Looking back on the past year, what is your biggest takeaway from 2020? Any bright spots or just a giant shitshow?
RD: It's been therapeutic to keep creating and releasing music I must admit… 2020 has been a surreal 'lost' year, hard to think it's been much other than a shitshow, but I think it'll take a couple years to really unpack it all…At least in some cases it's given extra time to create and be with family, and if nothing else we can hope the idea of another 'roaring 20's' moment will create more demand and less apathy about live music and support when we all come out on the other side of this…
Narrowleaf – Howlin' In The New Dawn [from Impossible Colors ep, released July 29, 2020]
I corresponded with Josh Weidman of Narrowleaf.
TMODM: Who are your main influences?
JW: main influences? hmmm for this project im not really sure but Ripley Johnson from wooden shjips/rose city band/moon duo is a big influence on me as a guitar player. i could listen to him noodle all day. also all the people in the black angels. when i discovered them in 2006, it changed everything for me and opened lots of doors to the world of psychedelic music. it was exactly what i needed at the time and im still very much in love with the genre.
TMODM: What's next for you?
JW: actually right now im wrking on stuff for my other band white shape. mixing a song and getting it ready for a teaser release currently. narrowleaf stuff is still in the works but for right now, working on white shape stuff.
TMODM: Any guesses about the coming year?
JW: im hoping people start getting the vaccine and things start getting back to normal by fall. definitlely shouldnt rush anything. in the meantime, enjoy your families, create, and enjoy whatever type of media you are into.
TMODM: Will it be better than 2020 or are we in some kind of downward spiral?
JW: i hope so. its getting pretty nasty out there right now. people will get back to their normal lives soon enough. they may not like who is going to be the president, but theyll get over it. theyve got bills to pay.
Stonegrass – Tea [from Stonegrass, released May 22, 2020]
I corresponded with Jay Anderso of Stonegrass.
TMODM: Who are your main influences?
JA: A lot goes into the Stonegrass mix. We have a shared love of shredding solos, freak folk offerings, the deepest of soul music, free jazz skronk, 20th century composed compositions, garage rock rave ups, ballroom grooving, funk from outer space, things quite and loud, heavy air, magical sounds from all parts of the globe, albums widely known, records made for a select few, films, books and everyday life.
TMODM: What's next for you?
JA: We are in the early stages of making another record, which is exciting. The Stonegrass organization is not just the two who make the music. The team also includes Tony Price to capture the sounds, D. Norsen to make the visual translation and John Moloney to guide us into the unknown. The House of Stonegrass is ready for the 2021 season.
TMODM: Any guesses about the coming year?
JA: As 2020 proved, anything can happen at any time. Hopefully a change for the better is upon us.
TMODM: Will it be better than 2020 or are we in some kind of downward spiral?
JA: We hope so! The downward spiral thing is a little too dark for us.