Despite my criticisms about Led Zeppelin's sorry history of not citing their sources I remain a Led Zeppelin fan. Physical Graffiti

has always been one of my favorite albums and I pre-ordered the Deluxe Edition
of that album a few weeks ago. It arrived in the mail late last week.
As I've said elsewhere, though Led Zeppelin failed to give proper songwriting credit in several cases, they (almost) always brought something original to each recording, enough to justify partial songwriting credit. Two Led Zeppelin tracks, however, stand out as particularly flagrant examples of plagiarism: "Dazed and Confused" and "Boogie With Stu". Recent releases now acknowledge that "Dazed and Confused" is "inspired by" Jake Holmes, though it took the threat of legal action to make even that insufficient alteration. The songwriting credits for "Boogie With Stu," however, remain the same as when Physical Graffiti was released in 1975.

"Boogie With Stu" is credited to "John Bonham/John Paul Jones/Jimmy Page/Robert Plant/Ian Stewart/Mrs. Valens". The "Stu" in the title refers to Ian Stewart, one of the original members of the Rolling Stones, who played the piano on "Boogie WIth Stu" and "Mrs. Valens" refers to the mother of 1950s sing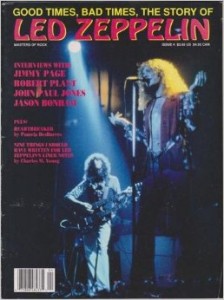 er Ritchie Valens, of "La Bamba" fame. Ritchie Valens died in the same plane crash that killed Buddy Holly and the Big Bopper on February 3, 1959, and he had written and recorded the song "Ooh My Head" just months before his death. In an article called "Nine Things I Should Have Written for Led Zeppelin's Liner Notes," in Good Times, Bad Times, The Story of Led Zeppelin
, Charles M. Young asked Jimmy Page why Ritchie Valens's mother was credited on the song.
PAGE: Yeah. Let's put it this way. "Surfin' USA" by the Beach Boys had a credit for Chuck Berry, didn't it? I think that answers the question. It does in my book anyway.

YOUNG: It was from "Ooh My Head," right?

PAGE: Yeah. Some of the lyrics from that. Yeah. It appears. In print. Mrs. Valens.

YOUNG: So she got her little piece of Physical Graffiti?

PAGE: That was the idea right from the outset. We'd heard she'd been ripped off in the past. You should ask Robert these things, because I didn't write the words, did I?
At first glance giving Ritchie Valens's mother credit as one of the songwriters seems like a generous thing to do. But if Jimmy Page isn't comfortable answering this question, perhaps it's because "Boogie With Stu" is simply a cover version of "Ooh My Head" with the members of Led Zeppelin inappropriately giving themselves songwriting credits. In a Guitar World interview, Page described it this way,
"Curiously enough, the one time we did try to do the right thing, it blew up in our faces. When we were up at Headley Grange recording Physical Graffiti, Ian Stewart [the Rolling Stones' unofficial keyboard player] came by and we started to jam. The jam turned into "Boogie With Stu," which was obviously a variation on "Ooh My Head" by the late Ritchie Valens, which itself was actually a variation of Little Richard's "Ooh My Soul." What we tried to do was give Ritchie's mother credit, because we heard she never received any royalties form any of her son's hits, and Robert did lean on that lyric a bit. So what happens? They tried to sue us for all of the song! We had to say bugger off. [laughs]"
So much for fairness. Admitting plagiarism, Jimmy Page casts blame on Robert Plant for drawing too heavily on Ritchie Valens's lyrics. The similarities between "Boogie With Stu" and "Ooh My Head" go beyond the words, though, not to mention that it's clear that the words really don't matter in Led Zeppelin's version of this song. Robert Plant sings the lyrics as though he's struggling to remember the words of a song he once knew, catching a key phrase here and there. As with "Since I've Been Loving You", Robert Plant gets the words sort of right but misses their original meaning entirely. Where Ritchie Valens uses tutti-frutti and lollipop as sexual entendres, pleasures out of reach as he hears the woman of his desire in the distance throughout a frustrating night, Robert Plant seems to be using these terms literally–or perhaps just mindlessly. According to Chris Welch in Dazed and Confused: The Stories Behind Every Song
, Robert Plant referred to "Boogie With Stu" as "Sloppy Drunk", perhaps as an excuse for his poor recollection of lyrics.

Well, hey, now, now, baby
Let's just go all night long
Well, on, on, on, on, darlin'
I just want to go on more
There won't be no tuttie fruiti
No lollipop
C'mon baby just rock, rock, rock
Well, now, now, now, now, honey
We gonna rock all night
Well babe, babe, babe, babe, baby
We're just gonna go fine
Well on, on, on, on, darlin'
Ooh, my head!
Well, Boney Moronie, Peggy Sue, yeah!
They ain't gonna be around no more
Go on now get a little darlin'
We just gonna party s'more
Well, I, I love you, darlin'
Ooh my head!
Now let's go
Well now, now, now, now, baby
Keep me rockin' all alone
Well I just hear your door open
Oh, just all night long
Well, now
Ooh my head!
Alright, Wail
Rock it now
Come on
My head is tired!

Been in town, my baby
We just got to rock on
Yeah, darling
We just got to go home
I don't want no tutti-frutti
No lollipop
Come on, baby, just rock, rock, rock
Yeah, yeah, yeah, yeah, honey
We've been shakin' all night
Whoa, darlin', we just got to roll right
Ooh, my head
Rock on
Rock on
Hey babe, hey babe
I don't want no tutti-frutti
No lollipop
Come on, baby, just rock, rock, rock
Let's go on!
I don't want no tutti-frutti
No lollipop
Come on, baby, just rock, rock, yeah
Jimmy Page's arrogance reveals just what an afterthought crediting "Mrs. Valens" was–couldn't they at least have made some effort to find out what her name was?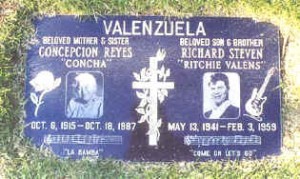 Despite his indignation, Concepcion "Concha" Valenzuela was certainly justified in her attempt to change the songwriting credits of "Boogie WIth Stu". Having said that, Jimmy Page is right about one thing, though: Ritchie Valens's "Ooh My Head" borrows heavily from Little Richard's song "Ooh My Soul". Little Richard recorded "Ooh My Soul" in 1957, two years before Valens recorded "Ooh My Head." The similarities between these songs strongly suggest that Valens had heard Little Richard's tune, which had peaked at #31 on the pop chart and #15 on the R&B chart. Led Zeppelin certainly wasn't the first group to lift the work of another artist without giving proper credit.
To my mind, taking even partial songwriting credit for "Boogie With Stu" is simply inexcusable. Though plagiarizing "Dazed and Confused" without crediting Jake Holmes was also indefensible, it's perhaps a little more understandable that a band releasing its first LP might engage in this kind of theft. They had no guarantee of success in 1969, but by the time Led Zeppelin released Physical Graffiti in 1975, their status as rock gods was assured. Why they felt the need to claim songwriting credit on what was clearly a cover version demonstrates the arrogance that came with that success.