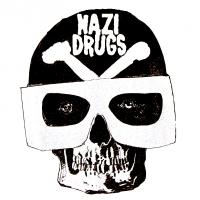 Dig the Now Sound (Thursdays at 10:00 pm eastern on Turn Me On, Dead Man Radio) plays standout recent garage/psych. The featured track this week is "Makin Me Gruesome" by the band Nazi Drugs from Selinsgrove, Pennsylvania. Nazi Drugs is not about the Third Reich or their medical experiments, but rather is influenced more by the sort of retro horror movie garage punk of bands like the Cramps. The image from their first release, for example, comes from the the 1971 exploitation movie Simon, King of the Witches (I hadn't seen this delightful film before but it is available on YouTube). "Makin Me Gruesome" is the lead off track on Academia, which will be released on cassette on the Godless America label on or around November 13, 2013. Nazi Drugs is a two-piece band and recently I spoke with the band's members, Adam (guitar, bass) and Jovi (vocals, lyrics). They explained to me that Academia is a place in Pennsylvania with an eerie, haunted old school building where legend has it that terrible things took place. All is explained on the insert card in the cassette (which also contains the download code).
Turn Me On, Dead Man: I see on the credits that Adam plays guitar and bass and Jovi does the vocals and lyrics. Who plays the drums or was I imagining things?
Jovi: I do the percussion, but I'm not especially talented so I don't give myself credit for it. so nobody can give me shit about how bad it is.
Turn Me On, Dead Man: Who does your album artwork?
Jovi: I usually do the artwork.
Turn Me On, Dead Man: I looked at the list of your influences. A couple stood out. I had never heard of Abner Jay so your list got me to fire up Wikipedia. The other one that stuck out was Wizzard–is that musically or visually?
Jovi: I just like the whole idea of that dude. I'm just a big fan. I like his approach to that thing.
Turn Me On, Dead Man: If you had to pick two or three who would those be?
Adam and Jovi: Cramps, I guess. The Mummies. Suicide. The first Link Wray album from like '71. That one's bluesy but it has a groove but it's not all blues and it's not all psychedelic. It's not all one thing but it's a bunch of different stuff.
Turn Me On, Dead Man: What kinds of experiences did you have in bands that turned you away from playing in bands?
Jovi: We went to high school together and we're not from the area we live in now. We just have our own stuff that we grew up on, that we like to play and like to listen to. Our bands were a good time and we really enjoyed our bands. But too many personalities and everybody's got different plans for stuff. We just wanted to do something where we could just do all on our own. Make it the way we want to make it without anybody else's input.
Turn Me On, Dead Man: So it was pretty much a no-brainer to form a two-piece then?
Jovi: We're going to be doing some shows and we have a bunch of people who want to play with us, but Adam and me are the only permanent members. Everybody else is just fill-in for shows. The good thing about this band is like, our other band we had so much equipment. This band we can pretty much rent a car, pack the trunk and be ready to go.
Turn Me On, Dead Man: It took you three years to put out Swastifari and then only about three months for I Got a Rite. And now you've got a new one coming out. How long can you keep up this pace?
Jovi: I don't know, man. The well is deep, man.
Adam: Yeah, luckily. The first one was done randomly. I was living in North Carolina.
Jovi: Yeah, that one we did pretty much with him sending me files and editing them. But then he moved back and we started this band that we're in, Jaw Horse. And then we just lost kinda time and didn't have time to do it. Then we just got a spurt in between doing stuff with Jaw Horse and we finished Swastafari finally. Then we just got on pace and made an entire record.
Adam: Yeah, got lucky.
Jovi: Then this EP opportunity [Academia] came up and we did those songs in just a few days.
Adam: Less than a week. Which is awesome.
Turn Me On, Dead Man: Who is Martian Ambassador Records. Is that your own label?
Jovi: Yeah, we put that on there. We press our own CDs. The first Jaw Horse CD we were on we decide we should put a label on it since we were pressing it, so we made that. There's actually another band called D-Grade Monsters that we're going to put out, too. The drummer [in Jaw Horse] is also in that band. So the Nazi Drugs records and maybe a couple other ones from our friends.
Turn Me On, Dead Man: Your new one, Academia, is coming out on cassette. Is the cassette your format of choice?
Jovi: I wanted to do a cassette forever. Nobody around here ever got into that. We're in a pretty rural community [Selinsgrove, Pennsylvania].
Turn Me On, Dead Man: I looked up Selinsgrove on Google Maps. The closest city is Scranton or what?
Jovi: We're about two hours south of Scranton. We're closer to Harrisburg.
Turn Me On, Dead Man: You're in the mountains, aren't you?
Jovi: Oh yeah, man. We're in Appalachia. [laughs]
Turn Me On, Dead Man: Where do you record?
Jovi: We record in my house—the attic or wherever we can set up our shit. We record into computer programs from our amps and stuff.
Turn Me On, Dead Man: Do you have any plans to tour now?
Jovi: I don't know, man. Yeah, this cassette–seems like people are actually looking forward to it. I got a bunch of messages asking us to play, especially since we joined garagepunk.com. In our area people don't give a shit really, honestly. They're all into like hardcore and stuff. That's what we grew up on, too, but like, nobody really has time for what we're doing.
Adam: They only like our stuff because we're friends with them, but the people on [garagepunk.com] actually dig that stuff, so it's really cool to get feedback from them.
Jovi: We weren't sure it would translate to the people who actually listen to the kinds of records we listen to, but it seems to, so we're definitely looking to play some shows, for sure. We're going to try to do this full time, if we can.
Turn Me On, Dead Man: One thing I wanted to ask you about is your name. You've hit a couple of taboos in your band name. What kind of reaction do you get to Nazi Drugs?
Jovi: Oh man! People think it's a cool name, they do, but a lot of our friends won't friend us on Facebook. [laughs] Like, "I don't know, man. I'm not really into racism and drugs, so…" They don't seem to really get the whole thing. Some of them do. But yeah, we get the occasional message from skinheads. But for the most part, the name, the art that's what draws people in.
You can pre-order a hand-numbered cassette copy of Academia by Nazi Drugs on Godless America Records for $5.