Dig the Now Sound (Thursdays at 10:00 pm eastern on Turn Me On, Dead Man Radio) plays standout recent garage/psych. The featured track this week is "Drug Theaters" by Paul Jacobs, a prolific and multi-talented artist from Windsor, Ontario. In the last 12 months Paul Jacobs has had four full-length releases, all well worth checking out. Starting with Demos From The Basement, which collected some recordings from late 2012, he released a self-titled album in March, followed by Coffin Ride in June and Drug Theaters in November. Paul Jacobs is a one-man show. In addition to writing and solely performing all of his material, all of his albums feature his own cover art.

Coffin Ride and Drug Theaters are available on cassette, and when I ordered my copy on Bandcamp I noticed that Paul Jacobs had an upcoming show at the Kennedy Center in Washington DC. I thought, "Fuckin' A! Garage punk at the Kennedy Center! I'm getting my ticket right now!" It turns out, however, that the Paul Jacobs playing at the Kennedy Center is a different musician who will be playing an organ recital. Somehow in the machinery of Bandcamp these two artists got confused with one another. So while the garage punk Paul Jacobs may not be "one of the most supremely gifted organists of his generation", like his namesake, he "unites technical skills of the first order with probing emotional artistry." Yeah, and he rocks, too! Plus the garage punk Paul Jacobs has one up on his highbrow namesake, he's a visual artist who draws cool images, which you can see on Tumblr.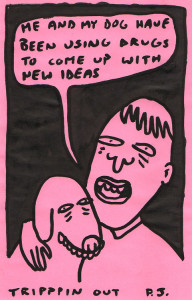 Turn Me On, Dead Man: So which comes first with you, the music or the visual arts?
Paul Jacobs: It's both the same, I just like making stuff haha
Turn Me On, Dead Man: OK, but you seem to be very prolific at both. So when you get up in the morning do you say to yourself, "today I'm going to draw" or "today I'm going to write/record music". Do you work steadily or is it more sporadic?
Paul Jacobs: Yeah I guess it's just when I'm feeling down for it. Now I have a job which I haven't had in years ha ha so I try and plan on doing shit when I get home.
Turn Me On, Dead Man: So is your job creative or are you just trying to pay the bills?
Paul Jacobs: I build fences for money right now, i do a lot of carpentry and home renovation stuff. Just trying to save to hopefully tour the states next year.
Turn Me On, Dead Man: Maybe you can finally do that show at the Kennedy Center then! Do you always record alone or do you play in bands, as well? Do you have your own recording setup?
Paul Jacobs: A friend records my stuff, I did record but was never satisfied with my own work and wasn't sure on putting it out. I was planning on giving it a try again this winter. But my buddy (Kaiser Sound Productions) bring his stuff over to my place and we record it here, then i mix with him. He has the knowledge to do a lot more in that field.
Turn Me On, Dead Man: Are cassettes your medium of choice?
Paul Jacobs:I would love to have vinyl but can't find a label to put it out here in Canada. I live in a city that's pretty Bad (Windsor). Its across the river from Detroit so we kinda have similar issues. Closest city is Toronto and I'm not to into the scene there yet. Cassettes are just cheap to make so I can put them out myself. Ah Some Records is just a record store in Windsor, he gives me some money here and there, or some records for what I put out. So its not really a label. Pretty much everything i do for music comes out of my pocket but I'm cool with that.
Turn Me On, Dead Man: What do you have in the works?
Paul Jacobs: I've just been jamming in my room, got a new album in the works that will be more punkish I guess haha. I kind of want it more noisy like Coffin Ride. Should be different from the rest in small ways though.