Dig the Now Sound (Thursdays at 10:00 pm eastern on Turn Me On, Dead Man Radio) plays standout recent garage/psych. The featured track this week is "Don't Cry No More" by Mystic Brew, a 1960s-inspired garage/psych band from Samara, Russia. Right now they're working on an LP that they're hoping to release in May. I recently corresponded with Dimitry Melkov.


Turn Me On, Dead Man: How did you come to be a garage/psych band?
Dimitry: It's all started when we were teenagers about six years ago. This was a really tough time in our life so we needed something to do with our negative energy and aggression. I have always dreamed about the band but I couldn't play any instrument. So I started to learn by myself. By that time I've already knew what style and what kind of music I want to play. 60's rock was kind of revelation for me. We fell in love with that sound and still our love is strong. My friends already had a band, The Chicks (Mod rock, Revival), but their leader left the band and moved to Oxford UK to study in local college. So the band broke up, but the guys still wanted to play. They joined me and we formed The Stylophonics. We didn't have a lot of original material and most of songs that we performed were cover versions of bands like The Who, Count Five, Chocolate Watch Band and etc. We weren't thinking about the gigs or money, we just wanted to play music that we loved. A lot of our friends passed through our rehearsals and they were really digging what we were doing. So then somebody spread the word and promoters started to book us. After three gigs we decided to change the band's name to The Bluebirds. We thought that name suits fine our music. And finally we started to write more original songs. The Bluebirds was a more successful band, we shared the scene with all most known Russian garage revival bands.
Our future seemed to be clear, we wanted to do more original songs, more gigs in different regions of Russia, but then our drummer decided to leave the band because he wanted to play the guitar in his own band Los Mojos. Nevertheless he quit the band and left us without a rhythm section. We tried to find a new drummer, but it's pretty hard to find a man who's interested in this type of music, that is not typical for Russia. After we changed two drummers, our keyboard player left us too. And then The Bluebirds became history.
But it's not the end of our story. We were obsessed with our dream and we didn't want to quit. Somehow I found a drummer who was a fan of 60's obscurities and with a great pleasure he joined our band. We formed the new team Mystic Brew and focused mainly on writing and recording of original material. Our sound evolved into something bigger and became more psychedelic. On 21 October 2012 we did our first appearance with new line up in Moscow. We spent the next day at Magnetone Studios (Vadim Markov from The Thunderbeats built it by himself). Till then we did a bunch of great appearances, toured the Russia and Ukraine and recorded a demo and two singles.
Turn Me On, Dead Man: Who are your biggest influences?
Dimitry: Still the most influential bands for us its early Pink Floyd, early Status Quo, Soft Machine, 13th Floor Elevators, Velvet Underground, The Seeds, The Crushers, Orange Alabaster Mushroom and we're pretty much into jazz as well and one of my favorite bands is SUN RA ARKESTRA.
Turn Me On, Dead Man: How long have you and your bandmates known each other?
Dimitry: We know each other about 8-9 years.
Turn Me On, Dead Man: Whereabouts in Russia are you located?
Dimitry: We're located in Samara. It is the sixth largest city in Russia. It is situated in the southeastern part of European Russia at the confluence of the Volga and Samara Rivers on the east bank of the Volga. Samara is known for the production of aerospace launch vehicles, satellites and various space services, engines and cables, aircraft and rolled aluminum and etc. So it's pretty much dirty industrial city.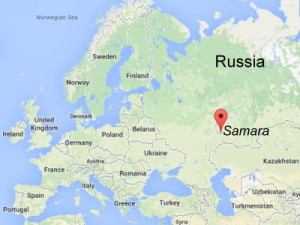 Turn Me On, Dead Man: Was it easy to hear 1960s garage/psych where you grew up or did you have to go out of your way to find records or to see live shows?
Dimitry: Easy? I don't think so. Even right now we have only one record store. The owners of the store as the most of people in town has no idea what is garage rock or psych. They don't even sell 45's. Mostly they're into 70's glam or 80-90's pop music. The first place where I started to dig music was the Book Market. In early 00's it's was some kind of gathering of the book sellers in a bad part of town, but there you always could find CD-R's with mp3's, data base with addresses and even porn with animals or bums. In the mid of 00's situation has changed, because we get the access to fast Ethernet. I guess garage song that I've heard was Psychotic Reaction by Count Five and it is appeared on video game compilation. But before that we was digging a lot of punk 77, first wave of hardcore punk like Circle Jerks and the Germs but then we started to dig deeper in time to of course classic like Hendrix, Stones and Pink Floyd. So then finally we opened up garage rock.
Turn Me On, Dead Man: What sort of gear do you use? Vintage amps and guitars?
Dimitry: I personally use Epiphone Wilshire 1966 reissue with Fender Deluxe Reverb amp. Guitar was made at the end of 00's but looks and sounds vintage enough haha. It's my first guitar that I bought not long ago. But over two years of gigs and rehearsal I didn't have my own instrument, so every time I had to borrow it. Lead guitarist use 1969 hollow body Univox with Vox AC 30, our bass player used to play on soviet guitar from 70's Musima but now he owns Fender Jass Bass from 90's, but anyway it sounds good. Our keyboard player use soviet Vermona Et-6 combo organ which was built in mid 70s in GDR.
Turn Me On, Dead Man: Where do you do your recording?
Dimitry: The studio is located in Moscow (about 1000km from Samara) on ZIL factory. ZIL is a major Russian truck and heavy equipment manufacturer, which also produced armored cars for most Soviet leaders, as well as buses and armored fighting vehicles. The company also produces hand-built limousines and high-end luxury sedans in extremely low quantities, primarily for the Russian government. But nowadays the factory is closed and it looks like a ghost town.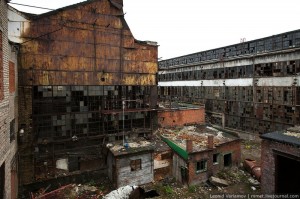 The ZIL factory in Moscow from the blog
English Russia
.
This picture comes from an article called "
Places That Are Slowly Being Forgotten
" that features many fascinating photos.
Our good friends The Thunderbeats built the studio in the factory's fire department. The studio has a few separate rooms:
big hall (ex factories photo lab) with natural reverberation that we used when we record vocals, guitars and organ
sound engineer room
rehearsal room with amps, drums, different keys and stuff where we record bass and drums
All equipment is vintage. The main tape recorder is 8-track Otari mx5050 MK III 8. We used different types of soviet mics which was produced in 60's and 70's. We recorded drums and bass (Muzima Deluxe produce in 70's in GDR) on Oktava ML-51 active ribbon mic, guitars and Vermona Formation 2 organ through Fender Deluxe on Oktava ML-15 (produced in 1958) connected with pre-amplifire of AMPEX 601, vocals on Lomo19A19 also connected with AMPEX 601. Although we used russian copy of Pultec Eqp-1а equalizer (Magnetec EQP-1a). Everything is mastered on Tesla Stereomixer EPP102 with studio tape recorder STM-610. Almost forgot to mention vintage delay (BEAG AKX 200).
Turn Me On, Dead Man: Sounds cool. Well, best of luck to you. I hope you can make it to the US someday.