Earlier today I met with two bands who are on tour, the Huge Pupils and Butter the Children, both based in the New York/Northern New Jersey area. Tonight they are playing at the Sunshine District in the U Street area of Washington DC and they stopped by the Electric Maid for an interview. Joining me were Inna, Ray, Jordyn and Jon from Butter the Children, and Sean and Bryan from Huge Pupils. We had a great time but I somehow managed to lose the first 10 minutes or so of our discussion. Sorry about that, folks–I never claimed to be a professional, or even competent, for that matter. Luckily, I managed to not record over most of it. After the interview I went bowling with three of the members of Butter the Children. So we join the interview in progress…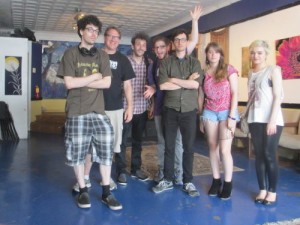 Prior to this interview I had been corresponding with Sean of the Huge Pupils. Incidentally, the featured track of this week's edition of Dig the Now Sound will be "'94 Nissan" from their most recent release The Dreamcatcher Chord.
Turn Me On, Dead Man: Where are you from and how long have you been at it?
Sean: Ok so Huge Pupils was birthed at a house in Leonia, NJ by me and Bryan but he moved to Queens a few years ago so now we just say we're from "north of the Pork Roll Line". We started playing sometime in 2009 or 2010 when I showed up at Bryan's old house with a shitty drumset and one cymbal. We wrote 2 or 3 songs that day and decided we were a band. All of our other friends were kind of done with playing music so we said frig it and stayed a two piece.
Turn Me On, Dead Man: What is Ba Babes – Better in Heaven, Worse in Person: Live at the Basement Gallery?
Sean: "Better in Heaven, Worse in Person" is a recording I did of Ba Babes' set at the last show hosted by the now defunct Basement Gallery in Ewing, NJ. Us, Birthdays, Philip Seymour Hoffman, Wisdom Tooth, Good Time Island, and some weird version of Alien Father played too, but the PA was cutting in and out all night and Ba Babes' set was really the only one that sounded good enough to use. By the way when I say "a recording I did" I mean I put a digital stereo recorder on top of a washing machine in the back of the basement and just hit record. I didn't show up with a Pro-Tools rig and a bunch of gear or anything, I just wanted to test out this cheap little Zoom recorder I had just bought from work.
Turn Me On, Dead Man: Are you the Sean mentioned in Roy Orbitron's Live at Sean's with Laughter?
Sean: I am in fact that Sean! I play live drums for Roy Orbitron (I'm not on any of the records, that would be Dan "Starship" Jefferson). We got asked to play at the Kislak Center in Newark, NJ for an art show that the Oculus Art Collective was running (it kicked ass by the way) so Conor drove to my neck of the woods the week before to practice. He has a son so he had to come up to North Jersey from Trenton while he was at daycare. The Huge Pupils rehearsal space is above a dentist and a lawyer's office so we had to take all of the gear and set it up in my parents basement while they were gone for the day. I put up a minimal amount of mics (kick, snare, room, guitar, vocals), plugged them right into the same digital recorder I recorded "Better in Heaven" on, pressed record and ran the set we wanted to do about 6 or 7 times (Conor was satisfied after two times, but I like to practice a lot). I sent the stem files to Conor so he could mix them and he ended up added laughter and applause to it, making it an obviously not live live album (kind of like Slayer – Live Undead). Mike Walsh (Ba Babes, Panther People Tapes) asked Conor if he could put it out and that's how it became a thing. Weird that you ask, I think they just went up for sale on the web a few hours ago (It did! Buy it here: http://raworbison.bandcamp.com/album/live-at-seans-with-laughter or here: http://www.pantherpeople.bigcartel.com).
But in other news, the Dreamcatcher Chord Cassette EP is coming out on Panther People and we are headed out on tour with Butter the Children (http://butterthechildren.bandcamp.com) on what we're calling the "Cool Let Us Know Tour 2013". It's 9 days long and we're hitting a bunch of cool places, people can see where we'll be stopping here: https://www.facebook.com/events/294911920643228/?fref=ts