With a few minor revisions, this is a post that appeared on the old Turn Me On, Dead Man blog on October 24, 2009. With the 50th anniversary of the JFK assassination approaching (Nov. 22, 2013) I decided to revisit this topic.
A JFK assassination movie that nearly slipped by me is Frame of Mind. This movie went straight to DVD in 2009, but it isn't all that bad. Also, the film has a particularly interesting cast. Carl T. Evans, who starred, directed and co-wrote Frame of Mind with Charles Kipps, plays the character of David Secca, a New York City cop who decides to take a job with the local police force in Carlstadt, New Jersey. Secca returns to Carlstadt to take up a quiet life and raise his kids, but as soon as he and his wife move into their new house he discovers a piece of film taken at the scene of the JFK was assassinated that pulls him into a 40+-year-old conspiracy.

No spoilers here, mainly because I just want to talk about the casting of Frame of Mind. Not since The Sopranos has a show been so self-consciously placed in New Jersey. In fact, two actors from The Sopranos have small roles in Frame of Mind. Vincent Curatola (Johnny Sack in the The Sopanos) plays Lt. John Mangione, who grows increasingly annoyed at Secca for being absent from work as he gets more engrossed in the JFK assassination. Sharon Angela, who played Rosalie Aprile in The Sopranos, also appears in Frame of Mind.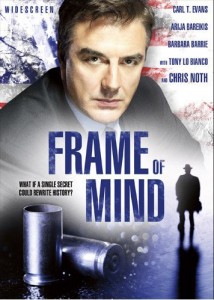 This movie also has ties to another HBO series, Sex and the City. The cover image on the DVD implies that Chris Noth, best known for his role as Mr. Big in Sex and the City, is the star, but his role is actually not that large. Noth plays Steve Lynde, a character based on conspiracy skeptics like Gerald Posner or Vincent Bugliosi. Posner's book Case Closed: Lee Harvey Oswald and the Assassination of JFK
(1993) and Bugliosi's book Reclaiming History: The Assassination of President John F. Kennedy
(2007), each argue that Oswald acted alone in the JFK assassination. Even though he's aware that Lynde is a skeptic, Secca seeks out Lynde because he is teaching at a nearby college. Secca shows Lynde his evidence and they kick around conspiracy theories. Frame of Mind shows Lynde's transition from skeptic to somewhat-less-of-a-skeptic through his intake of nicotine, as he begins the film chewing nicotine gum and is a chain smoker by the conclusion. Noelle Beck, who played Mr. Big's ex-wife on Sex and the City, is also in Frame of Mind, and Carl T. Evans appeared in an episode of Sex and the City as the character "Late Night Date".
But the interesting casting doesn't stop there. For my money, Frame of Mind's coolest catch is Peter Criss, the original drummer for KISS, now cat-makeup free. Peter Criss briefly mentions the movie on his website, "I did a small part in this movie for my friend Charles Kipps." Kipps was a co-writer on the song "Doesn't Get Better Than This
" on  Peter Criss's album One for All
.
In addition, Barbara Barrie, who played Barney Miller's wife in the 1970s TV series, has a small role as the source of the grassy knoll film, former New York City mayor David Dinkins plays a New Jersey senator, and veteran actor Tony Lo Bianco plays a key role in Frame of Mind.  Hard to believe this movie didn't get more attention with a cast like that.