Trainspotting has taken on a narcotic connotation because of the 1996 film directed by Danny Boyle, based on the novel by Irvine Welsh. Although that story was not about psychedelics, the film has its share of hallucinatory moments, the sequel less so. About the music in this episode, the playlist features psychedelia that starts out more in the hallucinatory vein but then becomes more meditative. Check out the music map below. A good illustration of how psychedelia has become a worldwide phenomenon. This episode features artists from the US, Canada, the UK, Norway, Israel, Guatemala, and closes out with a soundscape from Peruvian artist Chino Burga.
The title of this episode is from something my two-year-old and I have been doing recently. We've been going to an overpass nearby and wait for trains to pass. I'd never thought of myself as a trainspotter but I guess I've had a fascination since my childhood days staying at my grandparents' home. Their house was about 100 yards from train tracks and I vividly recall the booming sound of the freight trains on summer nights when all the windows were open. So anyway, where my son and I go there are two sets of tracks, one for the DC metro trains, which comes above ground where we are, and one for the intercity trains. It's always a jolt when we get the metro drivers to honk the horn.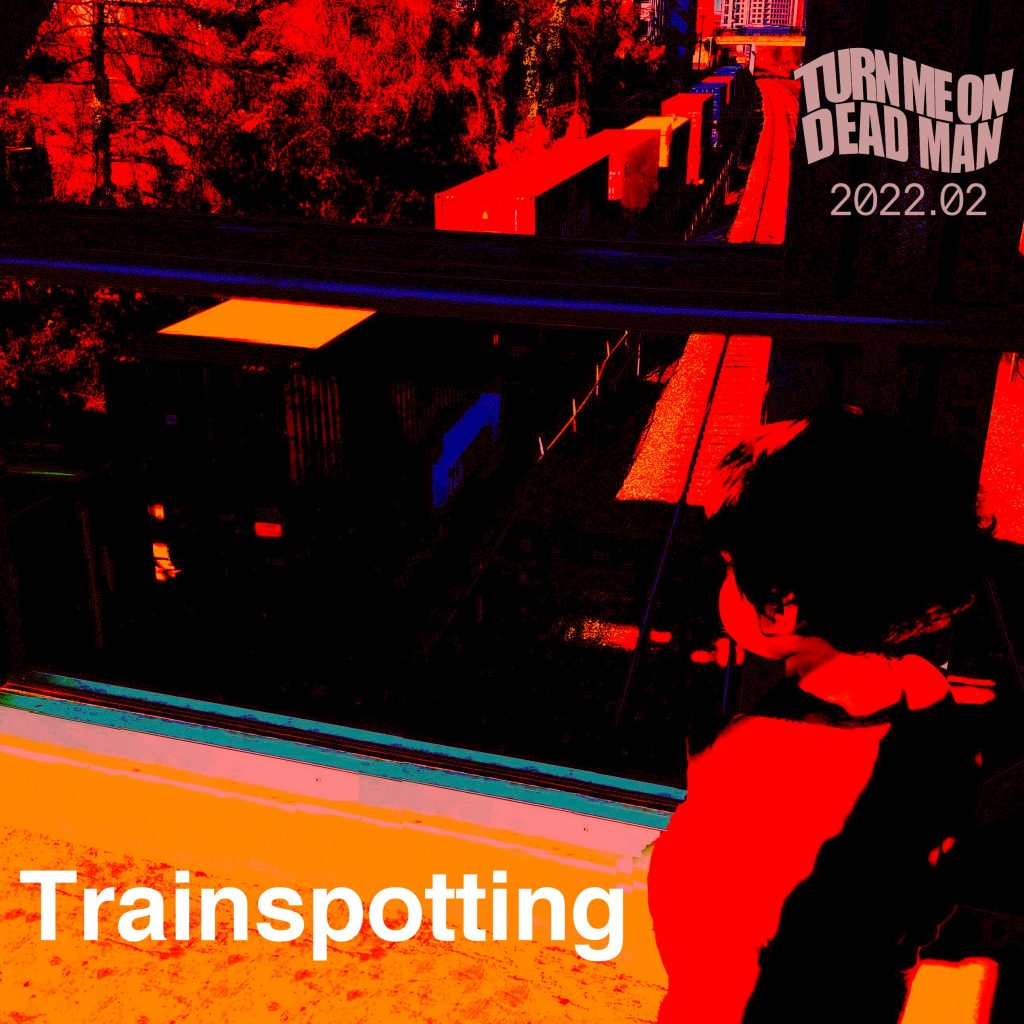 00:19 Self-Immolation Music – Anhedonia
03:30 Helicon – Freakquency
07:46 The Orange Dots – Lost A Dream
12:29 A Crone's Orchard – Worms
19:23 Solipsisme – Chimiosynthèse
23:31 The Midnight Vein – The Link
29:05 Carlton Melton – Hazel Heat
34:29 Ouzo Bazooka – Monsters
40:25 The Soundcarriers – Falling Back
44:02 The Groovy Nobody – Elevated
47:39 Baghdad Battery – Days Gone By
53:11 Chino Burga – Quien Como Dios
---
Self-Immolation Music – Anhedonia [from Live in Electron House, released January 27, 2022]
TMODM: What had the strongest influence on Anhedonia?
SIM: The Telescopes and 2CB
TMODM: What's next for you?
SIM: We nearly finished writing and plan to record a new 8-track record over the next few months. Next week we're doing another video, this time with cutscene tv in Leeds. We've also got some upcoming gigs around the UK to be cracking on with.
Helicon – Freakquency [from Freakquency EP, released January 21, 2022]
TMODM: What had the strongest influence on Freakquency?
Helicon: The Velvet Underground. Or more specifically, the ostrich guitar tuning sometimes used by The VU. You tune every string of your guitar to the same note. I love the weirdness of it. It creates this sinister drone underneath different harmonics and frequencies within that note that all bounce off each other and sing together at different octaves. I was messing about and experimenting with that tuning when I came up with the main guitar hook and everything else flowed quickly from there. The lads picked it up instantly and took it to a new level. From coming up with the hook to putting out the single was only about 2-3 weeks tops.
TMODM: what record changed your life?
Helicon:
JP: Piper At The Gates Of Dawn – Pink Floyd. i was probably 14 or 15 when i first heard it and it blew my mind that you could fuck shit up and sound way more interesting as a result. I actually stole the cassette from Our Price (i think – sorry Mum) for my brother Gary's birthday present when he was about 11 or 12 because i wanted it for myself and we shared a room. He had no idea who or what it was but instantly loved it too. Hope I wasn't to blame for Our Price going bust.
Mike: Piper At The Gates Of Dawn for me too! My first band down in Ayr always finished our set with Interstellar Overdrive. We were playing in a bar one time and the police came in to stop because of the noise. We just kept going because you cannae just end Interstellar! You need to wait for the riff to come back!
Seb: What a question! Forever Changes – Love. After starting to take acoustic guitar seriously and drumming with my first band from 2006. I picked up on this album. It always makes my Top10 and I learned a lot of how to approach the acoustic, dreamy noodles and timing. Unusual ways of writing chord structures were the biggest attraction for me. Arthur Lee had a real whimsical voice that hooked me right in.
Billy: Live Vol 2 – Cream. I remember buying the LP at a record fayre in Greenock in the late 90s. I used to jam along to it religiously and tried to perfect my Jack Bruce chops. Many times i'd drop old Mick Jagger tongue blotters on my own and play along to it on the old shiter of a bass I had back then.
Graham: Quadrophenia – The Who. First LP I bought and I still haven't changed much since. 'The Real Me', I wanted to be that bassline. First cassette was Michael Jackson's 'Thriller', scary video, cool leather jacket. I thought MJ was amazing when I was 10.
JP: I think he'd have liked you when you were 10 too Graham.
Mark: Tubular Bells – Mike Oldfield. It really caught my imagination. Its also the first record that terrified me. My brothers would play 'piltdown man' to get rid of me if I was annoying them when I was aged 5. I still go back to it and hear something different each time I do. It inspired me to write instrumentally first and lyrics, if needed, later.
Luigi (producer): The next Helicon album. I became rich.
TMODM: What's next for you?
Helicon: A lot! We're currently shortlisting and refining demos for the next album which we'll record in Spring for release on Fuzz Club later this year (vinyl pressing times permitting). We're really excited about it. The tunes are sounding great. We've got a string quartet, guest vocalists and other surprises lined up.
We're working on a collaboration album project with The Janitors (SWE), Servo (FRA) and Black Doldrums (ENG) for release on Fuzzed Up & Astromoon Records (IRE), again hopefully this year.
And we're finalising UK/EU tour dates for June and Sept.
No rest for the wicked.
The Orange Dots – Lost A Dream [from Nautic Girl, released January 28, 2022]
TMODM: What had the strongest influence on Lost A Dream?
OD: Lost a Dream was written about a strange dream where I was stuck in an 8-bit video game. The riff came about after hunting for drum breaks to just jam to and ending up with a gem from Habibi Funk 009: Jazz, Jazz, Jazz by The Scorpions & Saif Abu Bakr.
Then when i (Thomas) brought the half-finished tune to Tore we tried a lot of different grooves before finally settling on that Elvin groove.
TMODM: What record changed your life? (it would be interesting to hear from anyone who wants to answer this question)
OD:
Thomas (guitar and stuff):
I still find life changing records every couple of years but I will drop 2 that really opened up my guitar playing here.
Mary Halvorson Octet – Away With You
Sonny Sharrock – Black Woman
Tore (drums and stuff):
John Coltrane – A Love Supreme
AND
Maj Brit Andersen – Folk er rare 2
TMODM: What's next for you?
OD: We will start booking shows in this finally opening state we are finding us in. Fingers crossed!
A Crone's Orchard – Worms [from Highest State of Being, released January 19, 2022]
TMODM: What had the strongest influence on Highest State of Being?
ACO: Each of the songs comes from a different place ranging from my own cynicism about the world, dreams I've had, the monotony of life, past personal issues, etc. I'd say the main theme across all of them is just trying to make sense of the devastating silence of the universe when looking for meaning outside of the material. Trying to fill the gaping void with noise and give our own meaning
To become our own creators of meaning and reach a higher state of being
Also, weed
TMODM: What record changed your life? (it would be interesting to hear from anyone who wants to answer this question)
ACO: For me (bass and vocals) Lightning at the door by ATW
TMODM: What's next for you?
ACO: We're still figuring it out. We are all working 9-5 jobs living paycheck to paycheck since there really isn't a scene or actual touring in Guatemala. We started writing new stuff a few days ago, though.
Solipsisme – Chimiosynthèse [from Solipsisme, released January 28, 2022]
TMODM: What had the strongest influence on Chimiosyntese?
S: I wrote Chimiosynthèse before forming the band. All the songs were written and pre-produced before I had found any members to form Solipsisme. I wasn't thinking about forming a band yet and was mostly just recording songs for fun. In the beginning, I was digging Jacco Gardner's Hypnophobia and was (still is) going through my eternal Brian Jonestown phase. I don't think it sound like them though.
TMODM: What record changed your life?
S: Without hesitation: The Smile Sessions from the Beach Boys. Back when it was released in 2012, I didn't really know or care much about the Beach Boys except for Pet Sounds that I would spin from time to time, but nothing more. It wasn't until one of my roommate told me "You know the guy (Brian Wilson) went nuts after Pet Sound". That's where I fell into the Brian Wilson rabbit hole and discovered the Smile Sessions that was coincidently just recently released few weeks before. Apart from the regular song set list, I went through the whole 6 hours of the box set sessions countless times to a point where I could lip-sync the studio chatter between takes. I then discovered the whole world of Smile Bootleg, personal assembly and alternates mixes, along with Smiley Smile and its sessions. For a few years I would listen to a Smile assembly/mix multiple time a day…
It became a problem for people around because they couldn't stand hearing about it and then at one point I wasn't allowed to listen to any Smile related material at home or at work. I had to hide to listen to it, so I would just go away for a while (and then I'd have world peace). I don't think it's the record itself but the whole world/story around Smile that changed my life. I still listen to the Smile era material a couple of times a week but its less of a concern for my entourage now.
TMODM: What's next for you?
S: We have a new record written and ready to be recorded that is planned to be release by the end of the year. We have a couple shows planned for the spring and summer in the Province of Québec, hopefully more outside the province will be added.
The Midnight Vein – The Link [from Kill The King Above b/w The Link, released January 1, 2022]
TMODM: What had the strongest influence on Kill The King Above b/w The Link?
TMV: Tons of ingredients in that blender but I feel like when I started writing these I was aiming for sorta a spacemen 3 / velvet underground style, fuzzy, drone stomp but everything just got real loud and other vibes took over and then I dunno what happened.
TMODM: What record changed your life?
TMV: Probably getting drunk and high and actually listening to The Stooges, particularly Fun House when I was like 19.
TMODM: What's next for you?
TMV: I'm always juggling 4-5 projects. Right now I'm focused on putting out the new Science Man LP and the 10 videos I made for it. TMV usually leaks out a few songs a year. I'm sure you'll hear a couple more jams.
Carlton Melton – Hazel Heat [from Microwavelengths, releases February 14, 2022]
Ouzo Bazooka – Monsters [from Dalya, released August 27, 2021]
I corresponded with Uri Brauner Kinrot of Ouzo Bazooka
TMODM: What had the strongest influence on Dalya?
UBK: Well I can never drop names for these kind of questions – mainly because i will be an endless list BUT, I can tell you that I'm always blown away by musicians who manages to combine folklore with rock'n'roll in a certain way that doesn't sound too progressive or cheesy. From Anatolian Rock to 60's cumbia, through African garage and Jamaican Dub.
We also try to combine those elements in the most aesthetic and organic way while not being committed to one kind genre.
TMODM: What record changed your life?
UBK: I can not answer this question because there is no such record. music rules our lives since the day we fell for it. there are thousands of records which are master pieces, by both famous and unknown artists. those which you are getting exposed to, as a teenager are usually those who has the most influences on you, but then you move one and sometime leave them behind.
TMODM: What's next for you?
UBK: Next thing is going on tour again as soon as the world get's back on track (if that will ever happen).
Our locomotive to make music is our crowds and in order to continue writing and recording we need to play live shows.
The Soundcarriers – Falling Back [from Wilds, released January 21, 2022]
The Groovy Nobody – Elevated [from Reflections Of A Lost Year, released January 1, 2022]
Baghdad Battery – Days Gone By [from Eternal Return, released January 7, 2022]
TMODM: What had the strongest influence on Eternal Return?
BB: Eternal Return is influenced by a wide range of music that I listen to, including Klaus Schulze, Robbie Basho, Terry Riley, Popol Vuh, and many more. My goal with Eternal Return was to combine all those influences into something new yet rooted in the love for my musical heroes.
TMODM: What record changed your life?
BB: Ash Ra Tempel – Self Titled. Its free form approach and fuzzed out echoed guitars and thunderous drumming was a revelation. It changed the way I look at music and it was a big reason I wanted to start making music.
TMODM: What's next for you?
BB: Keep making music! This is really just a passion project for me so I just want to keep improving and growing while doing what I love
Chino Burga – Quien Como Dios [from Panamerican Sonic Prayers, released December 21, 2021]
TMODM: What had the strongest influence on Panamerican Sonic Prayers?
CB: First of all was the admiration for the work of Anunnaki…it's a band that I like a lot. We got in contact cause Arlen mastered my Invokaciones álbum….Echodelick Records put us in contact….and then, as we have similar taste for music and vision, the concept was to make a western pacífic coast drone sound that crossed the continent from south to north. Some might call It ambient, some might say kosmische …but the idea was to make a stand for a representative space sound for this part of the Planet and no matter distances and borders, this is our spirituality
TMODM: What record changed your life?
CB: Well….there's quite a few…but if I have to pick one I would say first Ash Ra Tempel album. Showed me how to rock in a very mystic and drone way….was like a hammer in the head but extremely relaxing at the same time….I know can sound incongouous but totally make sense to me…chaos and monotones are concepts that I always have in mind when I play. Oh!!! and lack of time…to have no tempo lead me to be a diferent state of mind or conciousness and that's what I'm trying to give to the listener.
TMODM: What's next for you?
CB: Keep on searching on minimal sounds, very lo-fi (I récord most lately times just with my cellphone at home….pandémic caught me unaware and had no gear at my place….and try to keep It that way) and add some elements from Andean music that in a personal point of view found It very kosmische and deep….I have a very slow motion mind so try to keep It rhythmless, with no tempo and endless. For me, when there is no time, silence becomes music.